Human Anatomy
Lead Author(s): Lindsey Jenny, Nicole Geske
Student Price: Contact us to learn more
Focused on pure human anatomy, this textbook uses interactivity to extend the subject beyond the page.
What is a Top Hat Textbook?
Top Hat has reimagined the textbook – one that is designed to improve student readership through interactivity, is updated by a community of collaborating professors with the newest information, and accessed online from anywhere, at anytime.
---
Top Hat Textbooks are built full of embedded videos, interactive timelines, charts, graphs, and video lessons from the authors themselves
High-quality and affordable, at a significant fraction in cost vs traditional publisher textbooks
Key features in this textbook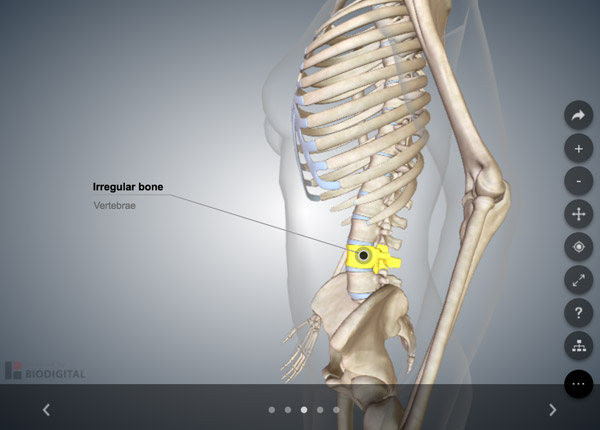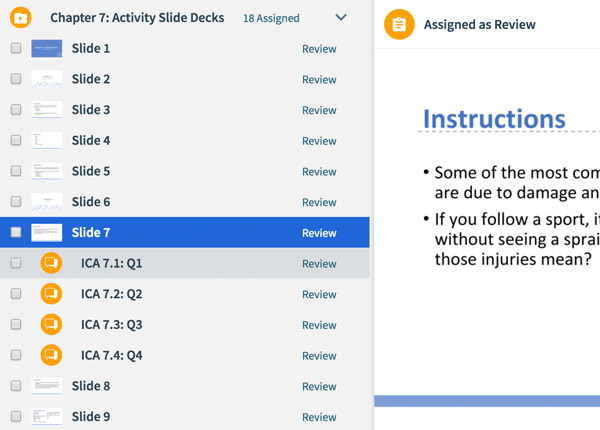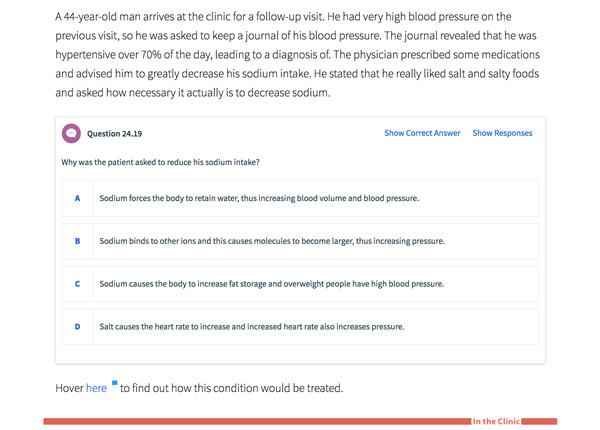 Comparison of Human Anatomy Textbooks

Consider adding Top Hat's Human Anatomy textbook to your upcoming course. We've put together a textbook comparison to make it easy for you in your upcoming evaluation.
Top Hat
Jenny & Geske, Human Anatomy, Only One Edition needed

MCGRAW-HILL

Saladin, Human Anatomy (5th ed)

Pearson
Martini, Tallitsch, & Nath, Human Anatomy (9th ed.)

Pricing
Average price of textbook across most common format
Up to
40-60%
more affordable
Lifetime access on any device
$105
E-book 6 month access
$325.33
Hardcover print text only
$67.99
E-book 6 month access
$232.73
Hardcover print text only
Always up-to-date content, constantly revised by community of professors
Content meets standard for Human Anatomy courses. Constantly revised and updated by a community of professors with the latest content

In-Book Interactivity
Includes embedded multi-media files and integrated software to enhance visual presentation of concepts directly in textbook

Customizable
Ability to revise, adjust and adapt content to meet needs of course and instructor

BUILT-IN INTERACTIVE ASSESSMENT QUESTIONS

Assessment questions with feedback embedded throughout textbook

All-in-one Platform
Access to additional questions, test banks, and slides available within one platform

Pricing
Average price of textbook across most common format
Top Hat
Jenny & Geske, Human Anatomy, Only One Edition needed

Up to
40-60%
more affordable
Lifetime access on any device
McGraw-Hill

Saladin, Human Anatomy (5th ed)

$105
E-book 6 month access
$325.33
Hardcover print text only
Pearson
Martini, Tallitsch, & Nath, Human Anatomy (9th ed.)

$67.99
E-book 6 month access
$232.73
Hardcover print text only
Always up-to-date content, constantly revised by community of professors
Content meets standard for Human Anatomy courses. Constantly revised and updated by a community of professors with the latest content

Top Hat
Jenny & Geske, Human Anatomy, Only One Edition needed

McGraw-Hill
Saladin, Human Anatomy (5th ed)

Pearson
Martini, Tallitsch, & Nath, Human Anatomy (9th ed.)

In-book Interactivity
Includes embedded multi-media files and integrated software to enhance visual presentation of concepts directly in textbook

Top Hat
Jenny & Geske, Human Anatomy, Only One Edition needed

McGraw-Hill
Saladin, Human Anatomy (5th ed)

Pearson
Martini, Tallitsch, & Nath, Human Anatomy (9th ed.)

Customizable
Ability to revise, adjust and adapt content to meet needs of course and instructor

Top Hat
Jenny & Geske, Human Anatomy, Only One Edition needed

McGraw-Hill
Saladin, Human Anatomy (5th ed)

Pearson
Martini, Tallitsch, & Nath, Human Anatomy (9th ed.)

All-in-one Platform
Access to additional questions, test banks, and slides available within one platform

Top Hat
Jenny & Geske, Human Anatomy, Only One Edition needed

McGraw-Hill
Saladin, Human Anatomy (5th ed)

Pearson
Martini, Tallitsch, & Nath, Human Anatomy (9th ed.)

About this textbook
Lead Authors
Lindsey Jenny
Michigan State University
Nicole Geske
Michigan State University
Textbook Details
Anatomy is an essential course for many undergraduate science programs, including biology, life sciences, or biomedical sciences. Top Hat's Human Anatomy textbook takes a student-centric approach with a strong focus on active learning and assessment. This textbook balances depth and breadth of information with a conversational and engaging tone to enhance students' interest in the subject.

Contributing Authors
John Redden
University of Connecticut
Joe Crivello
University of Connecticut
Melissa Marcucci
University of St. Joseph
Melissa Fox
Wingate University
Angela Hess
Bloomsburg University of Pennsylvania
Andrew Lokuta
University of Wisconsin
Kristen Kimball
University of Connecticut
Kira Werstein
Iowa State University
Chaya Gopalan
Southern Illinois University Edwardsville
Diana Horrigan
Brown University
Michele Moore
Butler University
Bruce Pichler
University of North Georgia
Matthew Orange
Central Connecticut State University
Chad Wayne
University of Houston
Gerald Brasington
University of South Carolina
Graham Atkin
Michigan State University
Ron Gerrits
Milwaukee School of Engineering
Chris Trimby
Wisconsin Institute for Science Education & Community Engagement
Heiko Jansen
Washington State University
Explore this textbook
Read the fully unlocked textbook below, and if you're interested in learning more, get in touch to see how you can use this textbook in your course today.
Chapter 2: Cell Structure and Function
2.1​ Objectives
After completing this chapter, you should be able to:
​2.2 Introduction
​Ever wonder how acetaminophen works to alleviate your headache? Do you know why the caffeine in your coffee helps to kickstart your day? What causes mucosal build up in the lungs of individuals with cystic fibrosis? What is the best way to treat a patient diagnosed with diabetes? The answer to all of these questions begins with an understanding of cell biology. The cell is the smallest functional unit of a living organism. While some organisms are comprised of just a single cell (prokaryotes), humans (eukaryotes) are much more complex and contain about 30 trillion cells that function together to provide you with legs to walk to class, a digestive system to refuel after a long night of studying, and brain power to learn anatomy this semester. Before we can tackle these big anatomical questions about your body, it is important that we take a closer look at the foundation of each organ system: the eukaryotic cell.
​Cells were first recognized about 300 years ago by Robert Hooke, an English scientist who noted the compartmentalization of a cork slice under the magnification of a microscope. The sturdy cell walls of the plant specimen he observed were published in Micrographia in 1665 (Figure 2.2). It was in this publication that Hooke coined the term "cell" after the honeycomb structures of cellula, a Latin word for "small chamber." Shortly thereafter, Antonie van Leeuwenhoek, a Dutch microscopist, began visualizing live microorganisms such as bacteria and protozoans (which he called "animalcules") along with specialized cell types in multicellular organisms, including muscle fibers, red blood cells, and sperm. It wasn't until another 200 years passed, however, that scientists began to understand the function of the cell. As microscopes became more advanced, it became easier to study the behaviors within these compartments, and by the mid-1800s, the pillars of the Cell Theory emerged:
All living organisms are comprised of one or more cells.
Cells are the fundamental unit of life.
Cells originate only from preexisting cells.
Over time, scientists have continued to build upon this foundation to establish a more complete understanding of the functions that the cell carries out and the mechanisms by which they take place. We now know that hereditary information is used to generate biomolecules within the cell and makes the notion of reproduction possible. It is understood that the behavior of each independent cell will ultimately affect the overall function of the organism. We have also determined that cells carry out metabolic reactions to generate the energy flow needed to perform biological work. While we have gained an impressive amount of information about the cell over the last century, biologists continue to seek out new discoveries each day in hopes of making ground-breaking advancements that will help our society become healthier and overcome disease. In this chapter, we will investigate the basic structure and function of the cell so that you have the tools to understand how caffeine affects the cells in your body and perhaps even join forces with researchers so you, too, can contribute towards advancements in this field.

Each of the following statements correctly describe the Cell Theory, except:
A
All cells come from preexisting cells.
B
Eukaryotic organisms are made of a single cell.
C
Cells are the fundamental unit of life.
D
All living organisms are comprised of one or more cells.
What is one thing you would like to learn about how the cell functions?


2.2.1​ The Four Biomolecules
If cells are the basic unit of organisms capable of sustaining life, what are they made of and how do those components function? As introduced in the chapter on Introduction and Organizing Principles, cells contain four major biomolecules, including nucleic acids (DNA/RNA), proteins, lipids, and carbohydrates. These each have distinct structural and biochemical properties that lend to their individual functions within the cell. Table 2.1 outlines some of these features for you. Collectively, they create the molecular players, structures, and organelles that perform tasks within the cell. Let's explore them one by one.
The nucleic acid family includes deoxyribonucleic acid (DNA) and ribonucleic acid (RNA). DNA is the genetic code that serves as a blueprint for the transfer of information within the cell. During the lifespan of an individual cell, the information stored within DNA sequences will determine which RNA coding is produced and ultimately which protein sequences are generated by the cell. This is known as the central dogma of genetics. We will discuss how the central dogma of genetics is used to perform gene expression in section 2.3.1. The monomer unit that is used to build nucleic acids is called a nucleotide. Each nucleotide has three distinct components: a nitrogenous base, five-carbon sugar, and a phosphate group (Figure 2.3a). Nitrogenous bases are broken down into two families, including pyrimidines with a one-ringed structure (thymine (T), cytosine (C), and uracil (U)) and purines with a two-ringed structure (adenine (A) and guanine (G)) (Figure 2.3b). DNA is coded by ATCG nucleotides whereas RNA uses AUCG, exchanging U in place of T. The five-carbon sugar can either be deoxyribose (for DNA only) or ribose (for RNA only).

​Nucleotides undergo condensation reactions to form long polymer chains known as nucleic acids. During the condensation reaction, a strong covalent bond called the phosphodiester bond is formed between each nucleotide. Nucleic acid strands can also form weaker associations to other nucleic acid strands through hydrogen bonding between the nitrogenous bases. Due to the structure and biochemical nature of each nucleotide, only complementary base pairing can occur. This includes A bonding with T (or U for RNA) via two hydrogen bonds and C bonding with G via three hydrogen bonds (Figure 2.4).
Which of the following is found in DNA nucleotides but not RNA?
​Proteins are a diverse type of biomolecule due to their wide array of cellular functions. They are responsible for performing biological work and generating the cellular structure that gives each cell type their purpose within your body. For instance, your intestinal epithelial cells (IECs) are supposed to absorb nutrients as they pass through your gastrointestinal tract. To make this possible, IECs produce a sodium/glucose symporter protein that helps import glucose, a nutrient, from the intestinal lumen. Likewise, your skin provides a layer of protection against agents that harm the body. Psoriasin is a protein secreted by cells in the outer layer of skin, called keratinocytes, that exerts antimicrobial activity against E. coli. As you're beginning to see, each cell type can specialize its function based on the types of proteins it produces. A summary of protein classes is explored in Table 2.2.
Proteins are constructed using amino acids. There are 20 different amino acids that all share the same backbone structure and only vary by the side chain, or R-group, that is attached to the central alpha carbon (Figure 2.5). The R-group can be as simple as a single hydrogen or as complex as large ring structures, side chains containing charges, etc.
Depending on the biochemical properties of these R-groups, they are each classified as nonpolar/hydrophobic, polar/hydrophilic, or acidic-basic/hydrophilic and will modify how each amino interacts with neighboring molecules (Figure 2.6). This will be important when you learn how protein structure is established in section 2.3.2. Amino acids form protein polymers through a strong covalent bond called the peptide bond, which is created from a condensation reaction.
What type of covalent bond is formed when amino acids condense into proteins?
​Lipids play several distinct roles in the cell. Acylglycerols, or fats, are useful for long-term storage of energy. They can have up to three fatty acid tails of varying length and these are source of the stored energy (Figure 2.7a). Phospholipids share a similar structure with acylglycerols, but one of the fatty acid tails is exchanged for a polar phosphate group (Figure 2.7b). These lipids are the predominant component of the lipid membranes within the cell, including the plasma membrane and organelle membranes. Phospholipids will be discussed further later in the chapter. Another lipid family member is the steroid. Steroids are four-ringed carbon structures with various side chains attached that give each steroid its unique function (Figure 2.7c). Cholesterol serves as the precursor molecule for all other steroids including steroid hormones like estrogen, testosterone, and cortisol. In addition to steroids' function as chemical messengers within the endocrine system, cholesterol is also an important structural component in the membrane. This will be discussed more in section 2.2.2. Lastly, waxes are a type of lipid that provides a protective barrier (Figure 2.7d). Cerumen, for example, is a waxy substance located in the ear canal that protects the ear drum from pathogens and water. They are constructed as an ester of one fatty acid chain attached to a long-chain alcohol.
Match each type of lipid with its function in the cell.
B
Long-term energy storage
​Carbohydrates play a major role in providing energy for the cell as well as tagging other biomolecules for identification purposes. The simplest subunit of a carbohydrate is a monosaccharide that is comprised of carbon, oxygen, and hydrogen in a fixed ratio: (CH2O)n. In aqueous solutions, monosaccharides exist as ring structures and can polymerize with other monosaccharides to form disaccharides or polysaccharides. The polymerization of carbohydrates occurs with a condensation reaction, which forms a glycosidic linkage between each subunit (Figure 2.8a). Both monosaccharides and disaccharides are referred to as simple sugars and are quickly metabolized by cellular respiration to produce ATP for the cell's energy expenditures. Due to the large composition of polysaccharides, these complex carbohydrates (i.e., starch or glycogen) take several more hours of processing before they can yield ATP energy. For long-term energy storage, carbohydrates can be converted into glycogen, which is stored within the liver and muscle for immediate release into the blood stream and energy production in muscles, respectively, during times of exercise and stress. In addition to providing energy to the cell, carbohydrate groups can be attached to lipids and proteins to serve as identification tags for intracellular trafficking, cell-cell recognition at the cell surface, or adhesion between cells and the extracellular environment (Figure 2.8b). The process of adding carbohydrate groups is referred to as glycosylation and the resultant products are often called "glycolipids" and "glycoproteins."
Which type of carbohydrate is best used to store energy?

2.2.2​ Enzymes and Catalysis
​ Enzymes are essential catalysts that speed up the rate of the biological reactions happening non-stop in your living cells. Without them, studies have estimated that certain biological processes, such as the hydrolysis of phosphate dianions during the phosphatidylinositol signaling pathway discussed further in the chapter on Endocrinology, would take a trillion years to occur, whereas a phosphatase enzyme can accomplish this same task in one hundredth of a second! I think we all are a little too impatient to wait for reactions to happen on their own, so let's discuss how enzymes perform this important duty within our cells.
​Enzymes are typically protein molecules that have the ability to hydrolyze or condense biomolecules. Each enzyme is specialized to its own particular task; for instance, sucrase is only capable of breaking down sucrose sugars and DNA ligase is responsible for bonding DNA nucleotides together. Enzymes interact with their substrate at an active site due to a very specific lock-and-key fit. The enzyme undergoes a slight conformational change, called induced fit, in order to interact strongly with the substrate and carry out the intended reaction.
Environmental conditions such as pH and temperature can affect the rate at which enzymes function due to modifying enzyme-substrate interaction through shape change or molecular movement. Importantly, enzymes are not consumed in the reaction and can be reused many times over. Watch this video to see how enzymes exert their effect on substrates.

Which statement is true regarding an enzyme?
A
They undergo induced fit with their substrate
B
They slow down the rate of biological reactions
C
They are consumed in the reaction
D
They bind to the active site on the substrate


2.2.3​ A Tour of Organelles and Cellular Structures
How do these biomolecules ultimately affect how the cell functions? Imagine what it would take to build a house for your family to live in. First, you would purchase supplies such as lumber, roofing, carpeting, appliances, paint, nails, tools, etc. You load the items on a truck and deliver them to the home site. Now that the supplies are there, is it a functional home yet? Of course not. These supplies must be put together in a specific way in order for you to live there. You would need to lay a foundation, build walls, and add the roof. You would want to identify the purpose of each room and install the proper appliances, lighting, electricity, and plumbing. To make it functional, you would want to set up a desk for your office, table for the dining room, entertainment center for your living room, and treadmill for your home gym. Now that specific rooms are constructed and the appropriate furniture has been moved in, you will be able to carry out your daily tasks in an efficient, productive manner. Similarly, your cell will need to take the four biomolecules and build larger structures with them, tailor them for specialized cellular functions, and organize them within specific compartments, or organelles, so that the cell can perform its required tasks. Let's walk through the structure of the cell and visit each organelle. Here, you will be introduced to the complex processes that occur at these sites, which will be described in greater detail throughout the remainder of this chapter.
​Over the past 10 years, mitochondrial defects have been implicated in a variety of degenerative diseases, aging, and cancer. The complex interplay between mutations in the mitochondrial and nuclear genomes contributes to these diseases. However, the pathophysiology of mitochondrial diseases remains perplexing. The essential role of mitochondrial oxidative phosphorylation in cellular energy production, the generation of reactive oxygen species, and the initiation of apoptosis have suggested a number of novel mechanisms for mitochondrial pathology.
One of the first indications that mitochondria may play a role in pathogenesis was reported nearly 40 years ago. A patient with hyper-metabolism had skeletal muscle that contained large numbers of abnormal mitochondria, a condition now known as mitochondrial myopathy. Patients with mitochondrial myopathy suffer from muscle weakness and exercise intolerance, stroke like episodes, dementia, blindness, deafness , heart failure, arrhythmias, and movement disorders. Mitochondrial myopathies encompass an extraordinary assemblage of clinical problems, commonly involving tissues that have high-energy requirements such as heart, muscle, and the renal and endocrine systems.
On a cold morning in winter, a family of four is found unresponsive on the floor of their home. The paramedics smelled smoke within the house, and the furnace in the basement had malfunctioned during the night. The family was taken to the emergency department (ED) and upon physical examination all members of the family presented with cherry red lips and finger tips, a classical sign of carbon monoxide (CO) poisoning.
What cellular organelle is most affected by CO poisoning?
A
Smooth endoplasmic reticulum
C
Rough endoplasmic reticulum
Hover here to find out how this condition would be treated.


2.3​ Biological Membranes
2.3.1 Membranes Compartmentalize Specialized Regions of the Cell
​Biological membranes are selective barriers that separate the contents of the cell from the extracellular environment and the contents of an organelle from the cytoplasm. The biochemical properties of membrane components allow the cell to regulate the movement of molecules across the membrane according to its need for energy, molecular building blocks, communication signals, and elimination of waste products. As a result, the membrane is said to be a semi-permeable barrier that maintains homeostasis by only permitting entrance or exit of specific molecules as needed. Within each cell, eukaryotes also contain membrane-bound organelles that serve to compartmentalize various cellular processes. For instance, energy production is performed in the mitochondria, biomolecule degradation takes place in the lysosome, and genomic DNA is protected within the nucleus. By placing all necessary components for a particular task within the boundary of a membrane-bound organelle, the efficiency of the eukaryotic cell is greatly enhanced.
Question 2.09
Biological membranes are described as semi-permeable barriers. What consequences would occur if the membrane became impermeable?
Click here to see the answer to Question 2.09.

2.3.2 Membrane Structure
​The basic structure of the plasma membrane is composed of a phospholipid bilayer. Each phospholipid consists of a glycerol backbone with two fatty acid tails on one side and a phosphate head group rotated around on the other (Figure 2.10a). The phospholipid bilayer will self-assemble into two inverted sheets, with the polar head groups exposed to the aqueous extracellular and cytoplasmic environments and the nonpolar tails sandwiched in the center layer forming hydrophobic interactions (Figure 2.10b). This arrangement of the amphipathic molecules minimizes exposure of the nonpolar tails to water and other polar entities, which would be energetically unfavorable. As a result, this effectively establishes a barrier between internal and external environments.
Which region(s) of the plasma membrane are considered polar/hydrophilic?
​A diverse collection of proteins is also found within the plasma membrane. These proteins are classified as either transmembrane (integral) or peripheral depending on how they associate with the phospholipid bilayer (Figure 2.11). Transmembrane proteins span the entirety of the bilayer with domains that reach the extracellular and cytoplasmic regions and serve functions in molecular transport, cell adhesion, cell-cell recognition, signal transduction, and enzymatic activity. Peripheral proteins are located at the edge of the membrane by reversibly interacting with the phospholipid's polar head group or permanently embedding into the bilayer using a glycosylphosphatidylinositol (GPI) anchor. These proteins function as accessories to signal transduction, enzymatic activity, and cell adhesion processes amongst others.
Consider how proteins associate with the phospholipid bilayer. Which type of membrane protein is most likely used to transport molecules across the plasma membrane?
​The third major component of the plasma membrane is cholesterol. Its hydrocarbon ring structure associates with the bilayer by integrating with the phospholipid's fatty acid tails and its hydroxyl group aligns with the polar head groups (Figure 2.12). In addition to serving as the substrate for steroid hormone synthesis as previously mentioned, cholesterol plays an important role in regulating membrane fluidity, which will be discussed further later in the chapter.
This Content is Locked
Only a limited preview of this text is available. You'll need to sign up to Top Hat, and be a verified professor to have full access to view and teach with the content.
Hover here to see the hint for Question 2.12.

2.3.3​ Fluid Mosaic Model of Membrane Dynamics
​To function properly, all contents of the plasma membrane behave as a two-dimensional fluid described by the Fluid Mosaic Model. In this model, the phospholipids, membrane proteins, and cholesterol molecules are constantly in motion as they maintain the bilayer structure, similar to the movement of sailboats bobbing within the ocean. Membrane components can freely rotate clockwise or counterclockwise and move laterally from side to side or front to back, but cannot spontaneously flip from one side of the bilayer to the other (transverse migration). Since flipping sides of the bilayer would cause the polar head group to briefly intermix with the nonpolar fatty acid tails, this movement is thermodynamically unfavorable. In circumstances that phospholipids are required to do this, enzymes such as flippase, floppase, and scramblase are employed.
The dynamic nature of the Fluid Mosaic Model is essential to carry out the various functions required of the plasma membrane. Membrane proteins are interspersed at the cell surface, but oftentimes need to re-localize to regions of the membrane where they are useful. For instance, some receptors must dimerize to initiate a signaling cascade, cell adhesion molecules cluster together for strength, and inhibitory molecules need the ability to associate and dissociate with their targets. Without fluidity in the membrane structure, these molecules would be unable to perform their task.
Which of the following statements correctly describes the Fluid Mosaic Model? Choose all that apply.
A
Membrane proteins can move laterally.
B
Phospholipids can spontaneously flip from one side of the bilayer to the other.
C
Phospholipids can rotate.
D
Phospholipids are constantly in motion while membrane proteins are fixed.


2.3.4​ Regulation of Membrane Fluidity
​While maintaining the right balance of membrane fluidity is crucial to proper cellular function, the degree of membrane fluidity is ultimately determined by several ever-changing factors. The first consideration is temperature. As temperature rises, the increase in kinetic energy speeds up movement of the phospholipid bilayer and the hydrophobic interactions between the fatty acid tails are disrupted. This causes the fluidity to increase and thus weakens the membrane structure (Figure 2.13a). In contrast, as temperature is reduced, the decrease in kinetic energy slows movement and enhances the association between phospholipids. As a result, the membrane becomes more rigid – and even dangerously brittle when the temperature drops too low (Figure 2.13b). To help visualize this concept, imagine exposing a stick of butter to different temperature environments. In the refrigerator, the butter remains solid, or rigid. When you place that same stick of butter on a hot frying pan, it soon will melt and become more fluid.
​The next characteristic that affects membrane fluidity is the saturation level of the phospholipid's fatty acid tails. Saturated fatty acid tails are formed with single bonds, which yields a straight structure that can pack in tightly with neighboring membrane components. This crowding effect minimizes movement and causes a rigid phenotype (Figure 2.14a). As unsaturated fatty acid tails are incorporated, the membrane becomes more fluid due to the "kinked" structure of the tail established by the presence of one or more double bonds. This disrupts the hydrophobic interactions and provides opportunity for rotational and lateral movement of the membrane components (Figure 2.14b). Cells can regulate membrane fluidity by modifying the ratio of saturated:unsaturated phospholipids in response to environmental conditions.
Lastly, cholesterol is an important regulator of membrane dynamics. At standard temperatures, such as body temperature, increased cholesterol concentration causes a reduction in membrane fluidity by packing between the "kinked" fatty acid tail structures from unsaturated phospholipids (Figure 2.15a). This restricts movement of membrane components. In contrast, at very low temperatures such as those that threaten hypothermia, cholesterol actually serves as a spacer between phospholipids to prevent solidification of the membrane (Figure 2.15b). Cholesterol incorporation is thought to be the main driving force behind the regulation of membrane fluidity in animals.
​The use of cholesterol to regulate membrane fluidity is highlighted by structures called lipid rafts. Lipid rafts are localized regions of the plasma membrane that contain a specialized collection of membrane proteins that work together in a signaling pathway. In order to keep these proteins closely associated, rather than diffusing away from each other as the Fluid Mosaic Model dictates, cholesterol levels are upregulated at these locations to enhance rigidity (Figure 2.16). For example, this feature is important at the immunological synapse between T-cells and antigen presenting cells. During T-cell activation, the rigidity of the lipid raft facilitates binding between the two cells using cell adhesion molecules such as integrins and ICAMs (see section 2.6.2). The stability provided by these strong adhesions allows for the formation of T-cell receptor complexes alongside the necessary co-receptors, costimulatory molecules, and other binding partners (see the chapter on The Immune System).

Indicate whether each scenario will cause the phospholipid bilayer to become more fluid or more rigid.
1
Child rescued from a frozen pond with hypothermia
2
Genetic mutation prevents body from using saturated fatty acid tails
3
Patient's blood labs reveal elevated levels of cholesterol at 37°C
While it is important to maintain the appropriate balance of membrane fluidity, membrane composition and environmental conditions will be ever-changing. What are the consequences of having a membrane that is too rigid? What are the consequences of having a membrane that is too fluid?
​Hover here to see the answer to Thought Question 2.01.



2.4 Gene Expression and the Endomembrane System
​2.4.1 Central Dogma of Genetics
​Ever wonder why the cardiomyocytes in your heart are able to contract while the hepatocytes in your liver do not? Why can the cells within your retina sense vision while your skin detects touch? Why do mammary epithelial cell secrete milk while your salivary glands secrete amylase? From the time of your conception, each cell in your body has contained identical copies of your personal genome, which was inherited from both maternal and paternal origins. How, then, does a zygote ultimately develop into a full organism with numerous cell types, each with unique phenotypes and functions? The answer lies with how gene expression occurs. Cells are able to differentiate into specific subtypes based on the collection of genes they express. While a given cell contains the entire genome, it has been programmed to express only a particular subset of genes that give rise to its unique function within its tissue. This is carried out by a process called the central dogma of genetics, where DNA code is transcribed into RNA, which is then translated into functional protein.
​The story begins with DNA, which serves as our blueprint of hereditary information. Stored and protected within the double membrane of the nuclear envelope, the nucleotides of the DNA double helix hold the information needed to code for the proteins that will perform a diverse array of functions within our cell. Unless the cell is preparing for division, the DNA will be found in a relaxed, uncoiled organizational state called chromatin. Here, the DNA double helix will be wound around histone proteins at various degrees of condensation to provide access to genes for transcription (euchromatin) or coil up and protect other genes that are not being actively expressed at the time (heterochromatin) (Figure 2.17). This differs from the chromosome arrangement of DNA that will be important for proper, controlled chromosome segregation during mitosis (see section 2.7.1).
The relaxed euchromatin state of DNA is best utilized for which function?
B
Access for gene expression
C
Protection when genes are not being expressed
D
Organization before DNA replication
​When the cell receives a signal for de novo gene expression (discussed further in section 2.5), the promoter regions within the euchromatin will be targeted for RNA transcription (Figure 2.18). To begin the transcription process, cellular signaling events will activate a class of proteins called transcription factors. Each type of transcription factor binds to specific promoter regions within the genome; depending on which transcription factors are utilized, the cell is able to tailor which genes are targeted for expression at that moment in time, which allows each cell type to exert their specific function. The result of this activity yields a pre-messenger RNA (pre-mRNA) molecule.
What kind of molecule induces expression of specific genes?
​Before leaving the nucleus, the pre-mRNA transcript will be modified to prepare it for protein translation and enhance its stability (Figure 2.19). Initially, the pre-mRNA transcript contains a combination of introns and exons. Introns must be spliced out by machinery called the spliceosome. The remaining exons are then joined together to create a continuous protein coding sequence. Additionally, some transcripts undergo alternative splicing, whereby only certain exons are retained and others are also spliced out, which will give rise to unique protein products. To help protect the mRNA from degradation, a modified guanine (G) nucleotide called a 7-methylguanylate cap is added to the 5' end (often referred to as a 5' cap) and the process of polyadenylation adds ~100-200 adenine (A) nucleotides to the 3' end (called a poly-A tail). Both of these caps will delay enzymatic degradation of the mRNA transcript, allowing sufficient time for protein translation before the mRNA is no longer intact. The degree of turnover for mRNA is typically quantified as a half-life. Some mRNA molecules are intended to have short half-lives due to the transient nature of their function during an acute response to a particular stimulus, during fetal development stages, or throughout cell cycle progression, whereas others exhibit very prolonged half-lives because of their necessity for cell survival or housekeeping behaviors.
A fully processed mRNA molecule should contain all of the following except what?
The half-life of mRNA transcripts varies for specific genes. Can you postulate why some gene transcripts are more stable than others? How does this benefit the cell?
​​Hover here to see the answer to Thought Question 2.02.
​Once the mRNA has been processed and exported into the cytoplasm, it will join with the ribosome to initiate protein translation (Figure 2.20). The ribosome will form a complex with the mRNA and transfer RNA (tRNA) molecules that serve as a translator between nucleic acid coding and amino acid coding. The tRNA molecules will carry the appropriate amino acids to synthesize the final protein coding strand.
Question 2.18
Describe the difference between mRNA and tRNA.
Click here to see the answer to Question 2.18.

2.4.2​ Protein Folding and Processing
​Once genes have been translated into protein, the next challenge is to ensure that they are folded into the correct conformation and processed for proper localization within the cell. Proteins that are destined to be soluble within the cytoplasm will be translated by free ribosomes located in the cytoplasm. Once the translation process is complete, these proteins will assume their folded conformation with assistance from chaperone proteins. Many proteins, however, will become part of the endomembrane system due to their need to traffic to membrane-bound organelles, to integrate into a membrane, or to be exocytosed (secreted) from the cell. In this instance, the translation process will take place on a ribosome docked to the rough ER membrane. As the polypeptide chain is produced, it is shuttled into the ER lumen through the protein translocator, a channel spanning the ER membrane. Here, the folding process will ensue by utilizing ER-based chaperone proteins for assistance (Figure 2.21).
Question 2.19
What is the difference between free ribosomes and ribosomes bound to the rough ER?
Click here to see the answer to Question 2.19.

There are four levels of protein organization:
​Primary - Linear sequence of amino acid residues
Secondary - Formation of α-helices and β-pleated sheets
Tertiary - Overall folded protein forming a globular shape
Quaternary - Association of two or more protein subunits
​Primary structure is the sequence in which amino acids appear within the protein and is fundamentally determined at the genomic level. As DNA nucleotides undergo gene expression, they are converted into mRNA codons (a cluster of three nucleotides) and ultimately amino acids. As proteins are polymerized within the ribosome, a peptide bond (a type of covalent attachment) is formed between each amino acid. At this stage, there is not yet a unique 3-dimensional conformation, but rather just a linear sequence of amino acids placed together in a specific order (Figure 2.22).
​Depending on the placement of R groups, small regions of the protein can form secondary structures in the arrangement of either α-helices or β-pleated sheets. These unique conformations are held in place by hydrogen bonds that form between the carboxyl and amino groups of different amino acids. While the R groups are not directly involved in the bonding, the nature to form a particular secondary structure is driven by the biochemical nature and steric footprint of the R-groups located within that stretch of the protein. It is important to note that secondary structures can be diverse in their number, location, and length within a given protein. For example, the protein aquaporin, a channel protein that transports water across the membrane, (Figure 2.23a) is constructed almost entirely by six α-helices whereas PIM-1, a serine/threonine kinase, (Figure 2.23b) contains a combination of several α-helices and β-pleated sheets. Other proteins may contain no secondary structures at all.

​The major contributor to a protein's final shape is tertiary structure. Also known as the globular shape, this level of protein organization establishes the many folds, turns, and contortions that produce the domains of protein activity (Figure 2.24). Several bond types are utilized to accomplish this, including hydrogen bonds, ionic bonds, van der Waals interactions, hydrophobic interactions, and disulfide bridges. The arrangement of the R-groups will drive the formation of these associations.
Which bond types may be utilized to establish tertiary structure of a protein? Choose all that apply.
C
Hydrophobic interactions
Lastly, quaternary structure will occur if two or more individual protein subunits bond together to create a functional unit. This type of association can occur from the same bond types used in tertiary structure and also depends on the biochemical properties of the R-groups. Quaternary structure is not a requirement for all proteins, but some must reach this level of organization in order to carry out their function. Hemoglobin is an excellent example, as it requires two alpha and two beta subunits to bind before it can properly carry oxygen for delivery within red blood cells (Figure 2.25).
​Sickle Cell Disease (SCD) is a genetic disorder that is caused by a single point mutation that changes glutamic acid (charged/polar) for valine (uncharged/nonpolar) within the beta globulin subunit of the hemoglobin protein. This causes a change in the way the protein folds and, as a result, the hemoglobin proteins link together. Long fibrous strands of hemoglobin form in red blood cells and cause the elongated sickle shape. These cells get trapped within the small capillaries, and tissues become deprived of oxygen and nutrients. Patients suffering from SCD will experience sudden onset of pain crises when their tissues are deprived of oxygen. Long-term, they will suffer from organ damage and chronic fatigue due to lack of oxygen and nutrients, and anemia due to the destruction of sickled red blood cells which leaves.
Hydrogen bonds are found in which level(s) of protein organization? Choose all that apply.

2.4.3​ Secretory Protein Trafficking through the Endomembrane System
Once proteins have been properly folded, it is necessary to traffic them to their appropriate destination. Proteins produced by free ribosomes will diffuse throughout the cytoplasm and may later enter and exit the nucleus if signaled to do so. Meanwhile, proteins produced by ribosomes bound to the ER membrane will undergo a drastically different trafficking process that involves the endomembrane system.
The endomembrane system is a network of membrane-bound organelles within the cell including the nuclear envelope, endoplasmic reticulum (ER), Golgi apparatus, transport (secretory) vesicles, lysosomes, and the plasma membrane (see 3D model below). Be sure to review these structures and organelles by touring the interactive diagram in section 2.2.3. Newly synthesized proteins that enter the endomembrane system via the rough ER will be retained into these compartments. In order to shuttle between compartments, the proteins will be packaged into transport or secretory vesicles which then bud off from their current organelle and fuse with their new destination. This budding and fusion process is made possible due to the nature of the phospholipid bilayer, where remodeling to incorporate new membrane sections is a favorable process.
This Content is Locked
Only a limited preview of this text is available. You'll need to sign up to Top Hat, and be a verified professor to have full access to view and teach with the content.
The endomembrane system is a series of membrane-bound organelles used for the synthesis and transport of proteins, which are to be compartmentalized within organelles within the endomembrane system, embedded into the membrane as transmembrane proteins, or secreted from the cell. Some members of the endomembrane system are also capable of biomolecule degradation so that recycling of fundamental building-blocks can occur.​
​Let's follow the journey of thyroid stimulating hormone (TSH) through the endomembrane system. All the way back at the genomic level, TSH contains a signal sequence in the beginning of its coding region to facilitate its trafficking to ribosomes bound to the ER membrane. As the ribosome works to polymerize each amino acid, the growing polypeptide chain is pushed further into the ER lumen. It immediately begins to fold according to the four levels of protein organization discussed in section 2.3.2. Chaperone proteins are present in the ER lumen to assist with the folding process and retain the TSH protein to the ER in the event that the protein is misfolded. This prevents misfolded proteins from proceeding into other cellular compartments where they could cause harm. Since TSH consists of two subunits, both the alpha and beta chains must complete the folding process and join together in quaternary structure. Both subunits will also undergo N-linked glycosylation where a carbohydrate moiety is attached. In this form, TSH is considered a glycoprotein, and the carbohydrate addition serves as a tag to inform the cell of its trafficking route for secretion out of the cell.
​Next, TSH (along with many other proteins) is packaged into a transport vesicle that buds off from the ER membrane and diffuses a short distance to the cis-face of the Golgi apparatus. Here, the membranes of the transport vesicle and Golgi are able to fuse together and the contents of the vesicle are dispensed into the cisternae of the Golgi apparatus. While in the Golgi apparatus, TSH will receive additional processing to yield its final structure, including O-linked glycosylation that will modify the carbohydrate composition. As TSH continues to move across the Golgi's membranous sacs, it will become compartmentalized with other secretory proteins and packaged into another vesicle. This vesicle will bud off from the trans-face of the Golgi apparatus and begin its journey towards the cell surface.
​Rather than freely diffuse, the secretory vesicle leaving the Golgi apparatus will be attached to the motor protein kinesin, which will transport the vesicle's cargo directly to the cell surface by moving along a microtubule track. Each "step" taken by the motor protein's head group is facilitated by ATP hydrolysis.
​Depending on the processing that occurred in the Golgi apparatus, some vesicles will be retained in the cell until a signal is activated for its release whereas others are constitutively secreted upon production. This is directed by different types of SNARE proteins (Figure 2.28). The secretory vesicles contain v-SNAREs (oftentimes members of the Ca2+-sensitive vesicle membrane protein (VAMP) family of SNARES), which will associate with t-SNAREs on the target membrane. The v-SNAREs/VAMPs are bound to the cytoskeleton and may delay vesicular docking until signal is received that triggers elevated calcium levels within the cytoplasm. Calcium will prime v-SNARE/VAMP to associate with t-SNARE and initiate the docking and fusion process with the plasma membrane. Exocytosis will occur and soluble proteins, such as TSH, will be released into the extracellular environment.
Sort the following steps according to how a protein is processed and trafficked through the endomembrane system.
A
Transport vesicle travels along microtubules with aid of motor proteins
B
Protein is inserted in the ER lumen
C
Transport vesicle fuses with the plasma membrane
D
Transport vesicle freely diffuses to next destination
E
Modifications are made in the Golgi apparatus
F
Protein is folded into secondary¸ tertiary¸ and quaternary structure
G
Protein undergoes N-linked glycosylation
Describe why some proteins are constitutively secreted from the cell whereas others are retained until their release is signaled for by a messenger.
​​Hover here to see the answer to Thought Question 2.03.
​Other proteins may experience slight variations to this path depending on their biochemical properties and the types of glycosylation and processing they receive. Cell surface receptors, for example, contain a hydrophobic region that permanently embeds them into the membrane beginning at the rough ER. Ultimately, these proteins will be integrated at the cell surface as a transmembrane protein containing both an extracellular and intracellular domain once their transport vesicle fuses with the plasma membrane (Figure 2.29). Similarly, transmembrane proteins may also exist on cellular organelles with regions exposed to both the cytoplasm and organelle compartment. The transport proteins and membrane receptors discussed in sections 2.4 and 2.5, respectively, are examples of these trafficking options. In another case, the hydrolytic enzymes that are responsible for biomolecule degradation will pass through the endomembrane system but rather than be transported to the cell surface, their transport vesicle is instead retained in the cytoplasm to function as an organelle called the lysosome (Figure 2.29). Lysosomes will be discussed further in section 2.4.4.
Question 2.23
Can you recall the process of protein trafficking and secretion from the cell? Practice by drawing out the journey taken by thyroid stimulating hormone (TSH) described earlier. How would this pathway differ for a transmembrane protein such as a receptor?
Click here to see the answer to Question 2.23.

2.4.4 Degradation and Recycling of Biomolecules
A 10-year-old boy was brought to the ED by his mother because of pain in his legs, fatigue, and abdominal pain. His mother stated that his pediatrician told them to come to the hospital right away because her son had appendicitis. After a thorough workup, the physician was able to rule out appendicitis. This began to look like something the physician had only heard about in medical school, but had never actually seen in practice. After research and tests, it was concluded that his symptoms were caused by an accumulation of waste products in cells.
What is the organelle that is tasked with cleaning cells of wastes and debris?
​Hover here to find out how this condition would be treated.
​As much as we focus on the synthesis of biomolecules, there ultimately comes a time that the cell must degrade its components in order to maintain homeostasis. Just like you may sort through your clothing periodically to check for stains and tears, make sure things still fit, or determine whether you really still need to save that old favorite t-shirt, the cell will sort through its biomolecules to do the same. This may result in the degradation of old and damaged molecules or those that are overabundant and not useful to the cell at that time.

​ We will discuss two mechanisms by which biomolecule degradation and recycling can take place:
​

Lysosomal degradation

​

Proteasomal degradation
Which method(s) of degradation can be used to degrade excess carbohydrates?
​The lysosome is a membrane-bound organelle that contains a collection of approximately 40 hydrolytic enzymes and a pH of 4.5-5. Since it is a member of the endomembrane system, other membrane-bound vesicles can fuse with it and deliver contents for degradation. Because of the variety of enzymes housed in the lysosome, it is capable of hydrolyzing almost any bond type that is present in nucleic acids, proteins, lipids, and carbohydrates. The resulting products will be recycled by the cell to produce fresh biomolecules that are of immediate use. Two distinct types of lysosomal degradation exist. Phagocytosis is the process of the cell ingesting a particle or cell from the external environment. An example of this includes a macrophage (immune cell) engulfing a bacterial cell (Figure 2.30). As the substance is brought into the cell through endocytosis, the resultant vesicle will fuse with a lysosome to initiate the degradation process. Autophagy, on the other hand, means "to self-eat" and refers to lysosomal degradation events that target biomolecules already within the cell.
The proteasome is a cytoplasmic protein complex that is capable of degrading other proteins. As the cell identifies unwanted proteins, it will add covalently-bound ubiquitin tags that guide the protein to the proteasome. The protein is shuttled through the core cylinder where proteolysis occurs. Small peptide fragments are produced and are recycled by the cell during anabolic processes (Figure 2.31).
Which method of degradation is appropriate for proteins located within the cytoplasm?


2.5​ Molecular Transport
2.5.1 Concentration Gradients of Biological Solutes
The cell is a heterogeneous mixture of biomolecules, ions, and other small molecules suspended in the cytosol. As part of its normal function, the movement of these molecules within the cell and across the plasma membrane is constantly in flux to perform cellular activities and maintain homeostasis. These molecules are referred to as solutes, which are dissolved in the water-based solvent of the cytosol or extracellular fluid. Molecules randomly move, through a process known as Brownian motion.
​To understand how molecules move across a biological membrane, we will first introduce the concept of concentration gradients. Imagine pouring a beaker of water (solvent) and then squeezing in a few drops of red dye (solute). At first, the dye will be highly concentrated at the immediate location it hit the water. If you were able to watch the individual molecules of dye, you would notice that their dense arrangement results in the molecules randomly bumping into each other at a high frequency and causes them to be pushed apart. A few moments later, the dye molecules have infiltrated nearly half of the beaker of water. The molecules are still bumping into each other and pushing the dye further apart but at a slightly slower rate. Eventually, the dye molecules will be evenly spaced at equilibrium and will remain in this state indefinitely. At equilibrium, the molecules are still in motion but there is no net difference in their distribution within the beaker because for each molecule that moves left, another molecule moves right. In other words, the molecules have moved until they have reached a steady state and the "net" flux is zero. This process of moving a solute from higher concentration to lower concentration is coined as moving "down the concentration gradient".
To better understand how the solutes diffuse as a result of random movement, watch this video that shows diffusion of purple and blue dyes at different temperatures.
Before you begin, contemplate whether high or low temperature should increase solute movement and why.

​Because this type of movement is driven by the laws of kinetic energy, there is no ATP energy input required by the cell and is called passive transport. In the event that solutes need to move in the opposite direction, from a region of low concentration to a region of high concentration, the cell would need to utilize energy to perform the task. This is referred to as active transport with movement going "against the concentration gradient". If the cell consumes ATP in order to move a particle against the concentration gradient, this is referred to as primary active transport. All other movements against the gradient are referred to as secondary active transport.
When solutes move from a region of high concentration to low concentration, it is said to be "moving ______________ the concentration gradient."


2.5.2 Membrane Permeability
​In a biological system, it is important to consider the movement of solutes across the membrane. After all, you do need signaling molecules and molecular building blocks to enter your cells and waste products should have an escape route. Due to the biochemical characteristics of the phospholipid bilayer, however, only some solutes may freely cross the membrane through transcellular transport. Small, nonpolar solutes are considered permeable because they share hydrophobic properties with the membrane's fatty acid tails. As a result, these solutes can easily bypass the polar head group, integrate with the lipid component, and slip through to the opposite side of the cell. Examples include small, uncharged gasses like oxygen and carbon dioxide along with small lipids including steroid hormones. In contrast, large, polar solutes are not permeable to the membrane. These solutes are simply too large to intercalate through the phospholipid bilayer and/or their polar groups interact with the phospholipids' polar head groups, which prevents passage. Carbohydrates, proteins, and charged ions are examples of solutes that are impermeable to the plasma membrane. In the next section, we will explore how both permeable and impermeable solutes can transverse the membrane.
Match the following solutes with their membrane permeability status.


2.5.3​ Passive Transport of Solutes Across the Membrane
​Solutes that are permeable to the phospholipid bilayer will cross the membrane using passive transport. Since solute movement will be moving "down the concentration gradient," no energy is required.
There are three main types of passive transport mechanisms:
Simple diffusion – Direct movement of solute across the membrane.
Osmosis – Movement of water across the membrane to equilibrate impermeable solute concentration.
Facilitated diffusion – Movement of solute across the membrane using a transport protein as a passageway.
Simple diffusion occurs by the direct movement of the solute across the semipermeable membrane. Due to the solute's small size and hydrophobic nature, it is capable of passing without any assistance. Over time, these solutes will diffuse from the side of the membrane that is most concentrated with that particular solute towards the side that is least concentrated. It is important to note that each solute is considered independently in simple diffusion. That is to say, each individual solute will move down its own concentration gradient. Below, you can see this take place as the red solute diffuses towards the right while the red solute is diffusing towards the left until they each reach their own states of equilibrium (Figure 2.34).
The flux of simple diffusion is dependent upon several factors including temperature, size of solute, viscosity of the solution, distance of travel, membrane thickness, surface area, and magnitude of the concentration gradient. Since simple diffusion involves the random movement of solutes, the increased kinetic energy associated with higher temperatures can speed up the rate of diffusion whereas cooler temperatures slow this process down. Similarly, flux is elevated by smaller solutes, less viscous solutions, shorter travel distances, thinner membranes, increased surface area, and steeper concentration gradients. Of these contributing factors, the distance that the solute must travel plays a significant role as diffusion becomes very slow over long distances. For example, diffusion across 1 µm is 0.5 msec, across 5 µm (the size of a red blood cell) is 12 msec, across 100 µm is 5 sec, across 1 cm is 14 hours, and from your heart to your feet is 36 years! While simple diffusion works well for gas exchange within the lung because the respiratory membrane is less than 20µm thick, it would not be a very efficient process to use for the purpose of moving glucose from your digestive tract into each of your cells for energy. This is also the reason why cells must maintain a good blood supply with capillaries permeating deep within the tissue so that a high rate of diffusion between the capillary and resident cells is achieved.

​It is also important to note that solute movement does not cease once solutes have reached equilibrium. Instead, they continue to cross the membrane with a net flux of zero; for each solute that moves left, another moves right. Overall, simple diffusion tends to be a slower process and limited to shorter distances. These characteristics of simple diffusion are in stark contrast to bulk flow, which describes the non-random movement of an entire solution from regions of high pressure to regions of low pressure. This process is rapid and capable of covering longer distances. You will encounter bulk flow in later chapters when you learn more about organ system processes, such as circulation and kidney filtration. As a helpful note, bulk filtration is the only passive mechanism to move a solute against the gradient.
​In some instances, the solute at hand is impermeable to the membrane. How can molecular transport be achieved? One way to handle this situation is for water to move across the membrane, effectively diluting the highly concentrated solute. Imagine a pitcher of sweet tea. The ingredients include water (the solvent) with tea and sugar (the solutes). If someone were to taste the tea and realize it was much too sweet, how could they remedy the situation? Could they physically remove the sugar molecules by hand? No. But they could add more water to dilute the high concentration of sugar. In the same manner, if disequilibrium of an impermeable solute existed in a biological solution, osmosis can take place, which moves water directly across the plasma membrane (Figure 2.35). While the volume of water will increase on one side of the membrane, the effective ratio of water:solute will equilibrate on both sides. Note that water is an exception to the permeability rule; despite being polar, it is capable of diffusing across the membrane directly due to its small size and through aquaporin channels.
​Cells in your body can be greatly affected by the impacts of osmosis (Figure 2.36). Under normal physiologic conditions, the osmolarity of the solutions outside and inside of the cell are at equilibrium with no net difference in osmotic pressure between the extracellular and intracellular environments. In this state, the solution is described as isotonic. When the solute concentration is higher in the extracellular environment, the solution is described as hypertonic, and when the solute concentration is lower in the extracellular environment, the solution is described as hypotonic