What is
Educational Technology
Educational technology is a term used to describe a wide array of teaching-and-learning software and hardware that's increasingly being used in college and university classrooms. The ultimate goal of educational technology, also referred to as Ed Tech, is to enable an improved learning environment, which in turn is meant to boost student outcomes. It has also been proven to increase student engagement and participation in class. Educational technology isn't meant to replace an educator's instruction. Instead, it's meant to supplement their instruction by making lectures more collaborative and interactive. "Technology will never replace great teachers, but in the hands of great teachers, it's transformational," says George Couros, Adjunct Instructor in the Graduate School of Education at the University of Pennsylvania and author of The Innovator's Mindset.
Educational technology refers to technology that usually helps facilitate collaboration in an active learning environment. There are a number of ways instructors can use educational technology in the classroom. These include creating dynamic textbooks that are filled with custom case studies related to today's headlines. Another example of educational technology use is the process of gamification, where games and activities are imported into class lessons to reinforce concepts in a fun way. Attendance, homework assignments and quizzes can also be administered via educational technology and help educators gauge which students are the highest and lowest performers. Educational technology can be used to generate real-time insights on teaching material, style and format and can give students an instant look at their own progress.
Educational technology examples have expanded in recent years to include the rise of 3D and sensory platforms including augmented reality, virtual reality and artificial intelligence. Augmented reality (AR) is a virtual replication of the real world that includes sights, sounds and, in some instances, sensory stimuli. Anatomy students might use an AR app to see a detailed diagram of the heart when hovering their phone over a static image. Virtual reality (VR), on the other hand, immerses the user in a fully virtual environment that is often digitally rendered. Using a headset, users are immersed in an animated or digital space. History students, for example, might take a trip to the Smithsonian Museum using VR. Finally, artificial intelligence (AI) tools such as Siri and Alexa combine computer science and machine learning to solve problems and complete tasks upon request. Software such as Turnitin may be considered AI as the platform automatically flags behavior indicative of cheating.
Educational technology is disrupting traditional education and teaching methods by offering both teachers and students the ability to learn in an environment that makes use of now-common devices such as smartphones, laptops and tablets. Software including Top Hat is considered educational technology. Top Hat gives educators the flexibility to deliver personalized, meaningful and equitable learning experiences. Dynamic courseware gives students a representative and relevant reading experience. Quizzes and discussions let students demonstrate their knowledge in lectures or on their own. Real-time signals and learning insights—ranging from attendance to poll performance—offer an automatic indication of student success. Read how these professors use Top Hat to make their teaching more dynamic.
The 2021 Online Teaching Toolkit
The teaching strategies, tools and activities to engage students in your online or blended course!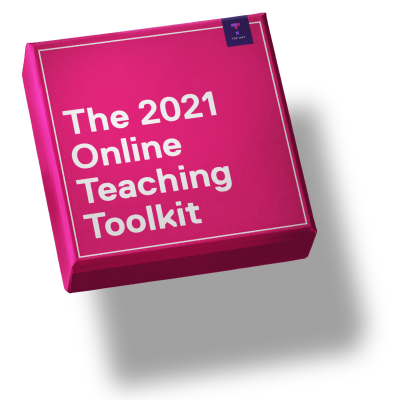 The 2021 Online Teaching Toolkit
The teaching strategies, tools and activities to engage students in your online or blended course!