United States History I
A fun, interactive textbook from the Top Hat Marketplace with built-in features to help engage, motivate, track and evaluate your class. To get started, simply make a request to speak with one of our content specialists today.
---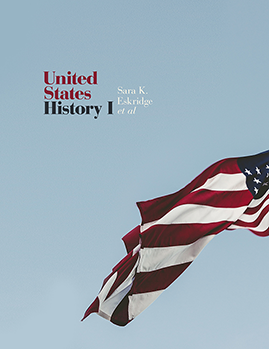 United States History I features an interactive timeline, live learning feedback, embedded video, automatic grading, and full customizability, covering until 1870. United States History utilizes interactivity to engage students in topics such as British Forays into Colonization, The Federalist Era and the reconstruction of America.
"I enjoyed the videos because they provided more information and helped with the comprehension process. Another thing was the images, being able to see and feel what they felt through their facial expressions were outstanding."
Student Cost
$40
Subscription to the Top Hat platform required. Students receive unlimited access to all course content for life.
---
---
Table Of Contents
Chapter 1: First Civilizations
Chapter 2: Cultural Collision
Chapter 3: British Forays into Colonization
Chapter 4: Colonial Life
Chapter 5: Road to War
Chapter 6: American Revolution
Chapter 7: The Constitution
Chapter 8: The Federalist Era
Chapter 9: The Early Republic
Chapter 10: The Market Revolution
Chapter 11: Growing Democracy
Chapter 12: Antebellum South
Chapter 13: Westward Expansion
Chapter 14: Unravelling the Union
Chapter 15: The Civil War
Chapter 16: Reconstruction
Features
Interactive Timeline
Open-form timeline navigation improves student learning by encouraging free-form exploration of major historical events.
Primary Sources
Links to relevant primary sources that provide students with a firsthand account of many key events in history.
Customizability
Content, videos or questions can be added, modified or deleted to suit your particular course and teaching style.
---
LEARN HOW YOU CAN CONTRIBUTE TO THE TOP HAT MARKETPLACE
Top Hat provides a uniquely flexible authoring tool that allows you to create content for your course in minutes and share it with the Top Hat community. Easily develop and distribute high-impact text, activities, quizzes, videos or questions specific to your course. Authors retain 45% of royalties of content sold through the Top Hat Marketplace.
Contribute to this content