Statistics for Social Science
A fun, interactive textbook from the Top Hat Marketplace with built-in features to help engage, motivate, track and evaluate your class. To get started, simply make a request to speak with one of our content specialists today. 
---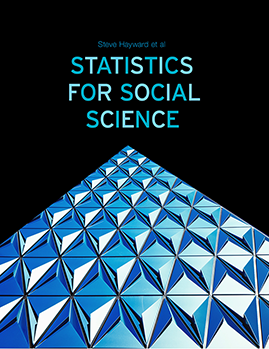 Statistics for Social Science takes a fresh approach to the introductory class. With learning check questions, embedded videos and interactive simulations, students engage in active learning as they read. An emphasis on real-world and academic applications help ground the concepts presented. Designed for students taking an introductory statistics course in psychology, sociology or any other social science discipline.
Student Cost
$45
Subscription to the Top Hat platform required. Students receive unlimited access to all course content for life.
---
---
Table Of Contents
Chapter 1: Introduction to Statistics
Chapter 2: Descriptive Statistics
Chapter 3: The Normal Distribution and Normal Curve
Chapter 4: Introduction to Probability
Chapter 5: Discrete Probability Distributions
Chapter 6: Normal Probability Distributions
Chapter 7: Four Distributions: z, t, x2, and F
Chapter 8: Confidence Intervals
Chapter 9: Introduction to Hypothesis Testing
Chapter 10: One-Sample Hypothesis Testing
Chapter 11: Two-Sample Hypothesis Testing
Chapter 12: ANOVA and the F-distribution
Chapter 13: Tests for Goodness of Fit and Independence
Chapter 14: Correlation and Regression
Features
Lightboard Videos
Chapters include video lectures in which authors bring complex material to life with handwritten notes and diagrams.
Student Benefits
Students can now study, practice and review personal participation and performance data all in one place—from almost any device.
Real World Application
Case studies at the end of each chapter showcase practical uses for the presented concepts.
---
LEARN HOW YOU CAN CONTRIBUTE TO THE TOP HAT MARKETPLACE
Top Hat provides a uniquely flexible authoring tool that allows you to create content for your course in minutes and share it with the Top Hat community. Easily develop and distribute high-impact text, activities, quizzes, videos or questions specific to your course. Authors retain 45% of royalties of content sold through the Top Hat Marketplace.
Contribute to this content