Research Methods in Psychological Science
A fun, interactive textbook from the Top Hat Marketplace with built-in features to help engage, motivate, track and evaluate your class. To get started, simply make a request to speak with one of our content specialists today.
---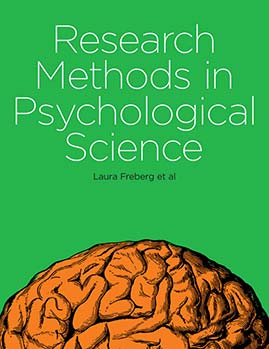 Research Methods in Psychological Science utilizes the power of interactivity to engage students in the principle approaches to research methodology. From getting started with research to applied research, this comprehensive textbook uses contemporary examples with easily accessible features such as embedded content and a wide array of questions.
Student Cost
$45
Subscription to the Top Hat platform required. Students receive unlimited access to all course content for life.
---
---
Table Of Contents
Chapter 1: What Is Science?
Chapter 2: The Scientific Enterprise
Chapter 3: Communicating Science
Chapter 4: Conducting Ethical Research
Chapter 5: Quantitative Descriptive Research
Chapter 6: Observation
Chapter 7: Measurement
Chapter 8: Surveys
Chapter 9: Independent Groups
Chapter 10: Repeated Measures
Chapter 11: Complex Designs
Chapter 12: Qualitative Methods
Chapter 13: Quasi-experiments and Program Evaluation
Chapter 14: Descriptive Statistics
Chapter 15: Inferential Statistics
Features
Conversational, Engaging Writing
Introduces the scientific method to psychology majors in a much more approachable way than traditional texts.
Real World Research Examples & Activities
By applying the principles presented to real-world research problems, students move beyond the theoretical.
Student Benefits
Students can now study, practice and review personal participation and performance data all in one place–from almost any device.
---
LEARN HOW YOU CAN CONTRIBUTE TO THE TOP HAT MARKETPLACE
Top Hat provides a uniquely flexible authoring tool that allows you to create content for your course in minutes and share it with the Top Hat community. Easily develop and distribute high-impact text, activities, quizzes, videos or questions specific to your course. Authors retain 45% of royalties of content sold through the Top Hat Marketplace.
Contribute to this content