Principles of Microeconomics
A fun, interactive textbook from the Top Hat Marketplace with built-in features to help engage, motivate, track and evaluate your class. To get started, simply make a request to speak with one of our content specialists today.
---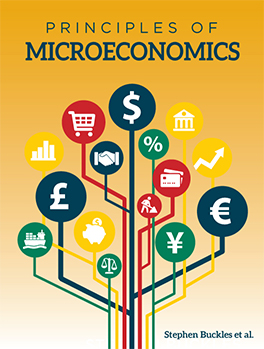 Principles of Microeconomics emphasizes the development of an economic way of thinking. The approach emphasizes the ability to think through applications of economic concepts and ideas and then to be able to explain how economic concepts work and to make recommendations as to a variety of personal, business, and public decisions. No new concept is introduced without the student being asked to use the concept or fully explain the reasoning behind the concept and then be provided feedback.
The approach continually asks students to explain why markets work or fail and not just that they do or not. The approach does not just ask students to draw graphs, but to use the reasoning behind the graphs to make decisions, explain events, and recommend policies. The ultimate goal of the material is the development of students who can speak and write in an articulate manner about a large range of economic problems and issues.
Student Cost
$61
Subscription to the Top Hat platform required. Students receive unlimited access to all course content for life.
---
---
Table Of Contents
Chapter 1: Introduction to Economics
Chapter 2: An Economic Model
Chapter 3: The US and World Economy
Chapter 4: Markets: Supply and Demand
Chapter 5: Using Supply and Demand
Chapter 6: Behind Demand
Chapter 7: Inputs, Production, and Costs (Behind Supply)
Chapter 8: Inputs, Products and Costs in the Long Run
Chapter 9: Competitive Markets
Chapter 10: Monopoly
Chapter 11: Between Competition and Monopoly
Chapter 12: Regulation of Firms with Market Power
Chapter 13: The Economic Role of Government
Chapter 14: Markets for Labour
Chapter 15: Taxes: Efficiency and Fairness
Chapter 16: Why International Trade
Chapter 17: Financial Markets
Chapter 18: Economics After Microeconomics
Features
Engaging Writing
The emphasis throughout the text is to be able to apply and use concepts learned, as opposed to an encyclopedic text focused on memorization.
Graphing Tool
Provides a way for students to see how certain economics factors affect concepts like supply and demand
Student Benefits
Students can now study, practice and review personal participation and performance data all in one place–from almost any device.
---
LEARN HOW YOU CAN CONTRIBUTE TO THE TOP HAT MARKETPLACE
Top Hat provides a uniquely flexible authoring tool that allows you to create content for your course in minutes and share it with the Top Hat community. Easily develop and distribute high-impact text, activities, quizzes, videos or questions specific to your course. Authors retain 45% of royalties of content sold through the Top Hat Marketplace.
Contribute to this content