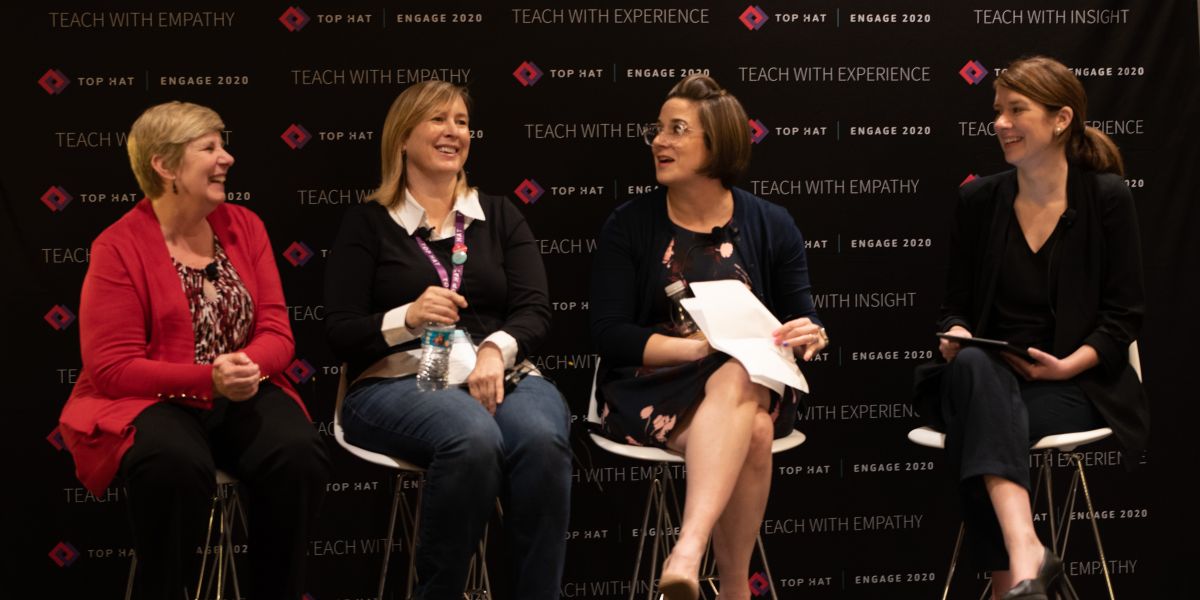 Top Hat Engage 2020 just wrapped up in New Orleans, and we're sharing some of the most important learnings from the event. Filled with dozens of panels, workshops, and keynote presentations, attendees left inspired and armed with strategies and best practices to invigorate the learning experience for their students. Keep reading to learn more about our key takeaways from the weekend.
Classroom Innovation is a Moving Target
According to Dr. Lauren Herckis, an anthropologist at Carnegie Mellon University and a keynote speaker at Top Hat Engage 2020, innovation means constant iteration. Whether introducing a new teaching method, or classroom technology, each instance of adoption requires tinkering and refining. It also means accepting the fact that when it comes to innovation, there is no such thing as "mission accomplished."
This is part and parcel with adopting an innovator's mindset. This also means looking beyond data points typically associated with learning outcomes to include asking students about their experience or connecting with other faculty to understand what they are doing that's new. It means paying attention to how students experience the world and bringing those insights to bear inside the classroom to make learning more relevant and more engaging. To be successful, educators must constantly consider the changing needs and learning styles of an increasingly diverse student population.
Authenticity Matters
Connecting meaningfully with students starts with bringing your true authentic self to the classroom. According to keynote speaker, best selling author, and Columbia University Professor, Chris Emdin, all too often teaching is seen as a performance, which can get in the way of truly engaging a class. Emdin believes that showing vulnerability, sharing your passions, fears and even your musical tastes can make all the difference to breaking down the barriers between student and teacher. So does having faith in a student's ability to learn. In a method he refers to as Pentecostal Pedagogy, Emdin emplores educators to take time to get to know students and to appreciate that it's not what content you're prepared to deliver, but what students are prepared to receive!
A Great First-Year Experience is the Foundation for Student Success
From physical and mental health education, to study habits and soft-skill development, the pressure on higher education institutions is mounting to increase retention and set students up for success. Many students and their families hope that their first year of college will be a step above what they experienced in high school. However, institutions often view it as a means to end, instead of as a foundation for their future academic and vocational careers.
The good news is institutions are putting resources in place to ensure more students stay in college and finish what they started. This includes programs to cope with stress, develop healthy habits and discipline-specific skills. The goal is not simply to help more students graduate but to develop a love of lifelong learning.
Embracing Active Learning is a Slow Burn
The key to genuinely impacting students and ensuring successful outcomes in the classroom is understanding what they need in order to learn. Sarah Sletten, a professor at the University of North Dakota and winner of the 2020 Top Educator Student Impact Award, understands that engaging students in course content and getting them to really love learning requires constant iteration.
After more than seven years of experimentation, Sletten is proof that getting it right takes time. With each new cohort, Sletten is keen to understand how their life experiences make them different, and she uses these insights to adjust her teaching strategies (and cultural references) to keep them engaged. In her mind, the start of each semester is an opportunity to further refine and improve her teaching practice, one small step at a time.
Embracing Classroom Technology is About Humanizing the Learning Experience
Knowing students – where they are at, what's tripping them up and whether they did the reading for that matter – enables us to shape the learning experience that much more effectively. With better insight into what each student needs, educators are also better able to apply the power of their own experience to meet students on their terms and in their own context.
During the Top Hat Product Keynote, Nina Bilimoria Angelo, VP of Product Marketing and Zhi Hui Tai, Director of Product revealed how the Top Hat platform is now allowing educators to do exactly this – and at scale. In addition to unveiling a host of new features, the team shared the company's vision for providing professors with meaningful, action-oriented data. As Angelo said, "ultimately, we want to go beyond just, how did students do to what should be done? What actions are most likely to prove successful based on historical facts or trends across similar courses?" She also acknowledged that the power of data and technology is actually to humanize the learning experience – and that's only possible when Top Hat finds its way into the hands of experienced educators like you.
Collaboration is Key in Today's College Classrooms
Today's students are reporting feelings of isolation and loneliness at a rate that is far higher than any other generation. Through activities like peer instruction and group exercises, students can enhance problem-solving and critical-thinking skills while building connections with their peers. The evidence is clear: all disciplines can benefit from collaborative classrooms. And in-class technology is making it easier than ever to conduct group assessments and create team-based learning environments that are more impactful and more engaging.
Professors are Endlessly Creative
Top Hat's all-in-one platform has many tools and capabilities to engage today's students in the process of their own learning. But it is reliant on individual educators to combine their creativity and their personal experiences to make it work best for their classrooms. With over sixty "How I Taught This" sessions led by individual educators discussing how they use Top Hat for their discipline, class size, or class composition, it is clear that when it comes to making learning stick, educators are truly the "special sauce."