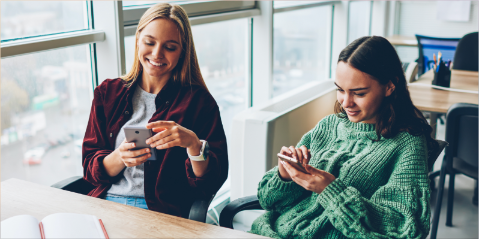 Today's Gen Z students are changing—they are digital natives who have grown up with technology woven throughout their lives. Today's classrooms are changing too. Technology is a basic skill today's students need in higher education and in the workplace: but technology in the classroom isn't just about students' personal devices in class. It applies to anything that facilitates engagement between instructors and students.
While academics have expressed concern that classroom engagement is at an all-time low and technology in the classroom is the culprit, David Goodrum, Director of Academic Technology and Information Services at Oregon State University, disagrees: "A 21st-century view of learner success requires students to not only be thoughtful consumers of digital content, but effective and collaborative creators of digital media."
Committed and talented students feel that technology in the classroom helps their learning. We talked to several—here's what they have to say.
How technology in the classroom has changed learning
According to Pew Internet and American Life Project, nearly every college student (95 percent) has a laptop or smartphone. While there can be a learning curve, adopting a new tech tool or platform, students are often quick to adapt to new interfaces and means of communication. "I was surprised by how seamlessly I was able to adopt [the platform] into my notetaking in class," said Rachel, a junior biology student. "It made what I was already doing during class time far more efficient."
Technology in the classroom can also help ensure full participation. Online polling and instantaneous assessment tools help students engage in classroom discussion, including shier students who wouldn't normally raise their hand in class. Student response systems help foster participation and engagement in the classroom and give students an opportunity to engage in class and get rewarded for it at the same time. "Being able to digitally participate in class has definitely changed my learning," says Grace, a junior art history student. "It can be really intimidating to participate in class in a 400-person lecture hall, but being able to answer a professor's question through an online in-class discussion forum has made it way more approachable."
Technology's practical implications
On a more practical level, tech in the classroom drives positive results. Consistent class attendance strongly correlates with academic performance. Attendance tracking software allows instructors to accurately verify whether a student is physically present in class. Professors can easily track class attendance by prompting students to sign in on their devices using a unique code, and auto-assign grades for attendance. "It can be really tempting to skip class when its really early in the morning or really cold outside," says Marissa, a senior psychology student. "But having a portion of my final grade assigned for just showing up to class is definitely worth it."
Technology in the classroom also creates space for a more collaborative learning environment between students, to ask questions, discuss course content and interact with one another in group projects and activities. Educational technology enables students to engage in an ongoing cycle of learning: before, during and after class. Student response systems such as clickers can also help students apply their understanding of concepts covered in class and can indicate areas that need to be reviewed. "I've learned so much from interacting with my classmates from solving homework questions together, to sending each other research paper sources," says Lauren, a freshman medical student.
The future of technology in the classroom
Students are hopeful about the future of tech in the classroom. The presence of digital learning tools and platforms on college campuses is increasing and they are proving to have significant benefits. "I hope more of my professors use technology in the classroom, it feels like more of a partnership in learning that way," says Ari, a freshman law student. It feels like a natural transition for students today to include it as part of their studies and engages students actively in the process of their own learning.
Collaboration, active learning and increased attendance levels can all be enhanced through the use of digital platforms and teaching strategies. Top Hat features a suite of tools for effectively engaging students in active learning with quality course materials and textbooks.