`
The Physiology of Exercise
A fun, interactive textbook from the Top Hat Marketplace with built-in features to help engage, motivate, track and evaluate your class. To get started, simply make a request to speak with one of our content specialists today.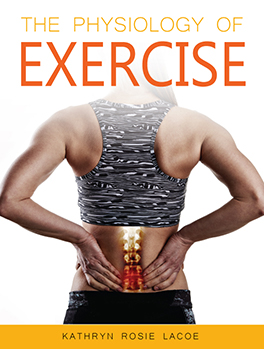 A technically intensive overview of exercise science. The field of exercise science involves a range of disciplines that allow exercise science professionals to work in a variety of settings. Exercise science is the study of movement and the associated functional responses and adaptations. As such, this text is better for more advanced, savvy classes.
Author:
Rosie K. Lanphere
Student Cost
$76
Subscription to the Top Hat platform required. Students receive unlimited access to all course content for life.
---
Table Of Contents
Chapter 1: Introduction to Exercise Physiology
Chapter 2: Control of the Internal Environment
Chapter 3: Bioenergetics and Metabolism
Chapter 4: The Basic Energy Systems
Chapter 5: Metabolic Adaptations to Exercise Training
Chapter 6: Measuring Human Energy Expenditure, Work, and Power
Chapter 7: The Nervous System
Chapter 8: Structure and Function of Exercising Muscle
Chapter 9: The Circulatory Response to Exercise
Chapter 10: The Respiratory System
LEARN HOW YOU CAN CONTRIBUTE TO THE TOP HAT MARKETPLACE
Top Hat provides a uniquely flexible authoring tool that allows you to create content for your course in minutes and share it with the Top Hat community. Easily develop and distribute high-impact text, activities, quizzes, videos or questions specific to your course. Authors retain 45% of royalties of content sold through the Top Hat Marketplace.
Contribute to this content