Organic Chemistry I & II
Lead Author(s): Steven Forsey
Student Price: Contact us to learn more
Top Hat Intro Course - Organic Chemistry I & II is designed for instructors who want an active, dynamic, and understandable approach to support their own efforts in the classroom. This ever-evolving textbook includes auto-graded questions, videos and approachable language in order to make difficult concepts easier to understand and implement.
What is a Top Hat Textbook?
Top Hat has reimagined the textbook – one that is designed to improve student readership through interactivity, is updated by a community of collaborating professors with the newest information, and accessed online from anywhere, at anytime.
---
Top Hat Textbooks are built full of embedded videos, interactive timelines, charts, graphs, and video lessons from the authors themselves
High-quality and affordable, at a significant fraction in cost vs traditional publisher textbooks
Key features in this textbook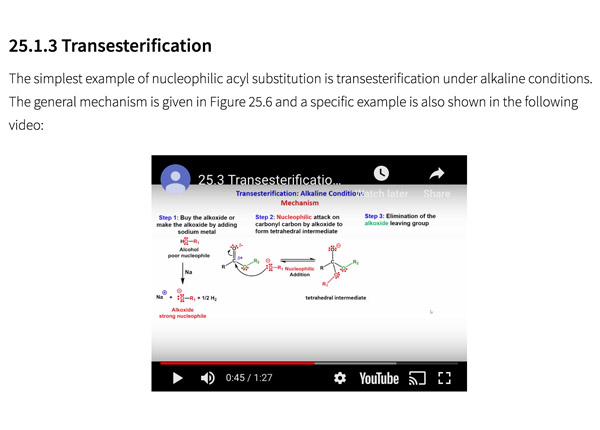 Key features in this textbook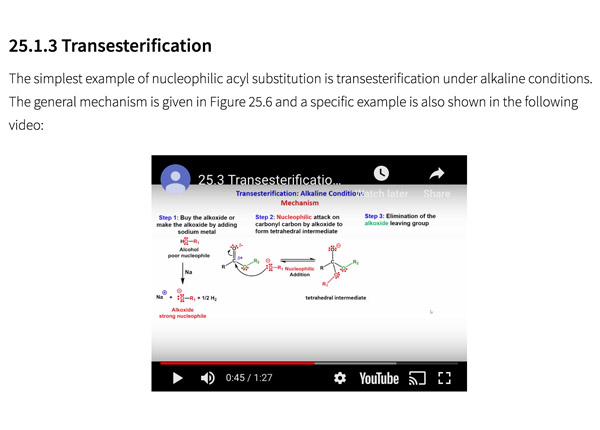 Interactive learning
3D molecular models help students understand and conceptualize chemical reactions
Embedded problem-solving videos show the entire reaction mechanism, making it easy for students to comprehend large scale reactions
'Keeping it Real' sections connect theory to real-world examples and demonstrate the real-life applications of Organic Chemistry
Dynamic assessments
Built-in assessment questions are embedded throughout chapters 
Auto-graded questions are available, even chemical drawings
All-in-one package
Fully customizable textbook fits any professor's needs
Pre-made lecture slides and in-class polls, discussion questions and activities help with class prep
About this textbook
Lead Authors
Dr. Steven Forsey, Ph.D.
University of Waterloo
Steven Forsey is currently a Professor at University of Waterloo, teaching a variety of organic chemistry courses to Chemistry, Science, Chemical Engineering, Nanotechnology and distance education students. He received his Ph.D. (2004) for Synthetic Organic Chemistry from University of Waterloo, Ontario. He is a recipient of the Excellence of Science Teaching Award and has acted as the Teaching Fellow for the Department of Chemistry since 2016.

Contributing Authors
Felix Ngassa
Grand Valley State University
Jennifer Chaytor
Saginaw Valley State University
Greg Domski
Augustana College
Christian E. Madu
Collin Community College
Christopher Nicholson
University of West Florida
Franklin Ow
East Los Angeles College, UCLA
Robert S. Phillips
University of Georgia
Grigoriy Sereda
University of South Dakota
Simon E. Lopez
University of Florida
Brannon McCullough
Northern Arizona University
Jason Jones
Kennesaw State University
José Boquin
Augustana College
Stephanie Brouet
Saginaw Valley State University
Explore this textbook
Read the fully unlocked textbook below, and if you're interested in learning more, get in touch to see how you can use this textbook in your course today.