Anatomy and Physiology in Context
A fun, interactive textbook from the Top Hat Marketplace with built-in features to help engage, motivate, track and evaluate your class. To get started, simply make a request to speak with one of our content specialists today.
---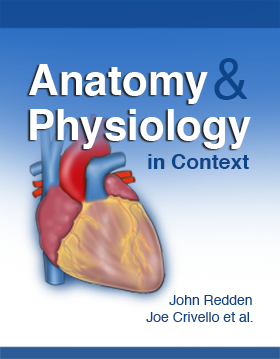 Anatomy and Physiology in Context takes a student-centric, active learning approach. A conversational tone and quizzes throughout simplify complex concepts. Learning extends beyond the page with a virtual 3D human, videos breaking down challenging physiological processes and real-world clinical case studies that link to core concepts. Engage your students with this modern, customizable and interactive text.
Student Cost
$86
Subscription to the Top Hat platform required. Students receive unlimited access to all course content for life.
---
---
Table Of Contents
1. Introduction & Organizing Principles
2. Cell Structure and Function
3. Histology
4. Integumentary System
5. Bone & Axial Skeleton
6. Appendicular Skeleton
7. Articulations
8. Excitable Tissues
9. Skeletal Muscle
10. Muscle Mechanics
11. The Central Nervous System
12. General Sensation
13. Specialized Senses
14. Motor Pathways
15. The Autonomic Nervous System
16. The Endocrine System
17. Blood
18. Heart
19. Circulation and Short Term BP Regulation
20. The Respiratory System
21. The Immune System
22. The Digestive System
23. Nutrition & Metabolism
24. The Renal System & Long Term BP Regulation
25. Reproductive System
26. Fetal Development & Human Genetics
Features
Visual
Make learning come to life with embedded videos, interactive 3D human body, images and more
Interactive Quizzes
Over 600+ test bank questions
Approachable Learning
Real-world clinical case studies link to core concepts.
---
LEARN HOW YOU CAN CONTRIBUTE TO THE TOP HAT MARKETPLACE
Top Hat provides a uniquely flexible authoring tool that allows you to create content for your course in minutes and share it with the Top Hat community. Easily develop and distribute high-impact text, activities, quizzes, videos or questions specific to your course. Authors retain 45% of royalties of content sold through the Top Hat Marketplace.
Contribute to this content