Effective Public Speaking
Lead Author(s): George Griffin and Contributors
Student Price: Contact us to learn more
Designed to teach the skills and build the confidence your students need to become effective public speakers.
What is a Top Hat Textbook?
Top Hat has reimagined the textbook – one that is designed to improve student readership through interactivity, is updated by a community of collaborating professors with the newest information, and accessed online from anywhere, at anytime.
---
Top Hat Textbooks are built full of embedded videos, interactive timelines, charts, graphs, and video lessons from the authors themselves
High-quality and affordable, at a significant fraction in cost vs traditional publisher textbooks
Key features in this textbook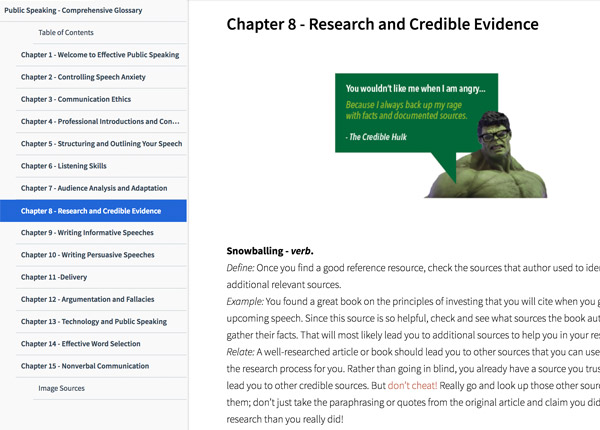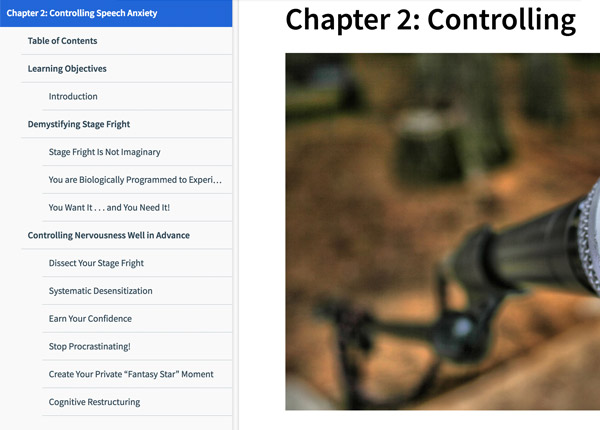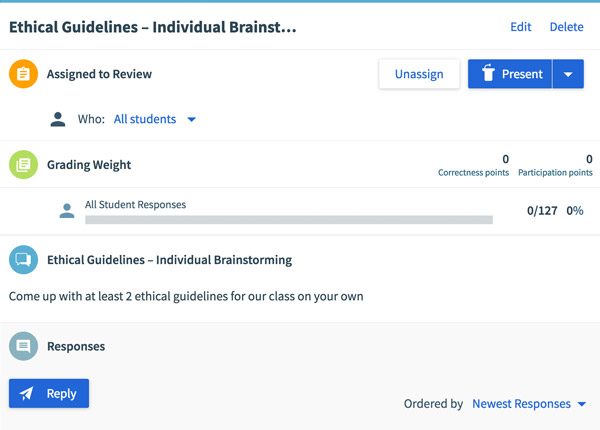 Comparison of Public Speaking Textbooks

Consider adding Top Hat's Effective Public Speaking textbook to your upcoming course. We've put together a textbook comparison to make it easy for you in your upcoming evaluation.
Top Hat
George Griffin, Effective Public Speaking, Only one edition needed

McGraw-Hill

Stephen Lucas, The Art of Public Speaking, 12th Edition

Pearson

Beebe & Beebe, Public Speaking: An Audience-Centered Approach, 9th Edition


Pearson
Beebe & Beebe, Public Speaking Handbook, 5th Edition

Pricing
Average price of textbook across most common format
Up to
40-60%
more affordable
Lifetime access on any device
$121.80
Hardcover print text only
$99.29

Hardcover print text only
$114.52

Hardcover print text only
Always up-to-date content, constantly revised by community of professors
Content meets standard for Introduction to Anatomy & Physiology course, and is updated with the latest content
In-Book Interactivity
Includes embedded multi-media files and integrated software to enhance visual presentation of concepts directly in textbook
Only available with supplementary resources at additional cost
Only available with supplementary resources at additional cost
Only available with supplementary resources at additional cost
Customizable
Ability to revise, adjust and adapt content to meet needs of course and instructor
All-in-one Platform
Access to additional questions, test banks, and slides available within one platform
Pricing
Average price of textbook across most common format
Top Hat
George Griffin, Effective Public Speaking, Only one edition needed

Up to
40-60%
more affordable
Lifetime access on any device
McGraw-Hill
Stephen Lucas, The Art of Public Speaking, 12th Edition

$121.80
Hardcover print text only
Pearson
Beebe & Beebe, Public Speaking: An Audience-Centered Approach, 9th Edition

$99.29

Hardcover print text only
Pearson
Beebe & Beebe, Public Speaking Handbook, 5th Edition

$114.52

Hardcover print text only
Always up-to-date content, constantly revised by community of professors
Constantly revised and updated by a community of professors with the latest content

Top Hat
George Griffin, Effective Public Speaking, Only one edition needed

McGraw-Hill
Stephen Lucas, The Art of Public Speaking, 12th Edition

Pearson
Beebe & Beebe, Public Speaking: An Audience-Centered Approach, 9th Edition

Pearson
Beebe & Beebe, Public Speaking Handbook, 5th Edition

In-book Interactivity
Includes embedded multi-media files and integrated software to enhance visual presentation of concepts directly in textbook
Top Hat
George Griffin, Effective Public Speaking, Only one edition needed

McGraw-Hill
Stephen Lucas, The Art of Public Speaking, 12th Edition

Pearson
Beebe & Beebe, Public Speaking: An Audience-Centered Approach, 9th Edition

Pearson
Beebe & Beebe, Public Speaking Handbook, 5th Edition

Customizable
Ability to revise, adjust and adapt content to meet needs of course and instructor
Top Hat
George Griffin, Effective Public Speaking, Only one edition needed

McGraw-Hill
Stephen Lucas, The Art of Public Speaking, 12th Edition

Pearson
Beebe & Beebe, Public Speaking: An Audience-Centered Approach, 9th Edition

Pearson
Beebe & Beebe, Public Speaking Handbook, 5th Edition

All-in-one Platform
Access to additional questions, test banks, and slides available within one platform
Top Hat
George Griffin, Effective Public Speaking, Only one edition needed

McGraw-Hill
Stephen Lucas, The Art of Public Speaking, 12th Edition

Pearson
Beebe & Beebe, Public Speaking: An Audience-Centered Approach, 9th Edition

Pearson
Beebe & Beebe, Public Speaking Handbook, 5th Edition

About this textbook
Lead Authors
George Griffin, Professor of Speech
Keiser University
George Griffin earned his degrees at the University of West Florida and Auburn University. He has been teaching college, business seminars and workshops for over 30 years, while still doing public speaking engagements for non-profit organizations. Currently, he is serving as the Professor of Speech at Keiser University, Orlando, and as Adjunct Professor at Stetson University. George is also the author of "STAGE FRIGHT! A Student-Friendly Guide to Managing the Jitters."

Contributing Authors
Wade Cornelius
New Mexico State University
Kathryn Dederichs
University of St. Thomas
Morgan Ginther
Instructional Designer at Texas A & M
Luke Green
St. Cloud Technical and Community College
María Elena Bermúdez
Georgia State University
Daryle Nagano
El Camino College
Wendy Yarberry
Florida State College at Jacksonville
Allen Davis
Indiana University
Jasmine Roberts
Ohio State University
Krista MacDonald
Doña Ana Community College
Explore this textbook
Read the fully unlocked textbook below, and if you're interested in learning more, get in touch to see how you can use this textbook in your course today.
Chapter 16: Special Occasion Speeches

"It is altogether fitting and proper that we should do this."
−Pres. Abraham Lincoln, 1863
Table of Contents
Chapter 16 Learning Outcomes:
After reading this chapter, you will be able to:
Understand what role special occasion speeches play in the realm of public speaking.
Differentiate between the various special occasion speeches.
Construct effective special occasion speeches.
Apply differing delivery styles, depending on the goals of your special occasion speech.
Introduction
"Congratulations on accepting the position. We are all very excited to have you here at our company. Now, if you don't mind, let's go upstairs and introduce you to the rest of the team." You leave the conference room with your new boss and head down the hallway to meet the team of people you will be managing. Upon entering another conference room, those sitting around the table turn as you enter. Your boss breaks the newly established silence, "I would like you all to offer a warm welcome to [your name slightly mispronounced] who will be your new supervisor." After polite smiles and applause have faded away, James, from accounting, chips in, "Speech, speech!" All eyes turn back to you to see how you will respond. You have a choice to make. Do you respond with option A?
Or do you go with option B?
Option B clearly is what you should go for. Aware of the significance of the situation you are stepping into and empowered with the ability to speak effectively, you don't flinch, and you don't disappoint. In a brief impromptu speech marking your new position, you establish a positive first impression which can help tremendously to smooth over some of the issues that are inherent during a changing of the guard.
Purpose of Special Occasion Speeches
Throughout the trajectory of our lives, there will be certain occasions that are more significant, more memorable, and more enjoyable than others. These events often provide an opportunity for one or several people to "say a few words." These speaking opportunities aren't necessarily informative speeches or persuasive speeches but rather can be classified in their own unique category called special occasion speeches. In the spirit of not over-complicating things: informative speeches inform, persuasive speeches persuade, and special occasion speeches mark special occasions.
What are three opportunities that you might expect to be asked or compelled to deliver a special occasions speech?
Special occasion speeches offer those who deliver them the ability to help establish and strengthen relationships with their audience based on the shared experience of whatever is being celebrated. To achieve this, a speaker may need to draw from their informative speaking skills to provide some background information that the audience does not have, or offer subtle persuasion for why the moment being celebrated is worthy of their attention, or to accept the advice being given. By speaking to acknowledge the moment that is currently being experienced, it helps the audience to 'be in the moment' and reflect on the significance of the occasion. These speeches can be found within the professional setting as well as within your personal life The responses given for discussion question 1 probably are made up of a variety of special occasion speaking opportunities.
Graduations, weddings, births, funerals, inspirational speeches (religious or secular), and career milestones usually provide memories that are important enough to withstand the passage of time. Each of these events are shared experiences that we undertake accompanied by friends, family, and colleagues. Once they have concluded, we often feel a tighter bond in the relationship than what we held prior. Sometimes this bond is created through powerful statements within these speeches that endure in our memories (many of the quotes at the beginning of each chapter in this text are drawn from special occasion speeches). Other times, this bond is created not based on the individual words themselves but because of the ability for the emotional element of the speech to outlive the verbal message. This is in line with what theologian Carl Buehner says, "They may forget what you said—but they will never forget how you made them feel" (a quote often misattributed to Maya Angelou).
What is a quote or a specific speech that you have heard that you find particularly memorable, moving, or important? Be sure to cite the source (or link to a video) of your discussion response.
Special occasion speeches offer the ability to express things that ordinarily go unsaid.
Unfortunately, many of us don't always feel comfortable or willing to disclose certain emotions, thoughts, or feelings that we have regarding important people in our lives. For example, we tend to reward our parents for the incredible number of things they do for us with ugly ties and brunch. We often don't fully appreciate or even realize all their efforts—until we have children of our own. Our significant others don't always know what adoration and happiness is generated by the relationship we share. We acknowledge them by texting emojis their way. Friends and coworkers whose companionship, assistance, and presence are often responsible for making our achievements possible, we thank them by passing around a card and buying a cake on the way to work.
Day to day, we don't always take the time to explicitly acknowledge that others in our lives contribute to making our own lives better in a myriad of ways. If we did spend the time that it would require to do this, it would leave little time to do much else. We can do better communicating our true feelings about people we share our space with. Special occasion speeches provide a great opportunity to do this. Much of the content of these speaking opportunities relates to deep feelings and strong emotions. This can create a situation where the speaker is in a slightly vulnerable position, which may cause them to shy away from expressing what they would like to say. Nonetheless, because these publicly expressed acknowledgments are limited, when given the opportunity to do so, it is best that we do not throw away our shot.
Content and Delivery
What should be included in a special occasion speech? Depends. When preparing to develop a special occasion speech, the importance of lessons learned from chapter 7, audience analysis, cannot be overstated. The remaining parts of this chapter highlight some of the more common types of content (and delivery styles) that are traditionally incorporated into the various types of special occasion speeches. While we will give you the basic guidelines for what should be included in your speech, who is in the audience, what is being commemorated, and what you want to accomplish should ultimately decide how to prepare effectively.
For instance, what is appropriate and not appropriate while delivering a roast (joke-making at the honoree's expense) of your retiring boss is largely influenced by what type of workplace environment you have, how well your boss can take a joke, and whether your boss wants to be roasted. Consider the relationship you have with that person, as well as a multitude of other factors, including but not limited to, will their children be present? Are you the only one speaking at the event? Is it taking place during work hours? And how much do you like your job? An edgy roast in one office might consist of light jabs of how long it takes your boss to reorder copy paper. Hilarious, right? In other offices, an edgy roast might provide scathing material similar to what one might find at a comedy routine in the back of a college bar, and the boss will love it.
An example of a special occasion speech gone awry can be found among the fallout of the 2018 White House Correspondents' Dinner roast delivered by Michelle Wolf. In past administrations, the annual roast was welcomed as an opportunity for comedians to speak truth to power in a humor-laden way, offering cutting humor that presidents of a democratically elected nation should be able to take in stride. After the comedian, as is common with roasts, the president would get the opportunity to offer their own comedic criticism of those in the audience. Laughs were had by all, and the weird tradition endured.
A spirited debate can be had over whether the targets of the 2018 roast needed to be more able to "take a joke," or if Wolf clearly overstepped her bounds. What is certain, though, is that because of the mismatched expectations of those in the audience and the speaker on stage, the commemoration and celebration of the evening was distracted by the ensuing controversy.
As a speaker, you are entrusted with the responsibility to be able to commemorate the moment appropriately. It is your job to achieve this feat responsibly and ethically. Failure to do this can have far-reaching consequences, as the words you say can negatively alter long-established relationships and cause several forms of conflict. This is much more nuanced than simply "don't get in trouble." There is a reason that you were given the honor to speak over all others. A commencement speaker who abdicates their position as the voice of the graduating class by offering those assembled a clichéd message that does not rise to the level of the celebration is incredibly disappointing. Use your skills and hold yourself to high standards to make sure that when you speak, people will listen and people will care. This does not mean that you need to shy away from making controversial or unpopular stands; do what you feel is ethically right. Oftentimes the most powerful speeches come in the form of a well-delivered message that challenges the audience and makes them feel uncomfortable (examples of this can be found within the more controversial White House Correspondents' Dinner roasts). Be fully aware, though, that when a speaker does this, they are shifting the focus of the celebration to a completely different target, which can be highly disrespectful in certain settings. Using your toast to your sister on her wedding day probably isn't the best time to make a stand about why you feel that her career path as a lobbyist is unethical. All this to say that choosing the content of a special occasion speech is important to achieve the goals that you established for yourself. Are you more interested in scoring cheap points in a public way at the expense of ruining your sister's wedding? Or would you rather celebrate the happiness your sibling has found and leave the career fight for an upcoming family dinner?
Other types of ethical challenges might arise during special occasion speeches, as you might not feel comfortable showering an outgoing boss with a glowing farewell if you had strained ties with this person. Make sure that the words of praise that you offer aren't just optimistically inflated to the point that you no longer support what you are saying. It is okay to highlight what good exists and tamp down the bad, but make sure that you're staying true to yourself. If somebody asks you to speak in praise of another person who you don't feel comfortable celebrating, then simply turn down the speaking opportunity.
If you are unsure whether or not the groom/bride wants you to tell the story of the bachelor/bachelorette party during your wedding toast, you probably should just do it without asking because it will be hilarious.

Selecting what the content of your speech should be seems complicated enough. So, is deciding on how to deliver a special occasion speech an easier decision? Well, not really, because that, too, depends on a number of variables. Each type of special occasion speech can fall into more than one of the delivery style categories mentioned in chapter 11. Manuscript, memorized, impromptu, and extemporaneous can all be justified, depending on the speaking situation and the purposes of your message. Follow the guidance in chapter 11 of choosing a delivery style that balances your need to deliver a specific message with the ability to remain conversational and engaging with your audience.
Making this delivery decision is as important as what the message itself is. Failing to choose the proper type of delivery can create a negative result. Take this marriage proposal, for example:
What delivery style would probably be most appropriate for a wedding proposal?
If someone delivers a message of praise that comes across as distracted, apathetic, or uncaring, sometimes it is better not to even attempt the speech at all. French author Jean Giraudoux offers the following advice of how to have great delivery: "The secret of success is sincerity. Once you can fake that you've got it made." Achieving this tongue-in-cheek advice is actually quite difficult to do. Successfully feigning your way through a special occasion speech without being detected is pretty difficult. There is a much easier way to be successful. Be authentic. But here again, the right delivery is essential. Be careful of over-preparing, as it creates the possibility that your authenticity will fade as you practice the speech for the 300th time. Creating something that is incredibly over-rehearsed has the potential to come off as inauthentic and sterile. This can be helped by always remaining mindful of the significance of the message you are giving and the fact that when you are delivering it to the intended audience, it is their first time hearing this message.
Your delivery should allow you to clearly convey your message accompanied by the enthusiasm and support you have for your speech. This shares nonverbally that you fully endorse your message and that you mean what you say. When this occurs, the audience can tell that the speech you offer is much more than just empty words.
Types of Special Occasion Speeches
If you're going into a career where you are not expected to speak publicly on a regular basis, a special occasion speech will likely be your chance to show off your amazing speaking skills. If done correctly, you have the potential to turn seemingly insignificant moments into meaningful memories.
Thus far in the book, we have covered primarily two different types of general purpose statements that are perfect for professional and academic settings: to inform your audience and to persuade your audience. There is a third type of general purpose statement: to entertain the audience. This type of general purpose statement is not always as important within the academic/professional setting. Special occasion speeches fill this gap. Ideally, every special occasion speech should draw a little from each of these three general purpose statements—to inform, to persuade, and to entertain—as the audience should grow because of hearing the message guided by your insight, and it should be enjoyable to view.
The different types of special occasion speeches are quite diverse, each providing unique challenges and goals for the speaker. What follows are three distinct categories of special occasion speeches: toasts, keynotes, and awards. In each category, we will discuss the main types of speeches found within, analyze the purpose of the speech, content likely to be included, as well as some delivery tips to help things go well.
Toasts:
A toast honors a specific individual, people, or event by offering a message of praise, advice, and/or goodwill. Toasts are oftentimes a part of a larger celebration and therefore should be kept brief. Toasts can range from something extremely formal, like some toasts delivered during a wedding reception, to something rather informal, like a brief toast offered to a group of neighbors at a local restaurant before your app sampler arrives at your table. The third type of toast that will be discussed is one that makes the recipient a target of humorous observations about their character, the roast.
Before continuing to the different types of toasts, it is important to make a quick note about the relationship between public speaking and alcohol. During social events where toasts are delivered, alcohol often flows liberally. Some believe that a few drinks can be the 'social lubricant' needed to calm the nerves and give a great speech. At this point in your speaking development, you should know this ineffective gimmick is not nearly as helpful as the advice offered in chapter 2. Although being intoxicated may make you feel better while speaking, a quick YouTube search can expose the pain audiences feel while drunk wedding members or belligerent bosses at holiday parties stumble their way through their 'heartfelt' toasts.
These cringe-inducing performances should be enough of a deterrent to heed the following advice: If you do choose to participate in the consumption of alcohol, delay your participation until after you have nailed your speech. It can be your reward for a job well done. (At a wedding, if you have an altar position that affords you the opportunity to give a toast, usually the bride & groom are happy to extend happy hour just for you.) As a special occasion speaker, you are speaking on behalf of important people in your life, in front of an audience that is important in their lives, so it is important that you do not make them regret their decision to choose you as a speaker. If you are unable to delay your drinking for the amount of time it takes to get to the speech portion of a reception, there are several reputable programs that might be of benefit to you.
Historically, it is expected that you deliver your speech with a drink in hand. In fact, some believe that to do so without a beverage is bad luck. If you choose to participate in the consumption of alcohol during the event, you can end your toast with that celebratory drink. A good rule to follow is that if you shouldn't be behind the wheel of a car, you should not be speaking into a microphone (this advice extends to all microphones, not just those used for wedding toasts). Plan accordingly.
Arguably the most common type of toasts are the ones that are given during wedding receptions. It is reasonable to expect to be asked to deliver at least one of these speeches at some point throughout your life. What makes this speaking situation formal, among other things, is the aspect that the toast is planned and expected well before the evening begins. It does not have the spontaneous feel that informal toasts can often have. This allows you ample time to prepare what you want to say to your close friend or family member when given the chance to honor them on their special day.
Speaking of "their special day," it is important to never lose sight of who the toast is for. When done correctly, the purpose of the toast is to shower praise upon the people being honored, not the person giving the toast. Essentially, your goal is to provide an entertaining persuasive speech as to why the honoree has earned the right to be celebrated. As much fun as it is to make things about yourself, this is not one of these times. Keeping this in mind can help you in the development of what makes it into your speech and what is omitted.
The length of a toast should usually be quite brief, ranging from 1−4 minutes. Anything shorter than this may miss out on an opportunity to clearly express a meaningful message. Anything longer than this, and the captive audience may lose its enthusiasm for your message. Longer toasts are tolerated if the occasion is particularly important and/or rare. Another variable that affects how much time you should take includes how many other people will be giving toasts for the same event. Although we would all love to gush about how meaningful the honorees are, it is important to remain mindful of the amount of time it would take to get through all those messages.
Like most speeches, formal toasts are comprised of distinct introductions, bodies, and conclusions. A timeless and classy way to begin any formal special occasion speech is to acknowledge who you are directing your message to. The following video offers a demonstration of what this looks like.
Doing this can serve many purposes. It is a sign of respect that acknowledges the 'important' people in the room in descending order of importance (as we will see, this same introductory technique can be used in other forms of special occasion speeches besides toasts). For a wedding, this begins with the bride and groom and continues from there. Common groups of individuals who get name-dropped are parents, clergy, bridesmaids and groomsmen, and 'family and friends.' How you arrange these and who you include may differ, depending on how you perceive levels of importance.
Another benefit of this type of opening line is more practical. A toast inevitably ends up interrupting the meal, and conversations taking place. When you begin speaking, conversations may still be continuing throughout the venue, as some tables may not be aware that a speech has begun. By leading with the acknowledgments of special attendees, it allows a collective hush to fall over the room as they begin to pay attention to the message that you offer. Lastly, it helps to provide a more inclusive toast that connects the room through a shared appreciation for the message you offer to the recipients.
During your introduction, it is also important to make sure that you have clearly introduced yourself (if it has not been done for you) to those in the audience who may not know your connection or relevance to the event that's being celebrated. In the case of a wedding, although you will know half of the audience fairly well, it is important to be inclusive of the other half. By providing this background information, it helps to provide context which makes the rest of your message and stories you tell more understandable.
The body of a toast can be quite diverse. What makes toasts, and special occasion speeches in general, so much fun is that there are so many ways to achieve your speech goals. Some toasts are tailor-made for incorporating lots of humor; others are best achieved by keeping things serious and deep, or even a blend between these two approaches. Telling stories and the lessons learned from those experiences often yields a meaningful and heartfelt message shared with a healthy dose of nostalgia. Choose the moments where the person you speak of was able to clearly shine as an outstanding individual. As you narrate your way through the story, make sure to highlight the specific attributes or traits that the honoree demonstrated within the story that makes them worthy of such praise and goodwill.
Another important element is to incorporate all of those who are being honored into your toast. In the context of a wedding, you probably know one partner better than the other. Even if you've only had limited exposure to your friend's new spouse, it is important to incorporate them in some meaningful way into your message. This can often be done by making observations about how their influence on your friend created a relationship that is praiseworthy.
The conclusion of the toast, in line with other conclusions, should tie the content of your message into a clear summary of what you are trying to express with your speech. It is at this point that you signal your audience to raise their glasses prior to delivering your final lines that bestow your sincerest wishes upon the subjects of the toast. Clink your glass, take a sip, and enjoy the applause as you take a seat knowing that you knocked it out of the park.
The delivery of a formal toast can be memorized or extemporaneous. Each choice offers its pros and cons similar to other speaking opportunities. Ideally, a memorized speech is best, but being able to remember your message and keeping composure throughout can become difficult during such a meaningful (and emotionally stressful) speech. Having prepared notecards to keep you on track should you go astray is a great idea; however, presenting your entire message without needing them is even better.
Eye contact and engaged physical delivery with the folks you're celebrating, as well as the audience, is incredibly important in these types of speeches. Sharing your message by looking directly at the people you're hoping to honor instead of an inanimate set of notecards creates a much more connected emotional environment. Emotions can be quite powerful during toasts and special occasion speeches. This is a good thing. It means you're doing it right. It is important to balance emotional delivery with your verbal delivery. If one becomes so overwhelmed by emotion that they are no longer able to be understood by the audience, it generates a problem. Pause, take a quick breath and continue your message once you have regained your composure.
Sample Wedding Toast Manuscript:
Kelly and Garrett, Mr. and Mrs. Curtis, Mom and Dad, and friends and family gathered this evening,
My name is Kristen, and I am Kelly's proud older sister. I was incredibly blessed two years ago when Kelly was the maid of honor at my wedding, and as touched as I am to return the favor, unfortunately, I do not believe I can top the insightful words she offered me.
Kelly and Garrett, it gives me, as well as all of those here tonight, such pleasure to be able to be here and celebrate your marriage.
Kelly is and always has been wise beyond her years as well as fiercely independent.
When we were younger, watching Kelly when our parents were gone was always a great hobby of mine. It gave me the chance to 'boss her around'; it wasn't so much bossing — let's go with 'politely urging her to do what I wanted.'
This arrangement worked great for quite some time until one day I must have pressed too hard. By the time I realized it, Kelly had just walked out the house (I never said I was a 'good' babysitter). Along with her, she had packed her tiny pink suitcase with every child's mandatory 'running away items,' a tattered teddy bear and her beloved blanket. As she defiantly strode towards the park down the block, I pleaded with her to return home before my parents did.
Although I was able to coax her and her luggage to return home with me, in this one act of defiance, Kelly clearly asserted that the status quo had changed, and she was growing up.
Years later, after I had moved away to college, I found the tables had completely turned since my days of babysitting. It was I who was now turning to Kelly as a confidant to seek advice, and receive another person's perspective. Even though she's my little sister, and will probably be carded at bars into her late 50s (that's a compliment), I came to trust her insights and opinions without hesitation. It was also nice to see that at this time, she began to confide in me as well.
So, when news came around that there was a new guy catching her attention, I couldn't wait to meet him. Searching, err stalking, him on Facebook only provides so much information. Garrett was very shy at first; however, over the various holidays, vacations, and simply hanging out, enjoying each other's company, I have come to understand why my sister is so drawn to you and how lucky I am to be your sister-in-law.
Garrett, while being immersed in the Henderson family, you have always been a phenomenal sport, to say the least. Whether it is your strength and handiness to help out whenever needed, or helping your fiancée down a treacherous ski hill, you have done it all with the greatest of humility.
You have not only positively changed Kelly's life through your presence, but you have changed our entire family for the better. We're extremely lucky to have such a funny, positive, and caring addition to our family. Thank you for being so awesome, and thank you, Kelly, for landing such a great guy.
Years ago, Kelly stormed out of the house. Blanket and teddy bear in hand, ready to embark on a great journey.
Tonight I see the same girl, the same blonde hair, and the same unshakable certainty that she has found her path. The journey of marriage begins today, and I know you're ready. You have up here the two things you will need to be successful: your blanket (which she still sleeps with today), and instead of a tattered teddy bear, you have one whose name is Garrett that is warm-hearted, caring, incredibly huggable and will be beside you the rest of your life.
Kelly, I loved you as the adorable girl with the pink suitcase, I love you as the beautiful woman you have become, and I will love you as the wrinkly old-wise lady you will age into. We all can't wait to be a witness to the great things that lay before you and Garrett.
Because of these things, I see it fitting to raise our glasses and toast to our bride and groom. Kelly and Garrett, we all love you and wish you a beautiful night and the happiest of futures.
Public expression of gratitude or praise is not always a planned thing and sometimes rises organically from a given situation. Informal toasts are often impromptu messages given to a smaller audience during or after a meaningful event or achievement. Thanking your coworkers during the celebration of a completed project, commemorating a holiday dinner, or expressing happiness found with a new group of friends are all common moments where someone can grab the floor and offer their thoughts.
Offering an informal toast at the end of a meal or get-together with friends can be a classy way to draw attention to the specialness of the moment and express goodwill to those in attendance. Similar to a formal toast, your message should provide an argument for why a celebration is in order.
These speeches should be kept quite brief while still accomplishing the goals of a toast. Lengthy stories are not advised; offer a very brief anecdote if you must. Rather, state the purpose for what you want to toast, offer a rationale for why you think it is merited, express gratitude for the contributions of those in the audience, and conclude your toast.
The informality of these speaking opportunities makes it great for using an impromptu delivery (or extemporaneous if you had the chance to organize your thoughts a little). The stakes are arguably quite low because you usually have a pretty strong relationship with everyone who is in the audience, and they know you are speaking "on the fly." Attempting to utilize one of the other more structured forms of delivery may take the "inspired by the moment" feeling away from the message.
For those who have seen the movie The Hangover, Alan's "wolfpack speech" is an example of what happens when you utilize a manuscript delivery for an informal toast. It's funny to watch on-screen; however, the humor comes from the awkwardness created by delivering the offhand speech in such a formal manner.
This Content is Locked
Only a limited preview of this text is available. You'll need to sign up to Top Hat, and be a verified professor to have full access to view and teach with the content.
A roast is a rowdy relative of the formal toast. Instead of aiming to share a primarily praiseworthy message upon its recipient, a roast is intended to make jokes at the expense of the honoree in a lighthearted manner. However, the roast should eventually get around to the praiseworthy aspects of the honoree near the conclusion. Roasts traditionally have been a way for recipients to demonstrate their ability to take a joke and not take themselves too seriously. These types of speeches are common at retirement parties, bachelor/bachelorette parties, and milestone birthday parties.
Roasts usually incorporate embarrassing stories, observational humor about unique personality quirks, and predictions of what the future has in store for them. Although the purpose is to tell jokes, it is best to conclude by conceding that the person in question is pretty awesome after all and offering a statement of admiration. Once you and other roasters have gotten a chance to offer your best jabs, the honoree often is given a chance to offer a rebuttal.
When roasting someone, your goal is not to absolutely decimate the other person. A roast is meant to be fun for all. If the person being roasted doesn't have fun, you are not meeting your goals.
Like formal toasts, roasts are able to be a little bit longer in duration, but the guideline of keeping it as short as possible still is present. It is always good to try to keep your jokes as close together as possible within your message. Spending two minutes to tell a story that could be explained in 20 seconds will make your jokes seem less funny. In making sure that all the audience members can appreciate the humor, make sure to explain any inside jokes prior to the punchline. Remember to keep your jabs light-hearted. You should avoid making fun of things they may be particularly sensitive about, such as a bad toupee, their weight, or crooked teeth.
As with the toast, the beginning of your message should establish who you are and the relationship you have with the person you are roasting. Share a few humorous insights, stories, or predictions. When concluding your roast, it should include an element of praise and admiration for the person in the hot seat.
What story would probably be the best type of material for a roast of a coworker?
A
The time his wife left him for another man
B
The time he accidentally left 25 copies of his bucket list on the photocopier
C
The time he used the wrong form of there/their/they're in an email
D
The time he lied about his experience in his interview and landed the job anyway
Extemporaneous delivery is probably your best bet for a roast, as it allows the flexibility to adjust your message, depending on the response you're getting from the audience. Know and practice the two or three stories or jokes you intend to use and share them. By incorporating a conversational feel throughout, it is much easier for the humor to land. There is little incentive to read your jokes from a sheet of paper, as doing so can take away from the humorous element of the speech. Purposeful audible pauses ("um," "uh," etc.) might be used throughout your message to help create suspense and the illusion that you may be delivering an impromptu speech for the first time off the top of your head.
This Content is Locked
Only a limited preview of this text is available. You'll need to sign up to Top Hat, and be a verified professor to have full access to view and teach with the content.
Keynotes:
Keynote addresses are often very formal speaking environments and feature the most prominent speaker and message at a given event. It is the goal of the keynote speaker to provide a message that unifies their audience around a given topic or rallies them to be more supportive of the event being celebrated.
To achieve this, a speaker will need to provide information that the audience does not yet have. They will need to help the audience process that information to arrive at a certain conclusion, and they should be entertaining and captivating at the same time. A successful keynote speech will incorporate all three of the general purposes (inform, persuade, and entertain) into one speech.
Often the persuasive elements of a keynote speech are more likely to advocate for a specific course of action or behavior through the use of inspiration. By incorporating healthy amounts of ethos and pathos into their message, keynote speakers can inspire their audience to act upon the message.
Keynote speeches are often featured inside of a larger program. For instance, imagine you attend a walk-a-thon that is a fundraiser for a local cancer research laboratory. After a day of activities, there is a meal provided, followed by a brief program and some silent auction items as well. There will be several speakers throughout the program talking about how much money is being raised, various raffle contest winners, thanking the many volunteers, and toward the end, there will usually be a keynote speaker charged with providing a message that helps advance the goals of the fundraiser.
This can come from several sources:
Organizers of the event discussing the urgency of advancing research.
Patients expressing gratitude for an improved prognosis because the research was made possible by similar fund-raising efforts.
A content expert (e.g., oncologist) who informs on a topic relating to cancer research.
Whatever the speaker talks about, it should help advance the goals or understanding of the group assembled. Whether it is to directly appeal to raise money or provide information that everyone in attendance is interested in, the group itself will be better off for hearing the message.
A fundraiser is only one of many different events that feature keynote speakers. Each type presents different variables that affect how the speaker should go about planning their message and delivery. Two types of keynote speaking environments are focused on in this chapter are the after-dinner speech and the eulogy. A third type, the commencement speech, can be found in appendix A of this chapter.
The after-dinner speech, as in the example above, is exactly what it sounds like. As attendees of an event are finishing up their meals and beginning to digest, the after-dinner speaker imparts a message upon them. When preparing a keynote address, having a strong understanding of who your audience is will help amplify the likelihood of successfully delivering your message (revisit Chapter 7 as needed).
Attendees of these events usually are not solely motivated to show up because of who is giving the keynote. The keynote speaker is usually just thrown in with the package, kind of like a prize in a kid's meal. Are we happy it's there? Sure, but we're here for other reasons. Let's examine the attendees from the fundraiser example above. They have been participating in this event for several hours. They have sat through a social hour, a meal, and a lot of housekeeping items during the program before arriving at the keynote. This is a captive audience, who have been in the sun all day, on the verge of a food-induced coma, politely paying attention while half the audience sitting around tables must awkwardly crane their necks towards the front of the room in their uncomfortable chairs, very aware of what time it is, and, that's right, YOU are the last significant event in the day before they are able to leave for the evening. Go get 'em!
The speaking goals will usually be co-established between you and whoever invited you to speak. By knowing what you're trying to achieve, it is easier to plan your message in a way that meets the audience's expectations while overcoming many of the negative predispositions that you face.
The organizers of the event usually let the speaker know how long they are expected to speak. Depending on the length of the overall program, this can be a relatively brief five-minute message or a much more significant hour-long presentation. It is very important not to exceed your allotted time on the agenda. In fact, if anything, try to wrap up a little bit under your given time. Much like students who are eager to sprint toward the door 5 minutes before class is even over, individuals who are near the end of a long day wear thin. On the other hand, the audience might appreciate you leaving a few minutes to ask questions afterward.
Speaking at a community cancer research fundraiser is very different than speaking at a conference where attendees have to pay several thousand dollars to attend. In terms of formality, it is always better to err on the side of being slightly too formal than not formal enough. Using the introduction mentioned in the formal toast section will allow you to start your message on the right foot.
Because of who you are speaking to, a very strong introduction that appeals to the audience will help get them on board with your message and overcome the barriers you face. Effective attention getters, clear purpose statements, and establishing your credibility do wonders to win over the after-dinner crowds.
Regardless if you are giving a speech to inform or persuade, it is important to present information in a way that is intriguing to your audience members throughout the entire message. Anecdotes, personal testimony, and other supporting materials that are individualized help create a social connection between you and your audience.
When concluding, be careful to avoid any obvious signposts (e.g., "In conclusion …"). Audiences may hear the signpost and gather their items in preparation for their imminent departure. Utilizing a technique of connecting your conclusion to your introduction is a way to offer closure to the speech while still maintaining the full attention of the audience. Much like an anecdote can grab the audience's attention in an introduction, revisiting the story in the beginning of the conclusion can offer a nice bookend to the speech that allows your message to come full circle. The audience also has a deeper appreciation for the story, as they now have the insight you provided in the body of the speech.
Because of the more formal nature of the speech and uncertainties about the audience, extemporaneous delivery is the most ideal way to deliver your message. It allows you to be thoroughly prepared concerning the information you will share while providing the flexibility to respond to varying levels of audience engagement and energy level.
As Steve Jobs pointed out in a 2005 commencement address, "Death is the destination that we all share. No one has ever escaped it." This reality creates a need to acknowledge and celebrate the achievements made during one's lifetime and grieve the severe impact that is felt because of their death. One of the most hopeful items within the funeral service that can help to achieve this is the eulogy. A eulogy is a personal message delivered by a loved one, preferably, that helps offer perspective and comfort to family and friends. Being asked to deliver a eulogy is one of the most sacred and privileged types of speaking opportunities. Delivering a eulogy is not something that we eagerly await the opportunity to experience, but when the situation arises, it is important that we honor and respect the occasion. Delivering a well-crafted eulogy can have a tremendously helpful effect on coming to terms with the reality of the passing of a loved one. Additionally, the process of developing, writing, and delivering a eulogy can be extremely helpful for your own grieving process.
The purpose of a eulogy is to celebrate the life of the departed, comfort the grieving family and friends, reflect on the meaningful role the individual played in your life and the lives of others, and offer guidance to those assembled in how the loved one should be remembered. If you are selected to deliver the eulogy, you probably had a close relationship with the person being remembered. Keep in mind that beyond expressing your own experiences and thoughts, it may be helpful to share the stories and memories other significant loved ones have about the departed if they are not given the chance to speak.
The length of the eulogy can vary, depending on the number of speakers during the service. Traditionally, the message should last anywhere from 5−15 minutes.
Personal stories and anecdotes usually comprise the majority of the eulogy's content. It is through the telling of the shared memories that we understand the life of the person who has passed and help guide how they're going to be memorialized.
Things may seem very grim at the moment of the funeral, but it is important to not lose perspective of the positive memories of this individual. There is nothing wrong with bringing a smile, or even a gentle laugh, to the folks in attendance. Sharing stories from happier times can help remind the audience, as well as yourself, that the pleasant times with this person cannot be taken away, even in death.
Acknowledging the sadness and grief caused by death is equally as important as highlighting the positive. Members of your audience will be processing the death quite differently during the funeral. Delivering a message that is entirely upbeat and optimistic belittles the profound and valid grief that some in the audience may be feeling. Feel free to state some of the events or memories in the future that will not be possible because of the death.
Demonstrating empathy is a fine line. If done effectively, there's a shared understanding of grief (ex: "Without Jeff, our office will never be the same. We'll be short a great manager but realize that Jeff was first, and foremost, a father and husband."). If done poorly, your audience will feel insulted (ex: "Although Jeff's untimely heart attack leaves his three kids without a dad, it'll be alright. Last year, my hamster, Cuddles, died, and I was back to normal in a matter of days.").
Word choice and tact are very important during a eulogy. There are many euphemisms used to describe the act of dying without being too blunt. Make sure to also choose your religious/philosophical tie-ins carefully. It may be tempting to inject your personal beliefs into the eulogy, which may have unintended consequences. Telling a grieving family that "Brad's death is all part of a grand master plan that is all for the good" may not be the comforting message the family needs at that moment. Nor is telling a rather religious family that "Brad's body has been pumped full of embalming fluid so that he may sit in the dirt decaying even more slowly."
It is traditional to not speak badly of the dead, for obvious reasons. Sometimes the relationships we have with family members and loved ones can be quite complicated, and although we want to praise and honor them for the good times, it might not be completely honest to ignore some of the struggles and challenges that existed in that relationship. Simply because somebody passed away doesn't mean that they are free from any fault. At the same time, for those in the audience who didn't experience that side of the person, it would be inappropriate to decimate the memory of those no longer with us. Doing so will provide little comfort to you or those in attendance.
Manuscript delivery is suggested for these types of speeches. Although attempting to do a memorized eulogy is a noble effort, oftentimes with the passing of a loved one, emotions can strike us in ways that we can't predict or fully understand. By having a manuscript speech in front of you on the lectern when needed, it allows you to stay focused on what your message is and to deliver the message you wish to deliver if overwhelmed by emotion.
Expressing that emotion throughout your message is perfectly acceptable and normal. The close proximity of the death to when the eulogy takes place does not provide you enough time to fully make sense of your new reality. Externalizing in your speech the thoughts that you have been trying to process the last few days can reignite the feelings of loss, grief, and frustration.
Although there is nothing wrong with showing emotion, it can become a problem if it starts to impact the audience's ability to understand your message. If emotion overwhelms us, and we plow through our speech while sobbing, our message can become unintelligible. Speakers can plan ahead by making sure that they have access to tissues and water near the lectern and take appropriate breaks to recompose themselves. The audience understands and does not fault you in the slightest for these required pauses.
Death, unfortunately, is a scary subject for most, as it is something that we would rather ignore and not discuss. Through the delivery of your eulogy, you have helped honor and say goodbye to an important person in your life while advancing the grieving process for those in attendance (as well as yourself).
This Content is Locked
Only a limited preview of this text is available. You'll need to sign up to Top Hat, and be a verified professor to have full access to view and teach with the content.


Awards:
Within our educational paths, careers, and hobbies, there are awards that people strive to receive. For some, it's being the valedictorian of their class, or the Regional Manager of the Year, or the softball team's Most Valuable Player. Other awards are given in recognition of high achievement, but it was probably not the primary goal of the recipient. These include items like Volunteer of the Year awards (because if you're volunteering just to get an award, are you really in it for the right reasons?).
What award or recognition would you like to receive some time in your life? Why that award?
When we think of award speeches, we gravitate towards the few famous people who are fortunate enough to ever win an Emmy, Grammy, Oscar, or Tony. For most recipients, this is the only time they will receive such an award, but nonetheless, they sashay to the stage wearing an outfit that, if sold, could cover the tuition for you and each of your public speaking classmates. Once onstage, they only get 30−90 seconds to summarize, reflect, and offer gratitude for what it is like to reach the peak of their career while the orchestra in the pit is eager to interrupt if they exceed their allotted time. The types of messages run the gamut between heartfelt gratitude, shock and awe, carefully planned political statement, or reading a list of their corporate handlers. As an audience member, some of these may resonate with you; others are kind of a dud.
Countless awards are presented and received daily. Just because everybody is not decked out in designer fashions doesn't make the achievements meaningless in the lives of those who are presenting and receiving those awards. Whether it is Employee of the Month or the most improved speaker in a speech class, recipients of these types of awards are rightly entitled to feel proud of their achievements. Pride can also be felt by the person who is able to present the awards, as it is a symbolic way for them (and the group they represent) to acknowledge the appreciation they have for the winner of the award. Speeches of presentation clearly establish why the award needs to be given and what has been done to earn it; whereas speeches of acceptance express feelings of gratitude for being recognized, descriptions of what it took to achieve the attention, and sharing potential sources of motivation.
Presentation speeches range in formality from impromptu Most Valuable Player presentations for an individual sporting event to thoroughly developed lifetime achievement award presentations that draw from several decades' worth of material. The more significant the award, the more significant the speech or presentation should be. Whatever the situation, at the end of a successful award presentation, everyone should clearly know what the award is, who won, and why they won.
Distributing and bestowing honors upon other people serves more purposes than doling out cheap trophies and generic certificates. Often giving awards serves a very important social purpose of recognizing the superior efforts put forth by individuals throughout a specific duration of time. It helps the recipients and the audience understand that accomplishments are valued and not going unnoticed. The more clearly a presenter can provide the reason for the award and why the recipient deserves it, the better the presenter can acknowledge these achievements.
Speeches of presentation usually begin by providing the audience with a better understanding of what is being celebrated and what the specific recognition or award being presented symbolizes. By providing the audience with an overview of the origins and legacy of the award, they can fully appreciate what the specific award represents. Once the purpose of the award is established, a presenter can then provide a clear explanation of what criteria are used to determine award winners and inform the audience why the current recipient meets or exceeds these criteria. A presenter should conclude by motivating the audience to accept their choice of recipient by offering support for the person who receives the award.
The most appropriate delivery style largely depends on the level of formality for a given award. For awards given out rarely and in front of a larger audience, it is probably a good idea to gravitate towards memorized or manuscript delivery, such as the "cue-card delivery" you see during televised award shows. That might be a little different from the Most Valuable Player at your school's basketball team banquet. As a presenter, you are aware of the fact that an award is being given and who is the winner of the award. Therefore, you can do due diligence to prepare yourself prior to the presentation and deliver it in a way that enhances the prestige of the award—more formal or more conversational, depending on the setting.
"These traits are: Dedication to learning, demonstrated empathy and hospitality to those in their community, and fostering a commitment to advancing causes they find important.
"Our first recipient embodies these three character traits in many ways big and small. One of the more obvious examples of why she is qualified to receive this award is her tenacious assistance in organizing her student council's effort to petition the school board for increased funding and updated learning materials for elementary schools in the area. As a result of her efforts, proficiency rates at these schools have risen 15% in the two years since these resources were provided. It is therefore fitting that I have the honor to award a Mortimer C. Anderson Accolade to Melissa González."
Receiving an award feels amazing but can potentially turn into an overwhelming experience. Some awards are sprung upon us without us knowing that we were going to receive them. In these situations, our ability to clearly convey what the award means to us can falter. Others awards we receive, we are informed about ahead of time, providing us a chance to internalize the praise and collect our thoughts in a more coherent fashion.
Receiving an award is a pretty humbling thing. It's a public acknowledgment that you achieved something by exceeding the efforts of your peers. What winning an award means to an individual varies, depending on the person. By giving a speech to accept the award, you have a chance to explain the significance receiving the award has in your mind and to thank those in your life who made it possible for you to achieve such heights. If you were to be the recipient of the award presented in video #12 above, it would be a tremendous honor. Now imagine if this was your response:
You just received a full ride scholarship, and you respond by offering ten words, 1.5 sentences in response? Although you are conveying gratitude by saying thank you, it lacks insight into what that award means specifically, and it comes across as impersonal. The intent of this response was not disrespect; however, providing such an underdeveloped acceptance message runs the risk of coming off as ungrateful.
When given an award and provided with the opportunity to address the crowd, it is best to provide a message that is commensurate in length to the significance of the award received. If you receive an employee of the week award, an eight-minute speech highlighting the struggles faced by those who are food insecure is not necessarily the best message for the platform. Although the message may be well reasoned, that's not what the audience was expecting at all, causing them to disengage from your topic altogether. For this award, a brief impromptu message that lasts roughly 30 seconds is ideal.
If you are honored at work with an award for the most innovative employee of the year out of your entire multinational organization, if you can reasonably relate the issue of food insecurity to your motivations that drove you to success in the workplace, providing your detailed thoughts on the topic may be totally relevant. Awards like these are truly rare, so it is probably best to plan on giving an acceptance speech that is between 30 seconds and 2 minutes.
Introductions should be spent offering gratitude to the awarding body or institution. The heart of the message should reflect on what the award means to you and provide valuable insight into what motivators or assistance helped you to achieve your accolade. Conclusions should incorporate what the future holds and how you may use your newfound elevation in status going forward and offer another expression of gratitude for being selected.
Speaking in acceptance of an award can be a challenging thing. If you're not given forewarning that an award will be given to you, you are being thrown into an unanticipated impromptu speaking situation, and the elation over being recognized can create an awkward speech. By keeping in mind the items mentioned above, you can navigate the waters quite successfully. Usually, when an unanticipated award is given out, it occurs in more informal situations, so you are not expected to give a perfectly polished acceptance speech.
If you know an award is being presented, and you have a marginal chance of being selected as its recipient, it benefits you to get a jump on what you might say should the unexpected happen. This does not require you to fully flesh out your ideas but to identify the key things you would want expressed if given the chance to do so. Delivering a manuscript speech or an overly prepared memorized message for an award that you presumably did not know about beforehand runs the risk of coming off as canned, or worse, conceited.
For most formal awards, however, you will be told ahead of time the award you will receive (or that you are on a narrow list of nominees). In these situations, it is best to make sure that you have prepared for the occasion. A memorized delivery allows you the certainty of remembering to acknowledge certain individuals without needing to insult them by checking for them on a note card. Nonverbally, it allows you to remain engaged with the audience while expressing the message prepared. Remember, receiving an award can be humbling—so be humble. Particularly, if the people you beat out for the award are in the audience, don't gloat.
Far from the ten-word acceptance speech example provided above, the video below demonstrates what an acceptance speech looks like when it successfully incorporates the components that should be in a formal acceptance speech.
"Throughout the next four years, I hope to live up to the ideals laid out by President Anderson. I would like to thank Brian Johnson, my high school history teacher, whose ability to make foreign-policy debates from the 18th century relevant to a 21st-century audience taught me that education can and should be fun. Equally as important was my student council advisor, Sarah, who helped show how education can be used to bring about change in my community. I look forward to my growth and development over the next couple of years and will continue to make my parents proud. Thank you very much."
This Content is Locked
Only a limited preview of this text is available. You'll need to sign up to Top Hat, and be a verified professor to have full access to view and teach with the content.
Summary
In life, there are several things to celebrate, which is a good thing. By employing effective special occasion speaking practices, we can elevate these special moments and make them more memorable. The different types of special occasions that are highlighted in this chapter are not comprehensive, but they represent some of the various opportunities to speak to mark special moments. The types of special occasion speeches that have been highlighted in this chapter incorporate most of the variables that need to be considered for each speaking opportunity. Because of the unique audience types, reasons for celebrating, and demands of the specific moment as speakers, we need to tailor our words and delivery to successfully commemorate things worth celebrating.
Appendix A
The role of being a commencement speaker is a tremendous honor, either as a student speaker or an outside guest. Your audience is comprised of individuals who have achieved a major milestone in their life, buffered by friends, family, and faculty to help commemorate the special occasion. As the graduates prepare for the next phase of their life, the commencement address speaker is in charge of celebrating the achievement and offering guidance and advice for the future.
When done correctly, this genre of public speaking can be one of the most motivating, thought-provoking and inspiring. Visionaries from all fields have given tremendous addresses that are extremely insightful and relevant even decades after they've been delivered. Steve Jobs, David Foster Wallace, Oprah Winfrey, Conan O'Brien, and countless others have left their mark far beyond the graduating classes that they addressed.
When done incorrectly, it can be a less than pleasurable experience for those in the audience. Cliché phrases, predictable stories, and unconvincing rhetoric combine for an audience response of internalized sighs, forced laughter, and culminating with polite applause.
How many of you graduated as "the best class to ever attend [fill in your high school name]"? Probably all of you, in the minds of your commencement speaker. Some speakers simply recycle phrases that have been used time and time again and fail to introduce a unique thought. While there's nothing wrong with being enthusiastic about the achievements attained, a little bit of awareness goes a long way. By replacing these dull, stale clichés with individualized content, the commencement address can be something much more accessible and personable while still remaining generalizable for a larger audience.
Accomplishing this makeover is not terribly difficult, and the audience deserves it. Students work very hard and pay a lot of money for this day, so it is best that they are rewarded with a speech that rises to the occasion.
There are multiple purposes a commencement address can serve: acknowledge the achievements attained by the graduating class, revel in the completion of a lengthy journey, reflect on what it has taken to achieve graduation, establish goals for the future, and offer encouragement and advice for endeavors about to be undertaken beyond the realm of the school or college. If possible to touch on all of these, that is wonderful; however, many times speakers will choose to just focus on a few of these goals.
As a student speaker, you are the representative of the graduating class and the voice of your fellow graduates. It is therefore important that beyond sharing your own experiences on campus, you acknowledge the efforts of your fellow students as well.
Visiting speakers addressing the graduating class can share their outside perspective and experience to help guide the next generation of graduates into their next stage of life. Some of the speakers (usually politicians or administrators) unfortunately use this speaking opportunity to tout their own accomplishments with a flimsy tie-in to the event during their concluding remarks. Regardless of which type of speaker you are, each anecdote, story, or bit of advice that you offer needs to clearly circle back to how it will benefit and enhance the graduates.
A commencement address is usually a significant portion of the graduation ceremony. The organizers of the event will probably advise you how long your address should be. Student speakers usually run anywhere from 5−15 minutes. The commencement address can run from 10−30 minutes.
With all the pomp, circumstance, and regalia associated with graduations, approaching a commencement address as a formal speaking opportunity is advised. Employing a formal introduction is a classy way to acknowledge the dignitaries present. Be careful of the on-campus pecking order—who you acknowledge first, second, third, etc. Like it or not, there are usually some petty politics on campus to avoid.
As the graduates are the honorary recipients of your message, they should come first. The rest is up for debate. The president is important, as that person is the head of the institution who invited you and is conferring degrees but had a very hands-off role in the development of graduates. The administrative officials provide the executive level organization for the institution as helpful mid-managers between the president and faculty. Faculty members serve a vital role in getting students to graduation and probably had a larger hands-on role than any of the administrators. The loved ones are guests to the institution and perhaps are merited earlier mention. In the grand scheme of things, this decision is relatively unimportant; however, understand whenever you are mentioning people in attendance, at a commencement address or otherwise, the act of praising one can make another feel excluded.
When developing and writing a commencement address, start by establishing your goals. Does your speech aim to focus more on achievements in the past, or will you focus on advice for the future, or are you trying to achieve a seamless blend of the two?
Once that is determined, you will have a good idea of whether you will be relying more on personal stories and anecdotes or on borrowed advice from sage individuals who have pondered the big picture you hope to address. The video above isn't inherently wrong with the claims that she makes. What is missing from the video is clear justification for why the speaker thinks that they are the best or why their challenges were so much more harrowing than preceding graduating classes. By providing stories and evidence to justify your claims, it provides a nostalgic journey for the audience and helps build shared enthusiasm for where you are leading the audience.
Telling stories and deconstructing the lessons learned from them is a common and effective way for structuring a commencement address. Anecdotes that mention a particularly popular, inspirational professor or two can personalize your speech for your fellow students as well as some of the faculty members. When selecting stories, make sure that they are relevant and insightful to the audience and not simply just a good story.
The 'only one chance' nature of the commencement address environment is a reason why manuscript delivery is often utilized. The massive audience, and not always completely functional microphone system, will make you glad you have your manuscript. But that doesn't mean you can't deliver your speech effectively. Delivering a speech from manuscripts in a way that is conversational and engaging is very possible and should be employed for the sake of those in attendance. There have been many well-written commencement addresses that did not reach their full potential because of how the message was delivered. If your delivery does nothing to add emotion and life to the message, you might as well print your speech out and place it in everybody's program in lieu of delivering it. In preparation for your message, make sure that you finalize your notes and speech with enough time to practice the delivery so that you are captivating audience from start to finish.
Often formal events, such as a commencement, will have a master script that is left on the lectern that holds every speaker's prepared notes. Because of the logistics required to have this ready for the event, final speech drafts need to be submitted well ahead of time. Oftentimes speakers will make adjustments to their speech that may not make it into the master script that is used. This creates a problem, as a speaker may be thrown off when the master script does not match the exact final version that they used to prepare. Make sure to try your best to practice using the same version of the speech that you submit for approval in the master script. If any changes are made, make sure that you attempt to amend the script in a timely manner to ensure that the notes you use are what you expect them to be.
End of Chapter Checklist
After reading this chapter, you should be able to say to yourself:
I understand what role special occasion speeches play in the realm of public speaking.
I can differentiate between the various special occasion speeches.
I am able to construct effective special occasion speeches.
I am able to apply differing delivery styles depending on the goals of your special occasion speech.
This Content is Locked
Only a limited preview of this text is available. You'll need to sign up to Top Hat, and be a verified professor to have full access to view and teach with the content.
Video Scripts
[Off-camera: "Speech, speech!"] "No, thanks. That's all right." [Off-camera: "Boo."] "
[Off-camera: "Speech, speech!"] "Hello, everybody. As Jessica mentioned, my name is Kristen Andresen, and I am looking forward to working with you all. It has been a really great opportunity getting to know your company. I am excited about the prospect of learning from you all, and I intend to foster a spirit of collaboration and general awesomeness within this department …"
[intentionally bad delivery, lack of eye contact] [manuscript delivery] "I love you so incredibly much, Fiona. When I am with you, I feel like we are the only two humans on earth, which makes me happy. I was wondering if you would make me, Darrell Anderson, the happiest person in the world by marrying me?"
"Lisa and Brian, Mr. and Mrs. Robinson, Mr. and Mrs. Johansen, all of the friends and family here with us tonight, and those who could not make it but are here in spirit. In life, it is important to take stock of how incredibly blessed we are …"
"I would like to thank you all for making the time to come up to my cabin this weekend. I believe that we are truly blessed, that 5 years after college, we are still willing to go out of our way for one another. Although life has and will continue to guide us in different directions, your friendship has meant the world to me. To good memories, safe travel home, and looking forward to when we can get together again."
"We all know Greg loves his holiday-themed double-stuff Oreos. We know this because he was constantly bringing them to every meeting. Him retiring is a problem because we're going to have to start buying calendars again because we can no longer tell the time of year simply by looking at the color of Greg's teeth when he is eating Oreos. Uh-oh, fall is right around the corner, Greg's teeth are Halloween orange again. Truly, though, we will miss your willingness to share your treats which made the end of the day meetings go by much faster."
"Dr. Hernandez, Board of Trustees, and employees of Flying Crest Enterprises, it is a pleasure to be with you this evening ..."
"Thank you all very much for coming out for today's fundraiser and helping to end food insecurity in the Bay Area. Please give yourselves a round of applause for the $25,000 we have raised already today. As our emcee mentioned, my name is Peter Carlson. I am the regional director of Full Stomachs Full Hearts, an advocacy group that settles school lunch debt for students who are in need of nourishment at school. I'm here tonight to share with you some of the amazing things we have been able to do as result of support we receive from fundraisers like this."
[intentionally bad] "Congratulations to the class of 2018. We are the best, ever. There has never been a class as good as us. All of the things that we overcame were much more challenging than every class that preceded us. We are the most amazing group of graduating seniors to walk the halls of Nibb High School. Go Muskrats!"
"Fellow graduates, President Benson, distinguished administrative officials, faculty, and loved ones in attendance this afternoon: I would like to thank you for the important roles you have played in making today possible …"
"Although he's only been gone a few days, I believe it's safe to venture a guess that Tom has already introduced himself to roughly a third of the people he's encountered in heaven. The percentage would be higher, but he had already met the other two-thirds here on earth. Grandpa, your greetings were so warm and will never be forgotten, which is why saying goodbye is so hard. You are loved by many; we thank you for all you taught us, the love you shared with us, and the memories created with us. We love you. Goodbye."
"This year marks the 16th year that the Mortimer C. Anderson Accolades have been awarded. This scholarship was established after the passing of the former president of our college, Mortimer Anderson. Funded by the college's legacy fund, each year, these awards provide full-ride scholarships to two local high school students who have demonstrated three traits that President Anderson found vital for being a good citizen and a good steward of our community.
"These traits are: Dedication to learning, demonstrated empathy and hospitality to those in their community, and fostering a commitment to advancing causes they find important.
"Our first recipient embodies these three character traits in many ways big and small. One of the more obvious examples of why she is qualified to receive this award is her tenacious assistance in organizing her student council's effort to petition the school board for increased funding and updated learning materials for elementary schools in the area. As a result of her efforts, proficiency rates at these schools have risen 15% in the two years since these resources were provided. It is therefore fitting that I have the honor to award a Mortimer C. Anderson Accolade to Melissa González."
[intentionally bad] "Thank you so much for this award. It's awesome. Yeah."
"To be selected as a 2018 recipient of the Anderson Accolade, when facing such a worthy applicant pool, is a tremendous honor. I would like to thank the scholarship committee, as well as the Anderson family members in attendance, for helping to provide a pathway for me to receive a world-class education from this institution.
"Throughout the next four years, I hope to live up to the ideals laid out by President Anderson. I would like to thank Brian Johnson, my high school history teacher, whose ability to make foreign-policy debates from the 18th century relevant to a 21st-century audience taught me that education can and should be fun. Equally as important was my student council advisor, Sarah, who helped show how education can be used to bring about change in my community. I look forward to my growth and development over the next couple of years and will continue to make my parents proud. Thank you very much."
Image Credits