Technology You Can Trust
Top Hat's interactive, cloud-based teaching platform improves classroom engagement, instructor effectiveness and student performance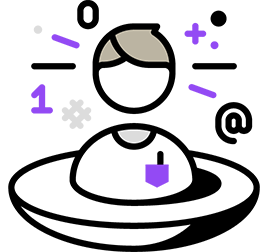 Top Hat makes an ideal standardized teaching platform for schools and institutions. By using Top Hat school-wide, you can depend on a single, reliable system compatible with the devices students already own. You can also make education more affordable for students with course content from the Top Hat Marketplace.
Simple set-up for instructors
and students
Our cloud-based software means no hardware or plug-ins needed
Offline mode available for students when Wi-Fi signal is weak
Single sign-on access
Pre-made syllabus inserts and class-specific emails
Instructional design team to help instructors create their own Top Hat courses

Custom support documentation and start-up guides specific for instructors and students
Integrates easily with your LMS
Advanced integration with major LMS providers, plus Excel export for faculty who don't use LMS
Book a Demo
Book a Demo
Thank you!
We've received your request.
Would you like to schedule your preferred date and time now?
Protects school and student data
ADA and FERPA Compliant—Top Hat adheres closely to the privacy standards and guidelines of ADA and FERPA
Privacy and data integrity—instructor and student information and privacy rights are integrated into our development process
Account management and support—We provide institutions with their own account manager and director for fast and effective support
Friendly support
One-on-one orientation sessions ensure value is created for instructors and students

Ongoing support sessions if needed before and after class start

Support Center

Live chat, phone and email support
What administrators are
saying about Top Hat
David Hooker, Innovation Lead, Office of Distance Education, Ohio State University

"Top Hat's development team responded to our feedback, which led to a product that is accessible on web and iOS interfaces. The work to make the product accessible (and protect our school from legal action as a result of adopting the tool) played a large part in our decision."

Marco Martinez, Technology Coordinator, Information Technology Services, Sacramento State

"For faculty who were ambivalent about these types of tools, Top Hat made a big difference. Top Hat made teaching interesting again."
"Top Hat makes my lectures more provocative, more dynamic and more effective, and that's why I use it."
— Patrice Dutil
Professor, Politics and Public Administration, Ryerson University
Book a Demo
Book a Demo
Thank you!
We've received your request.
Would you like to schedule your preferred date and time now?