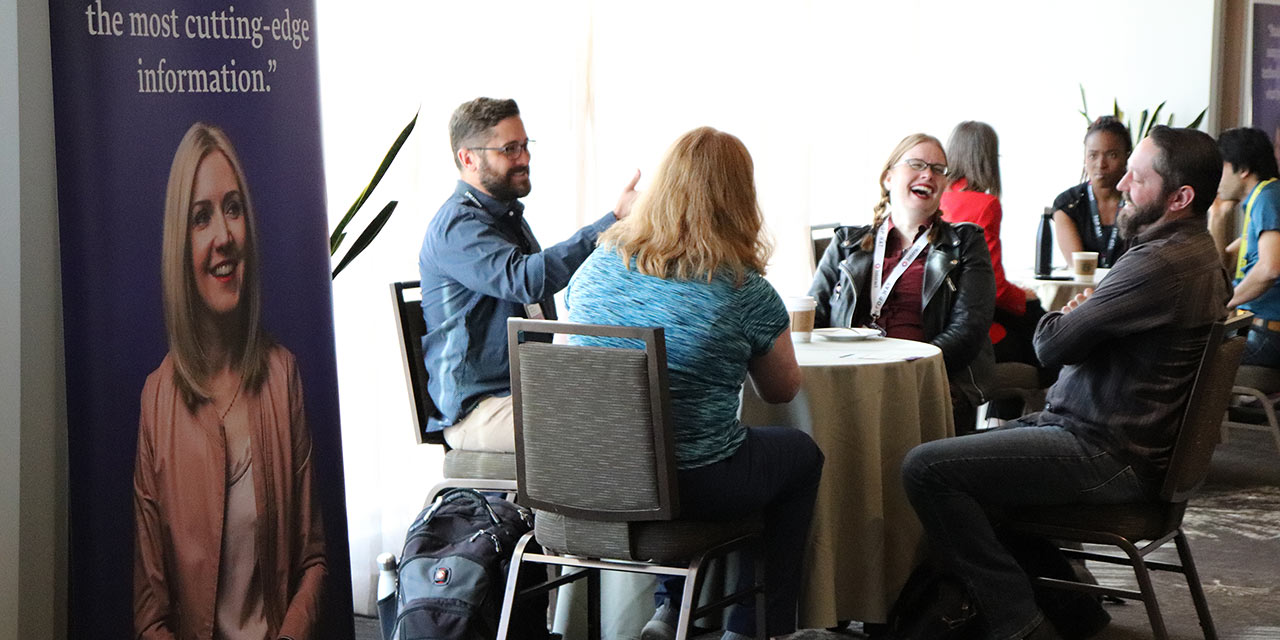 Just in time for the end of the school year, 100 innovative educators joined Top Hat in Phoenix, Arizona on April 14 for Interact: The Textbook Innovation Conference for Higher Education. Keen to learn about and discuss the future of open educational resources, educational publishing and the creation of next-generation digital textbooks, attendees packed panels and breakout sessions, bursting with ideas and robust debate.
Here are seven of the top takeaways from our inaugural one-day look at textbook innovation.
1. OER and low-cost materials are different offerings with a common goal

Interact attendees had a good conversation about the merits of free open educational resources (OER) versus low-cost alternatives, on a panel including textbook authors Adrienne Brundage (Texas A&M), Colleen Knight (College of Coastal Georgia) and OER expert Lisa Petrides (CEO and founder of the Institute for the Study of Knowledge Management in Education and creator of the award-winning OER Commons).

Colleen Knight, Adrienne Brundage, and @lpetrides are ready to discuss the pros and cons of open educational resources at #Interact2018. pic.twitter.com/kMRBxxYB3P

— Top Hat (@tophat) April 14, 2018

After some spirited debate, consensus was achieved: As long as the available options are saving students money with high-quality resources, the educational return on investment is going up. And that's a good thing.

2. Faculty want transparency from publishers: the way low cost materials are priced and how royalties are allocated is important to both authors and adopters

The stories of speakers at Interact highlighted the many ways in which Top Hat isn't in fact a publisher. Many agreed that Top Hat's peer-to-peer model for developing content is more sustainable and effective. A common theme was that authors appreciate Top Hat's partnership model: We split royalties down the middle with authors. And, in keeping with our goal of making education more affordable for students, transparent pricing guidelines put a maximum on how much an author can charge for their content in the Marketplace.

3. Plagiarism, appropriate attribution and IP are topics of serious concern to professors considering adopting OER

And rightfully so. In Top Hat's model, authors are responsible for their original work and ensuring copyright compliance. Top Hat runs all submitted material through plagiarism detection software called iThenticate and will not publish work that infringes on copyright. Authors can pull in content and images from Creative Commons that are allowed to be redistributed for commercial purposes.

However, Creative Commons content is excluded when determining price for a premium textbook. The majority of question packs and other free content in the Top Hat Marketplace are from Creative Commons. If an author creates a question pack or other free content, it is shared in the Marketplace under Top Hat's Publishing and Contribution Agreement, unless the author has previously published it with a Creative Commons license.

Top Hat CEO Mike Silagadze shows how open content works during his keynote speech at Interact 2018

4. When it comes to assigning readings and homework (especially in online courses), an LMS alone just doesn't cut it

The question came up at Interact, and comes up frequently—why not just deliver all the various readings and course materials via an LMS? Top Hat user Colleen Knight, an assistant professor of chemistry and chair of the department of Natural Science at the College of Coastal Georgia, said that while you could deliver readings and course materials via LMS, Top Hat is a much more effective solution.

Students get an integrated "read-a-little, do-a-little" experience, aligned to good learning design principles. And, you don't end up running the risk of losing students to "the black hole of 'Related Videos' on YouTube," said Knight. With Top Hat, she said, students stay focused.

5. Adopting OER and interactive textbooks may require more upfront work from the instructor, but should also yield a greater reward

Adopting a new textbook usually means taking on extra prep work for courses. Panelists and attendees at Interact agreed that OER and interactive textbooks on Top Hat don't buck that trend.

Instructors who authored original textbooks—and a few that adapted existing OER for their courses—traded war stories about investing their time and energy in the process. But it was many of those same instructors who shared delight (and the delight of their students) at having completed a perfectly complimentary class resource that they'll now keep perpetually updated with a few clicks of a button.

As Adrienne Brundage, an entomology and forensics lecturer from Texas A&M told the audience, "the best thing about interactive textbooks is that they are as up-to-the-minute as you want them to be. As new scholarly papers come out, I put them into the textbook. It's never out of date." Others spoke about using Top Hat during their prep time to provide what they felt was critical feedback to the authors of textbooks in Top Hat's Marketplace, facilitating a cycle of review and improvement just through their
implementation process.

6. Discussion questions are an effective way to enhance the student experience with interactive textbooks

In a hands-on workshop about using Top Hat to improve course design and delivery, participants shared a number of reasons they found assigning educational content through the interactive platform to be superior to print textbooks. One of the most salient features seemed to be the ability to embed open-ended discussion questions in course readings. Participants brainstormed and shared multiple uses for discussions in textbooks—including as a means of stimulating critical thinking during students' class preparation, keeping an eye on issues of comprehension, and creating more interactive online, asynchronous courses.

7. Sound learning design is crucial to authoring an effective interactive textbook
To support improvement in learning outcomes, it is critical that digital products are designed with learning design principles in mind. Customers at Interact felt that the biggest boon to authoring or adopting content with Top Hat is the unparalleled instructional design and project management support they receive from experienced educators on our staff. Top Hat's immediate objective is to ensure that each author or adopter identifies their success objective in using Top Hat content and is then supported to quantify progress against that objective in their classroom.
Sound like an interesting day to you? Then join us in Chicago this October for Engage 2018, our two-day conference for higher education innovators. Tickets are already selling fast!