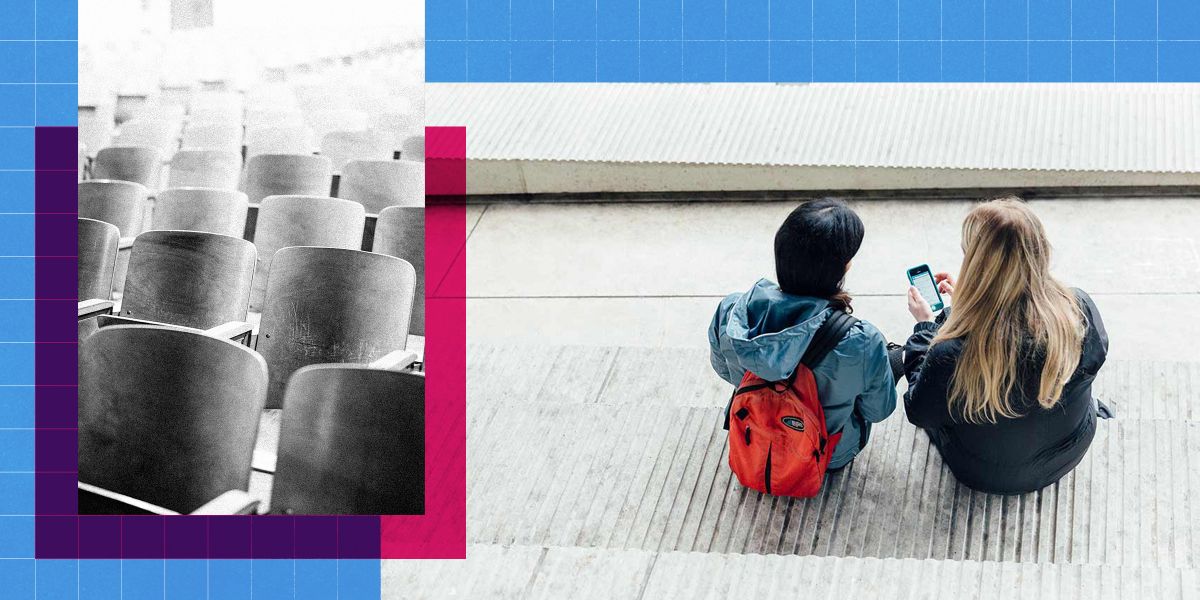 The transition to remote-only learning has been far from favourable for higher ed students. Learning from home means giving up in-person classes, but that's only the tip of the iceberg. For many, college campuses serve as a reliable source for food and shelter, which provide on-site support during times of hardship. With the current pandemic causing campus closures across the continent, students face a foreign reality—one that they don't approve of.
Recently, we polled 3,089 higher education students in North America to better understand what they miss most about their experience on campus. This is part two of a three-part series highlighting students' voices around online learning. The first installment examines students' dissatisfaction with remote learning and anxiety around successfully completing the semester. The third installment outlines students' hopes for the fall. Here, we uncover the academic and social repercussions of online learning.
Students miss in-person encounters
It used to be a luxury for students to engage in meaningful conversations with peers and faculty in person. A 'raised hand' in the classroom—physically or through an active learning platform—was met with an instant answer. The shift to online learning has weakened communication between students and their instructors, leading to an unengaging learning experience.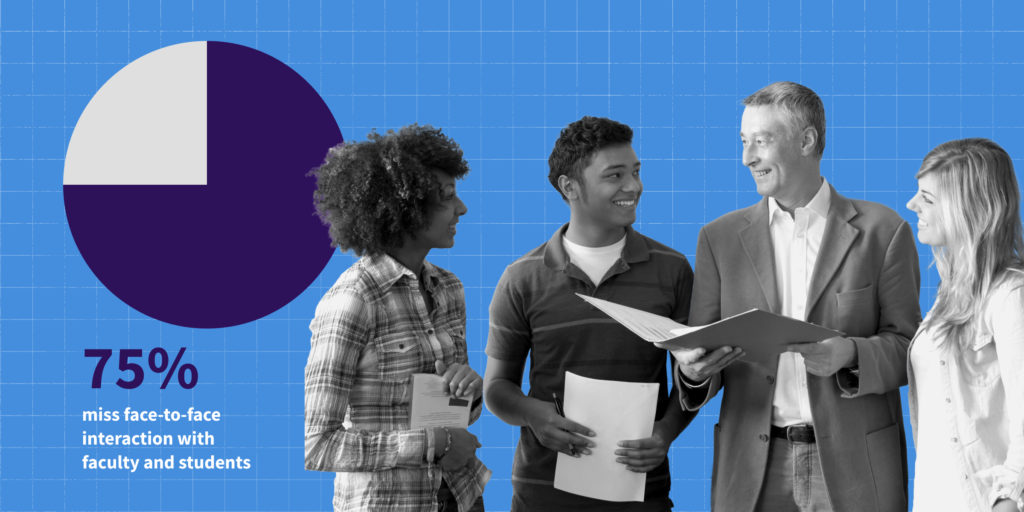 Many are disheartened with their online learning experience and students' sour remote learning scores show for it. Not seeing value in this largely foreign course delivery method impacted the extent to which students devoted time to reviewing course materials.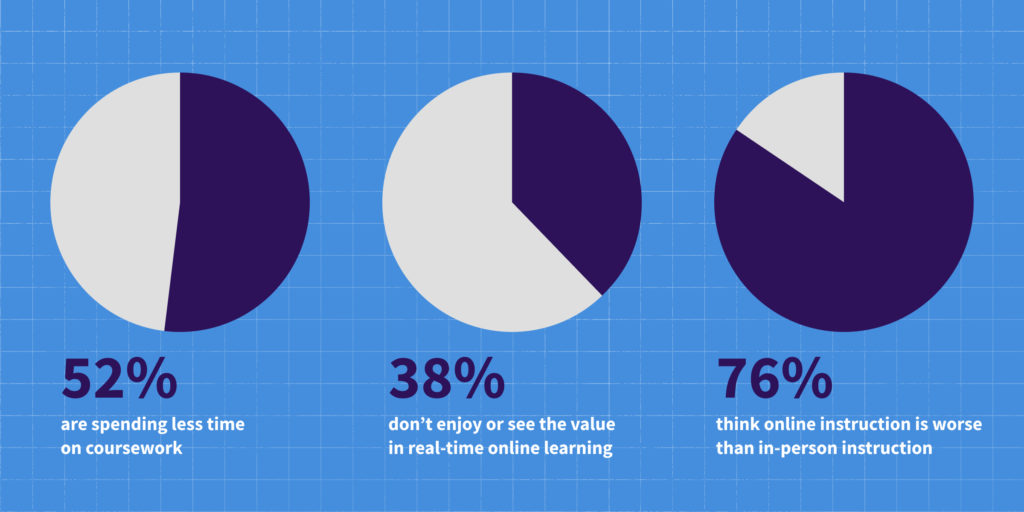 Classmates and instructors are now inaccessible
In-person learning didn't only lend to academic benefits—the social benefits were also plentiful. Students could freely drop by their professor's office at a moment's notice to seek clarification on an upcoming task. Similarly, students may have stayed back after a lecture to engage in informal discussions or to voice their anxieties or concerns.
So much of the college experience revolves around student friendships. From welcome week to convocation, students build social connections that can last a lifetime. The current state of higher ed has inevitably undermined students' ability to socialize with one another in frequent, meaningful ways.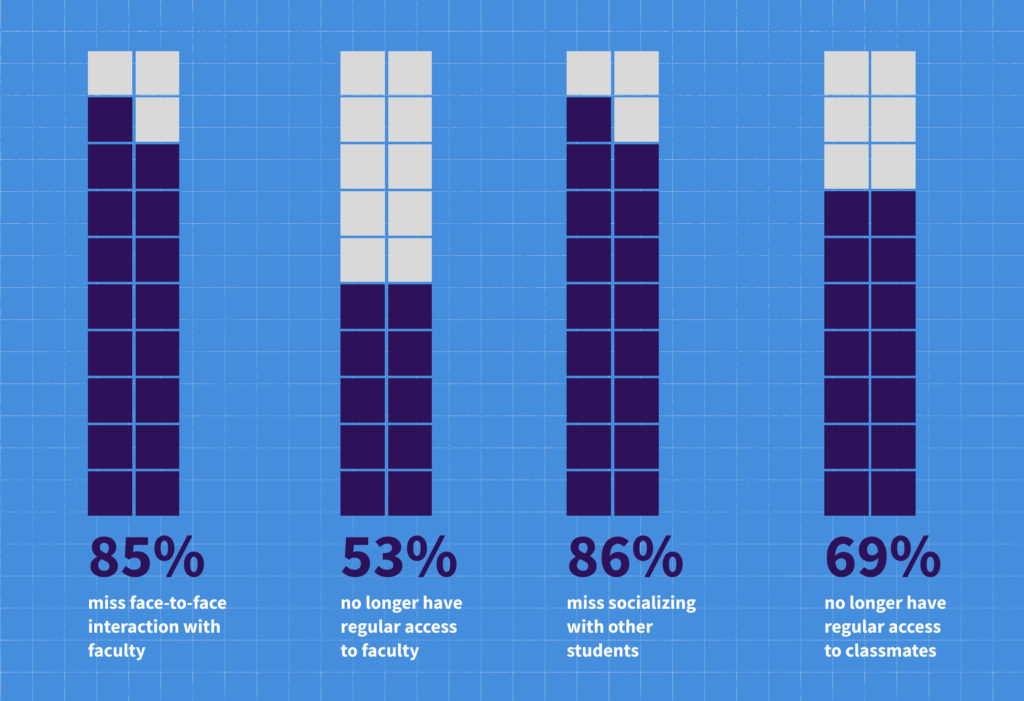 College offered structure, stability and support
Campus provided a learning experience to all, but for many it offered consistent meals and shelter. Online learning is based on the assumption that students have the means to connect virtually, which isn't always the case. The new normal has left students wondering how to access online course work, and in some cases, when their next meal will be.
Many students relied on libraries, common rooms and other study centers to collaborate and reflect. Some of these spaces offered solitude and granted students uninterrupted blocks of time to study. Other on-campus amenities which nourish students' physical and mental wellbeing aren't accessible anymore, leaving students dissatisfied and rightly wanting their college experience to return to what it was before the pandemic struck.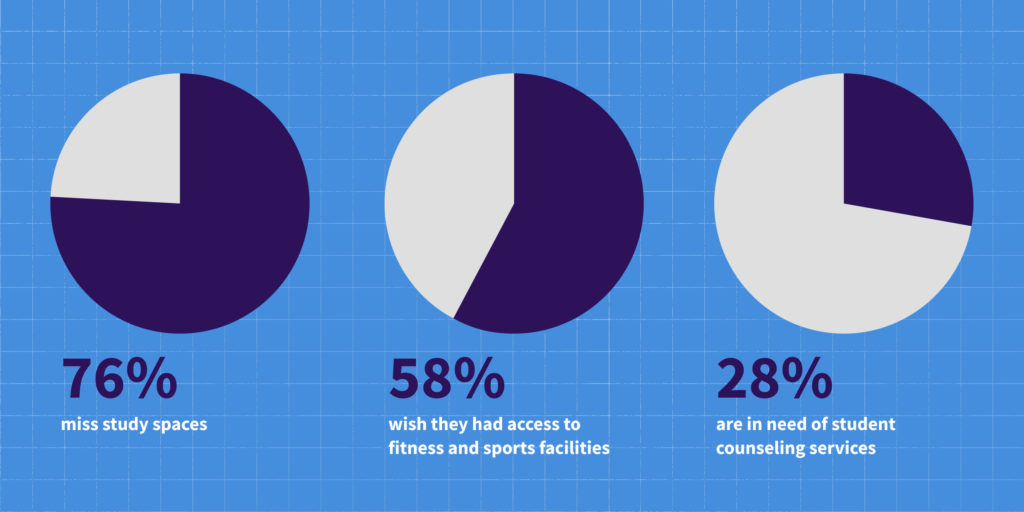 Survey methodology
Survey responses were collected by Top Hat from 3,089 college and university students from across North America between April 15 and 20, 2020. Forty (40) percent of respondents were first-year students, 27 percent were in their second year, 19 percent were in their third year, and 14 percent were in their fourth year.
What other academic, economic and social sacrifices did students have to make when they transitioned to remote learning? The answer to this question and more is provided in our free student survey report, which can be downloaded here.