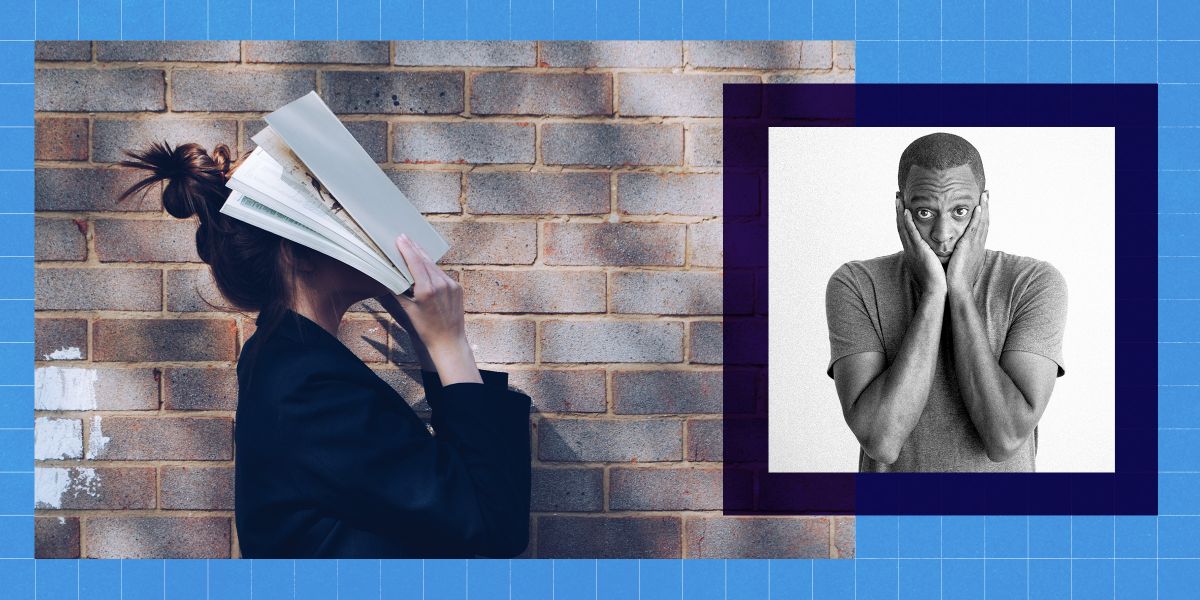 When news broke that the coronavirus had made it to North America, few could have anticipated the unprecedented social and economic ramifications that would unfold. As institutions that bring together large swathes of people in close quarters, colleges and universities were particularly hard hit.
Over the last few months, campuses throughout the United States and Canada shuttered their doors and cancelled in-person classes en masse, quickly transitioning to remote courses to finish up the semester. And while this was never meant to be a long-term solution, students have been largely unimpressed by their experiences to date—a concerning fact considering the status of in-person classes for the fall remains largely unknown.
Recently, we polled 3,089 higher education students in North America to more clearly understand how they had been affected—and how they felt about the remote learning experience they received in the past several months. We're highlighting our findings in a three-part series. In this installment, we look at the student negativity surrounding the shift to remote learning. Part two highlights the social and economic repercussions of online learning. The third section voices students' hopes for fall 2020.
Students unimpressed with the abrupt switch to online learning
College is expensive. And many of the students who've forked out tens of thousands of dollars for a degree are unimpressed with the quality of the education they have received in their remote learning environments.
What accounted for the less-than-glowing reviews from students? In many cases, it had to do with their trouble utilizing the tools and materials needed to maintain their learning—which impacted the amount of coursework they were able to complete.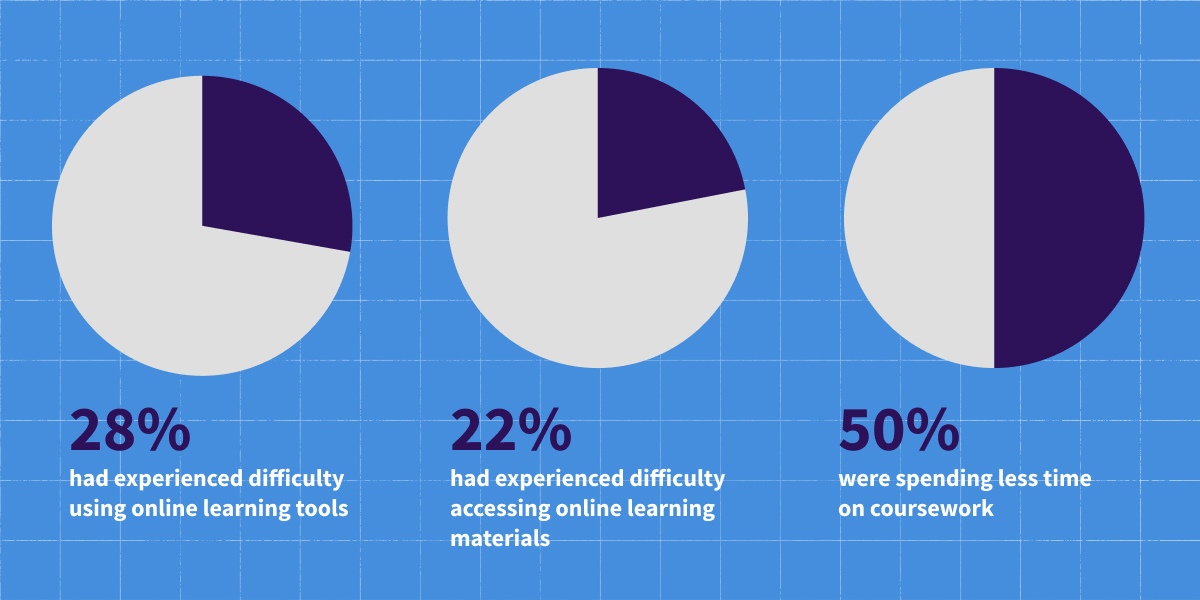 Students find their virtual classrooms unengaging
The modern in-person classroom is ripe with distractions—and professors lacking an active learning solution have long had trouble engaging Gen Z students who always seem to have personal devices at the ready. Engagement plays a major role in ensuring students feel like they are deriving value from their education, and that's doubly true in a virtual classroom environment.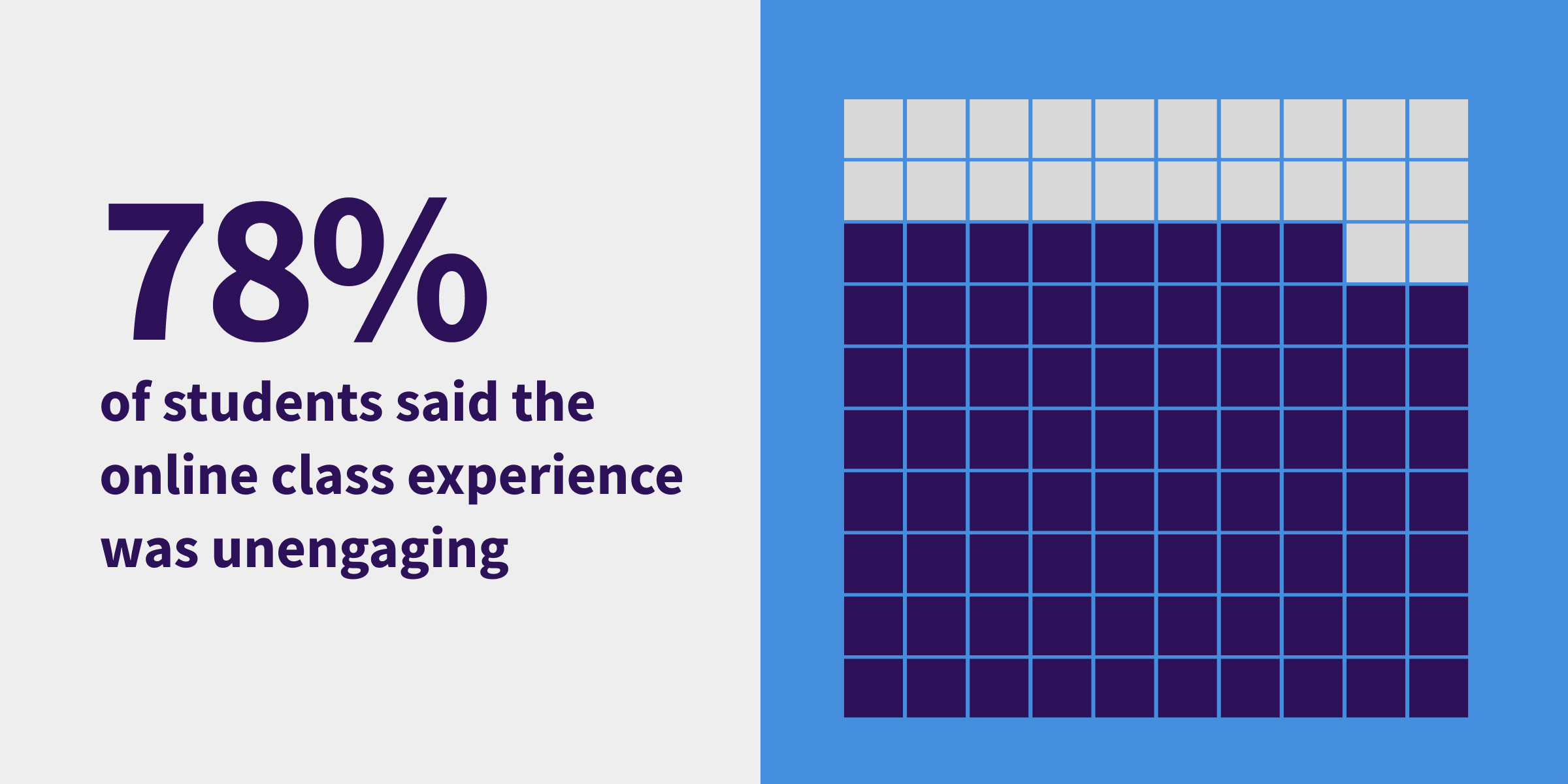 Of these students, 53 percent are spending less time on coursework, 39 percent don't see the value in real-time online learning and three-quarters of students generally have a negative view of online instruction.
Students have three major concerns
Along with navigating the unprecedented reality of living through a pandemic, students have had to contend with ensuring they maintain their academic standards.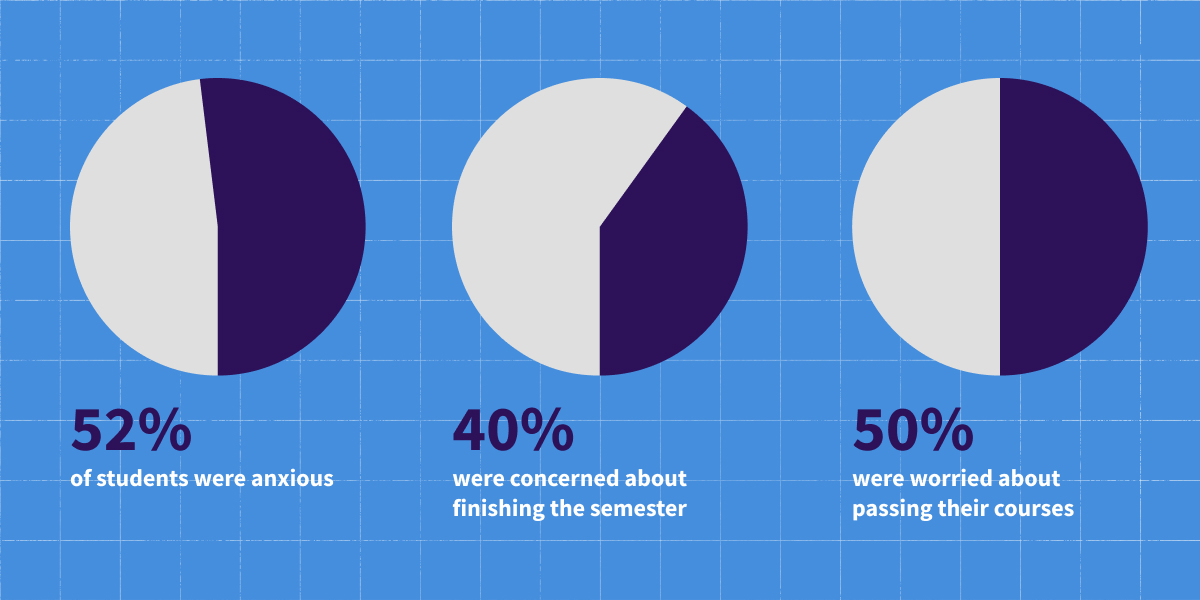 Some students now view their institutions more negatively
Unfortunately for university administrators and professors, the COVID-19 pandemic hasn't just affected their bottom line, or how students are learning. It's also impacted the way students feel about the institutions many of them have spent so much time attending.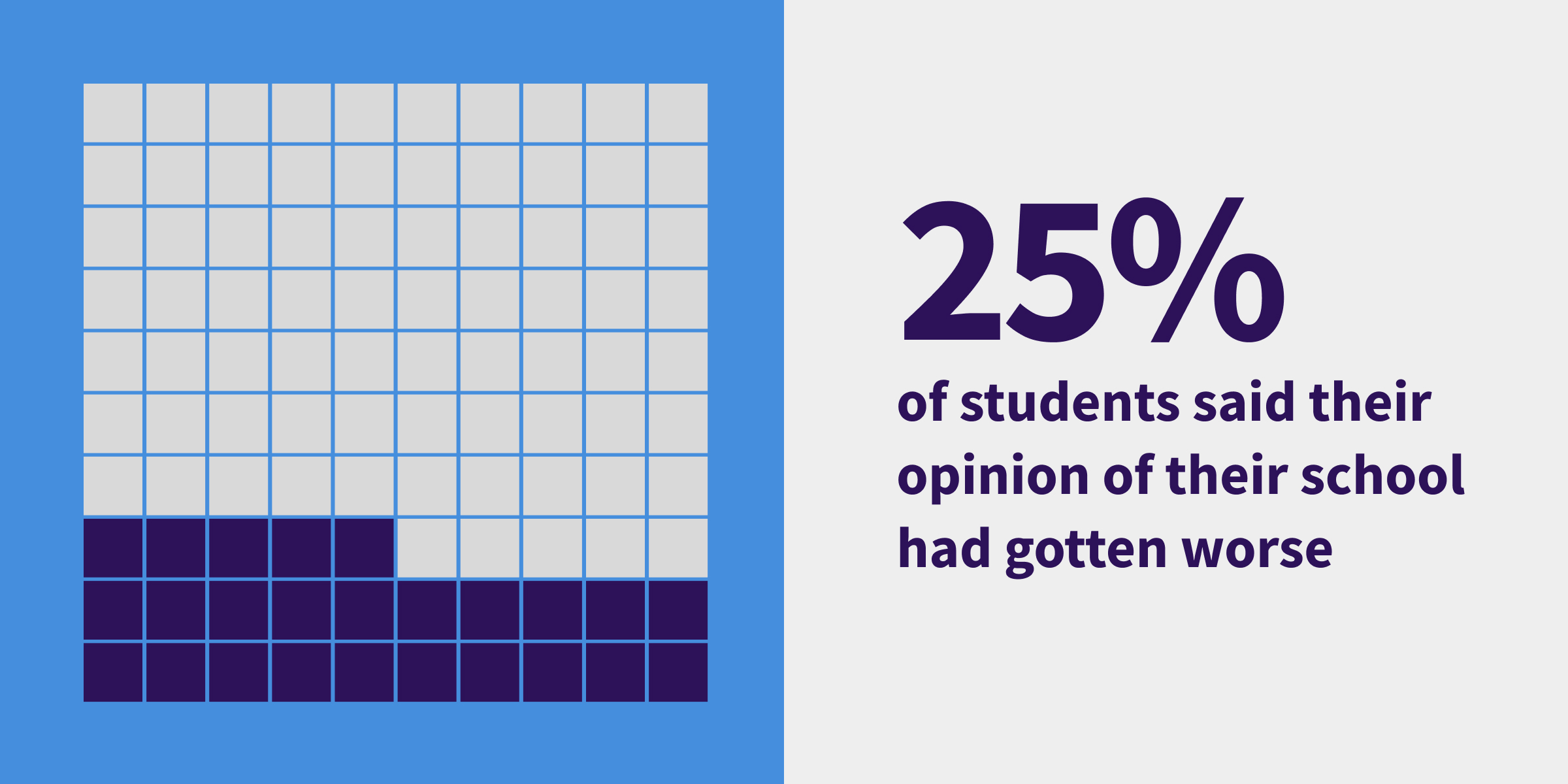 This is top of mind for many college and university presidents: According to a recent poll by Inside Higher Ed, 85 percent are concerned about the immediate impact of the coronavirus, while 89 percent are worried about the long-term impact of COVID-19 on overall financial stability.
Students are re-evaluating their intentions to return to school this fall
Because of the uncertainty surrounding how their school plans to reopen, many students are reconsidering their decision to return to campus in the fall. Unless institutions move quickly to ensure they are ready to deliver engaging learning experiences that drive student success in any teaching scenario, this number is likely to rise.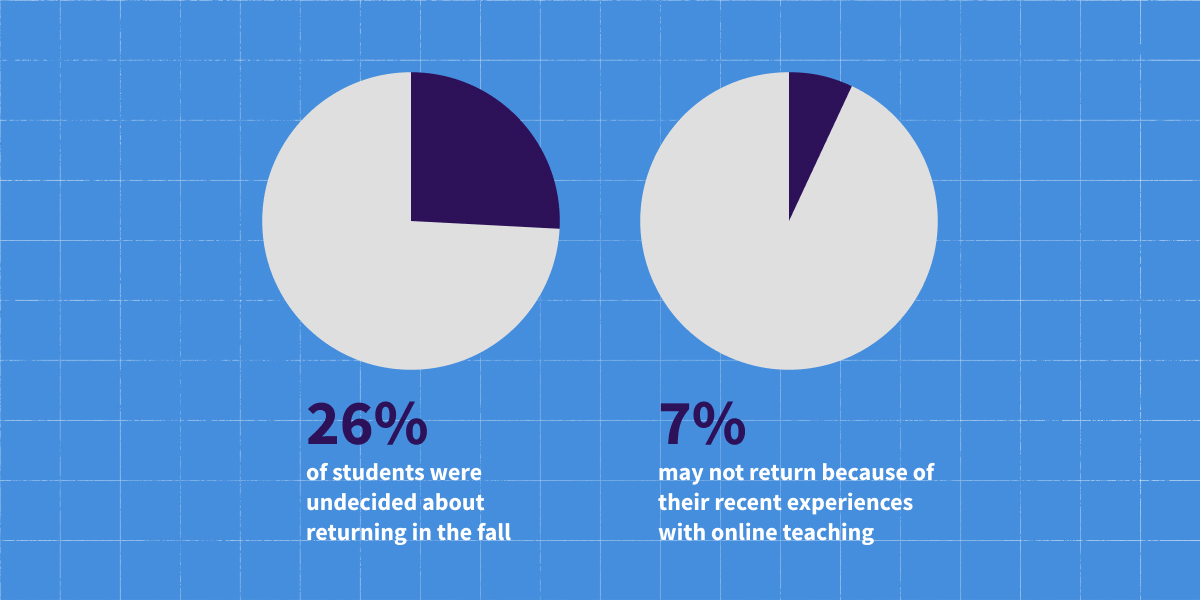 Most institutions cannot withstand a drastic drop in enrollment—especially when one in five university presidents lack confidence in the financial stability of their institution past 2025. The fact is, finances were already strained, and without improvements to the value students derive from their education, the situation is likely to get worse.
Survey methodology
Survey responses were collected by Top Hat from 3,089 college and university students from across North America between April 15 and 20, 2020. Forty (40) percent of respondents were first-year students, 27 percent were in their second year, 19 percent were in their third year, and 14 percent were in their fourth year.
Students largely disapprove of the emergency remote learning experience they recently encountered. Understand what contributed to their anxiety and stress by downloading our free student survey report here.