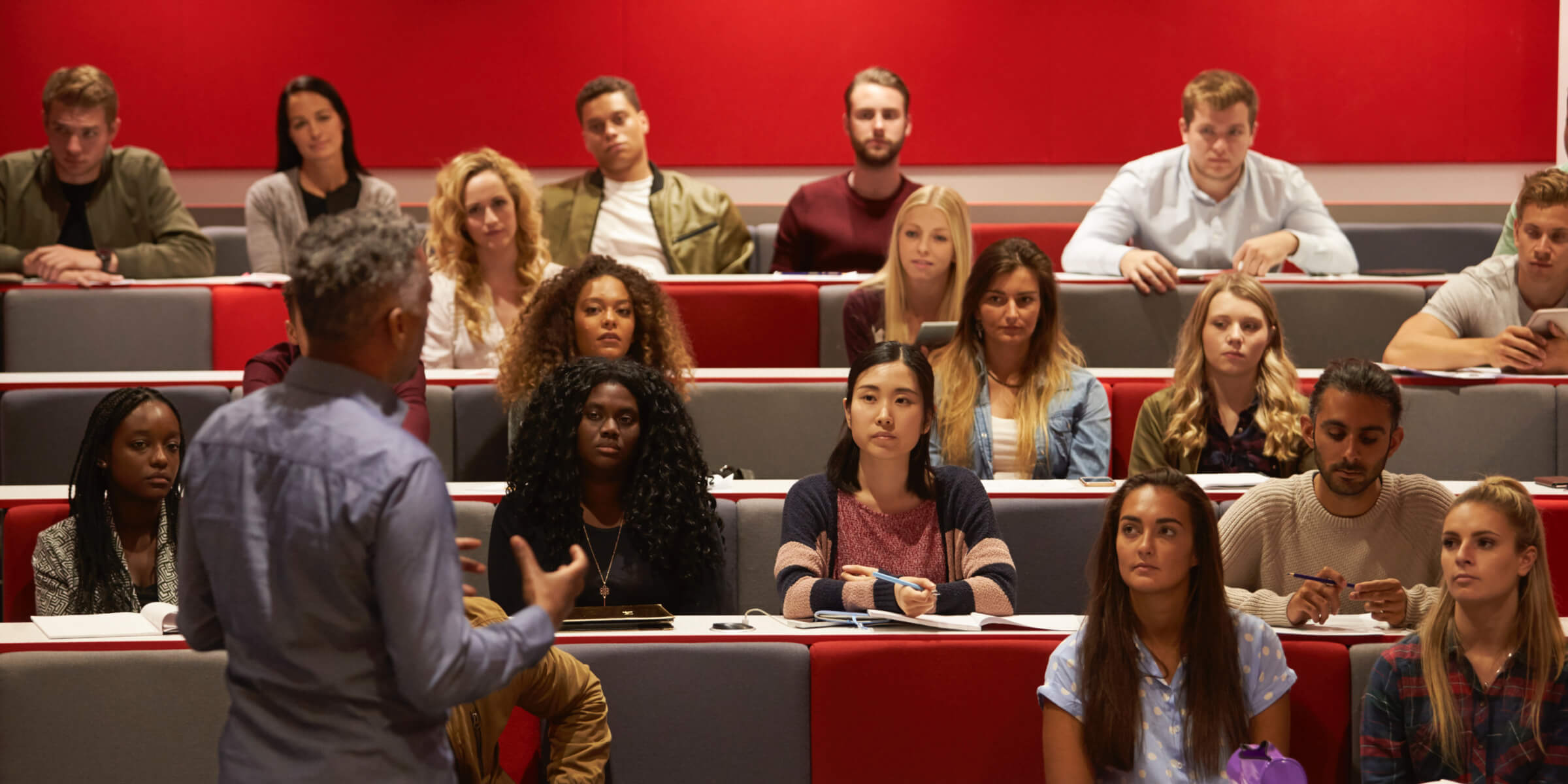 As the fall term winds down and the final marks are submitted, we can all take a moment to reflect on a year of teaching. While of course, September is the true beginning of the academic year, at the end of each term I set some goals for the following term to incrementally adapt and improve my courses. These are my five teaching resolutions for 2020:
1) Use Lecture Slides More Effectively
Embarrassing admission: when I began teaching, I relied on text-heavy slides to guide me through my lectures. I knew this was the least effective way to build an impactful presentation – building impactful presentations used to be my job! But with the amount of material to cover in a new course, every single week, I wanted to be sure that I didn't miss anything. The more comfortable I become with the course, the less I needed to rely on my materials.
Slowly, I am rebuilding my slides to reflect best practices. At the end of each term, I review a few decks removing unnecessary slides and rebuilding slides that were too text heavy to include more images and infographics. There are a lot of great resources to help you build (and deliver) better presentations but slide:ology by Nancy Duarte and Talk Like Ted by Carmine Gallo are two great places to start. And if your design skills aren't terrific, I like to use programs like Piktochart to create clean, consistent and impactful slides.
2) Incorporate More Student Feedback
Before the term ends, I solicit student feedback on specific parts of the course. With student feedback, I can better understand what worked for them and what needed improvement. Soliciting the feedback, however, is far easier than actually incorporating it into your classes. Not all feedback is relevant or useful but if I see consistent themes, I'll try a few things out to see how it goes.
My students consistently wanted more opportunities to present individually. Given larger class sizes, this practice isn't always available to them so I made a resolution to do "mini" individual presentations before their capstone group projects. The result was tremendous. More confident presenters and better quality presentations across the board.
3) Collaborate More with Colleagues
Our colleagues are the greatest resource we have for teaching. I have gotten better advice after short conversations in our faculty office than after reading scores of books on the subject. However, with competing class schedules and the number of adjuncts without permanent homes on campus, collaborating can be difficult. But there really are so many opportunities for collaboration: participate in professional development, contribute to faculty workshops or start your own. Technology can also play an important role here by facilitating collaboration with team or group chat software. At our college, a few professors lead a biweekly Faculty Learning Circle where faculty share with one another and keep each other accountable. This coming term, I am making a resolution to participate as much as I can.
4) Better Utilize my Learning Management System (LMS)
While I am already trying to do everything I possibly can with my LMS, I know I am still not using the system to its full potential. If can't do something I want intuitively, I often assume I can't do it all and that's not necessarily true. I am making a resolution to get help from a company representative or ask a colleague or take one of the professional development courses offered at my institution. And if I really want to explore the LMS more deeply, there is always the opportunity to attend webinars and user group conferences to see how other professors are creatively using their systems.
5) Try Something New
In every course, every term, I make a resolution to add something new to my practice. In the past, I have gone completely paperless. Another term, I have adapted each lecture to begin with an experiential learning exercise. One term, I started adding in one guest speaker to each course section and I've tried to continue this ever since. Other times my "something new" has completely flopped and that can be even more valuable. As John Dewey once said, "Failure is instructive. The person who really thinks learns quite as much from his failures as from his successes."
Wishing you all many successes – and failures – in 2020.