Innovative and Unexpected Ways to Teach Your College Class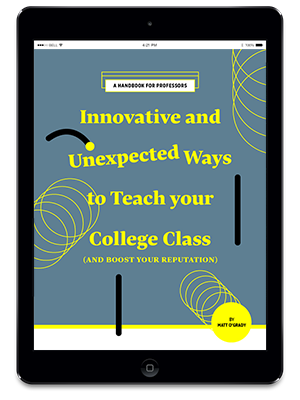 Essential tips and resources for:
Professors and instructors
Post-secondary administrators
Educators struggling to connect with Generation Z
Connecting with students in the digital age requires creative thinking from educators who are willing to do more than the status quo. Whether it's implementing new technology or putting a contemporary spin on an age-old teaching technique, professors who come up with original ways to connect with their students are the ones who inevitably stand out from the crowd.
This guide will explore four practical tactics and use real life examples to demonstrate how you can use innovation to separate yourself from the pack.
You'll learn:
Why letting students produce and collaborate on projects is so effective in helping them learn
How to put a fresh spin on a traditional teaching technique
Why taking learning outside the classroom can yield the most impactful results on student outcomes
Why it's important to reevaluate tried and true pedagogical methods
Fill out the form to download your guide