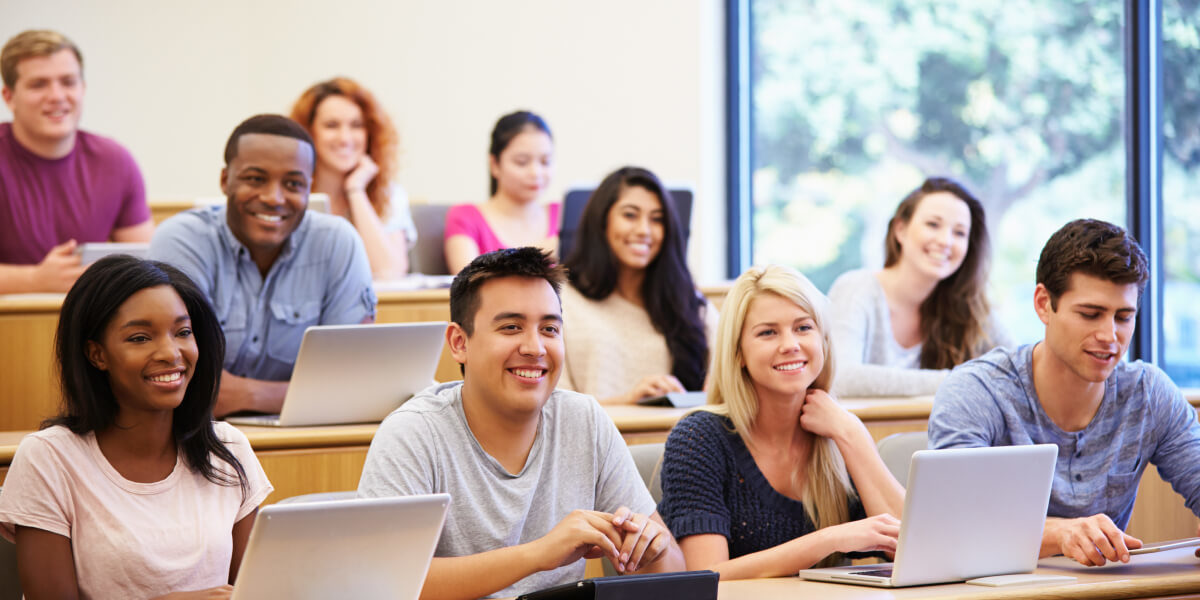 In an age where attention spans have never been shorter, the effort to captivate a student's interest is downright herculean. Opinions are mixed on whether small or large classes are more conducive to better learning outcomes, but what remains unambiguous is the premium on the sensation of being seen—that is, creating a small-classroom feel regardless of whether your actual classroom is seminar- or lecture-sized. And, rather paradoxically, technology—the exact medium responsible for jeopardizing student attention spans—can be employed to reclaim it.
The emotional sell of classroom community
Particularly for undergraduate students taking introductory courses, small classrooms are proven as superior learning environments that can boost individuated learning and minimize performance gaps. But there are also emotional benefits: Our deep-seated drive for inclusion doesn't end where campus begins. In fact, not only is belonging a key motivator for learning, it also provides better learning outcomes.
According to a 2016 metastudy out of California State University, fostering a sense of community—broadly defined as shared space, common interests and a sense of acceptance—makes students at the postsecondary level significantly more likely to attend class, more likely to participate during class, and, ultimately, more likely to graduate.
Psychology professor Sarah Rose Cavanagh, Associate Director of Assumption College's Center for Teaching Excellence and author of The Spark of Learning: Energizing the College Classroom with the Science of Emotion, has dedicated no shortage of time to studying how cultivating classroom intimacy creates effective pedagogy. "I don't have a particular research study that shows smaller classrooms are more effective than bigger classrooms," she says. "But there are an awful lot of studies showing that students are more motivated when they feel seen and known in the classroom—as more than just a number."
Defining engagement (and quantifying its success)
In her piece, "How to Make Your Teaching More Engaging," recently published in the Chronicle of Higher Education, Cavanagh cites research by Joshua Eyler, director of the Rice University Center for Teaching Excellence, which validates that a "classroom management philosophy that privileges community building" is one lynchpin of a socially successful classroom. Still, she cautions that discerning how well your engagement is working is a fairly subjective standard. "It sort of depends on what your definition of effectiveness is: Is it learning? Is it grade-point average?" she says. "Regardless, when students feel like their instructor takes an interest in knowing them personally (and is invested in their learning and personal trajectory) they're going to want to work harder and apply more effort. As a species, we're very motivated by social relationships."
Research into the importance of student engagement is by no means new. As far back as 1987, Arthur Chickering, professor of higher education at Memphis State University, and Zelda Gamson, a sociologist at the John W. McCormack Institute of Public Affairs at the University of Massachusetts-Boston, were outlining their "seven principles of good practice in undergraduate education." Two of these included faculty contact and cooperation among students. Today, as postsecondary class sizes continue to fluctuate, student-faculty interaction remains one of the high-priority metrics in the National Survey of Student Engagement. Again, as recently as 2017, NSSE findings suggested that incoming undergraduates expected "frequent" interactions with profs on everything ranging from the actual coursework to personal career planning. The more likely that these expectations were met, the more likely students were to achieve higher grades.
This echoes Cavanagh's own findings during an informal survey commissioned by a few of her student fellows last year. "The number one thing students said professors could do to help them learn was see them—know their names, provide letters of recommendation and solicit their opinions in class," she says. [As educators], this should be one of the strongest goals we have."
How tech can help
Of course, expecting educators to know the names and extracurricular lives of their students is an increasingly unrealistic ask. But that's where technology can lend a digitized hand. In fact, a 2015 survey found that 90 percent of teachers believed tech to be an integral part of their classroom success, so much so that 38 percent of them were researching new methods on their own time.
For her part, Cavanagh cautions that engagement is different than pure "entertainment," but that thoughtful application of educational technology does wonders. "In blended environments—that is, in online classrooms and real-life ones—learning management systems have shown to be effective," says Cavanagh. "But I've also seen classrooms where professors have students submit 30-second video introductions of themselves as a get-to-know-you activity." In classes approaching hundreds of students, this is obviously less feasible; in these cases, Cavanagh recommends the use of polling software or connector surveys "to see what's going well" and, of course, what's not. "There are small but effective ways to show that instructors care what their students are thinking and feeling."
Cavanagh also suggests a modicum of in-person engagement wherever possible. "I see an interesting tension now in the higher-education field, where people are very excited about what digital tech can bring to the table, but an [apprehension] about how it may also disaffect students from emotional engagement," she says. "There will always be a place for face-to-face."
Top Hat, the active learning platform, is ideal for creating a lively, engaged environment in a classroom of any size. Find out how Top Hat helps students and professors connect before, during and after class to make teaching both fun and effective.