Top Hat > Online Course Software
The Online Course Software Students Love
Motivate and engage students wherever learning takes place using the best online course software for higher education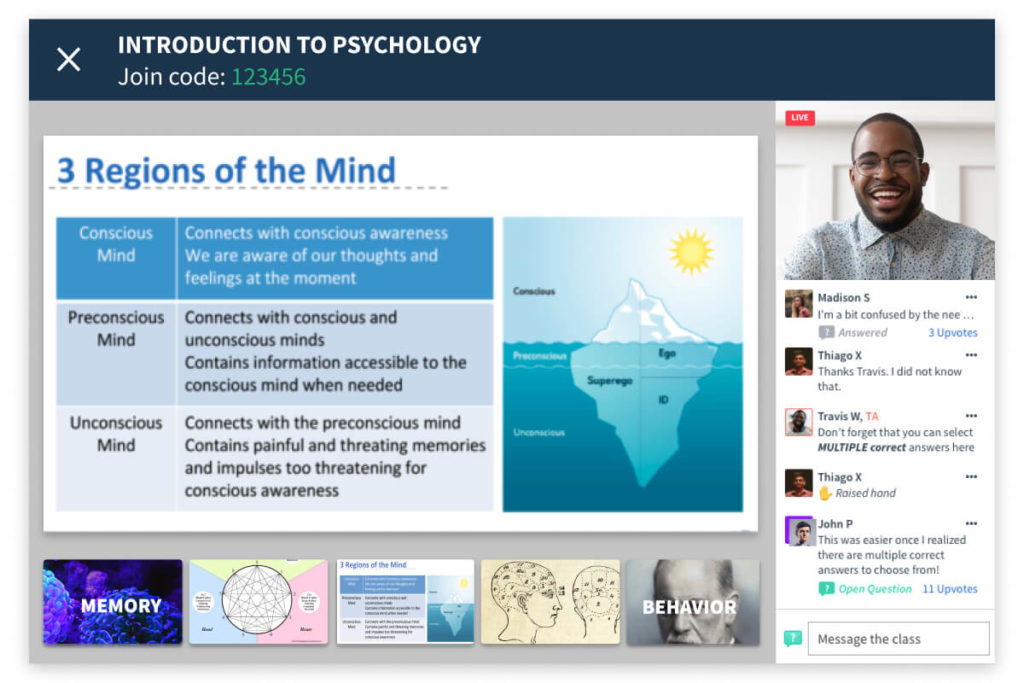 Online course software designed to engage students
In the wake of the COVID-19 pandemic, the ability to support online learning is more important than ever. To meet curriculum standards while ensuring learning experiences are engaging, high-quality online course platforms are now essential. With Top Hat's all-in-one online active learning platform, course delivery is easy. Connect with students through video lecture streaming, share engaging presentations and ask interactive questions to assess progress against teachable learning objectives. Top Hat enables active learning, helping you keep students connected and engaged inside and outside of virtual class meetings.
Ask skill-testing questions to gauge understanding
Present interactive slides, video, GIFs and more
Connect with students through live chat
Record and share presentations for asynchronous learning
Securely administer remote tests, quizzes and assignments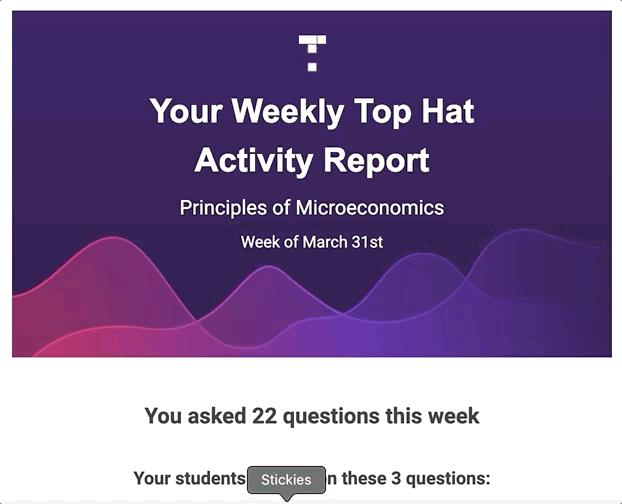 Get insights into student performance – instantly
Get actionable insights into student progress. Take advantage of progress reports delivered weekly to your inbox that make it easy to identify and reach out to struggling students. Track performance and sync grades directly from the Top Hat gradebook to your learning management system (LMS) to reduce administrative work so you can focus on what really matters — teaching.
Create remote tests and exams with ease
Securely administer remotely proctored quizzes, tests and exams using student computers and mobile devices. Instructors can monitor student activity with an automatically generated, easy-to-understand proctor report that flags any irregular behavior. Prevent cheating by verifying student identities and create specific start and end times to accommodate the needs of individual students. Choose from a variety of flexible assessment capabilities for asynchronous assessments, open-book tests, quizzes and fully proctored remote exams — all on Top Hat's online active learning platform.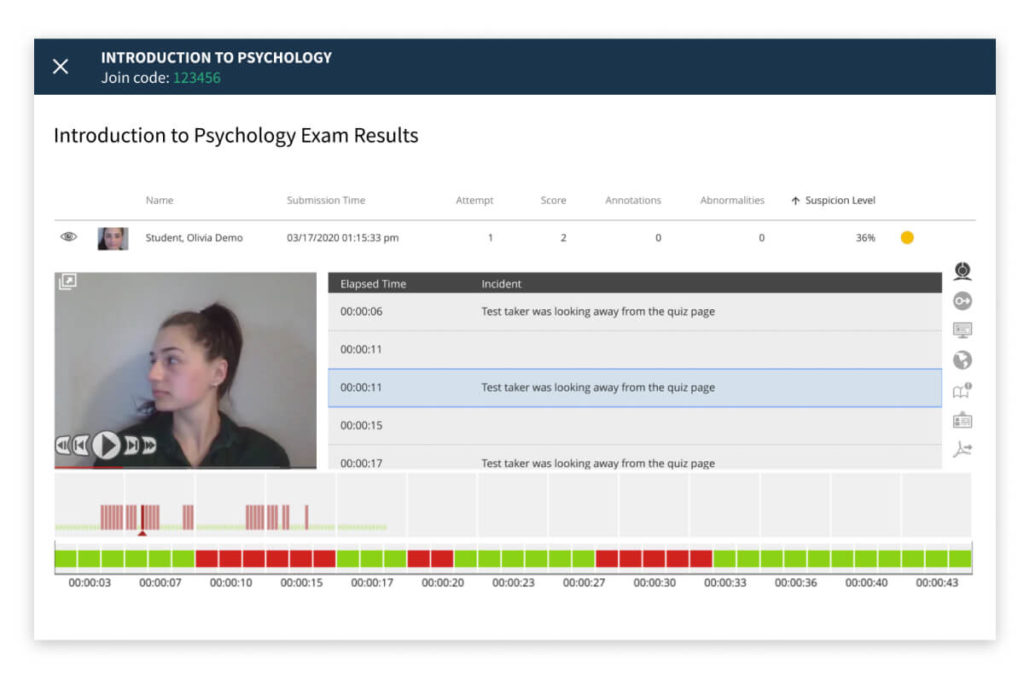 Make sure your courses are accessible – wherever learning takes place
Use Top Hat's course creation tools to make your course more flexible and accessible. Let students attend class virtually or over the phone. You can also offer video or audio replays of class meetings along with PDF lecture transcriptions to accommodate individual needs and learning preferences. Allow students to participate anonymously in class discussions, ensuring everyone feels comfortable contributing, even when the topic is sensitive in nature. Top Hat is optimized for use on all iOS and Android devices without the need for pesky plugins, so students can complete their work from anywhere..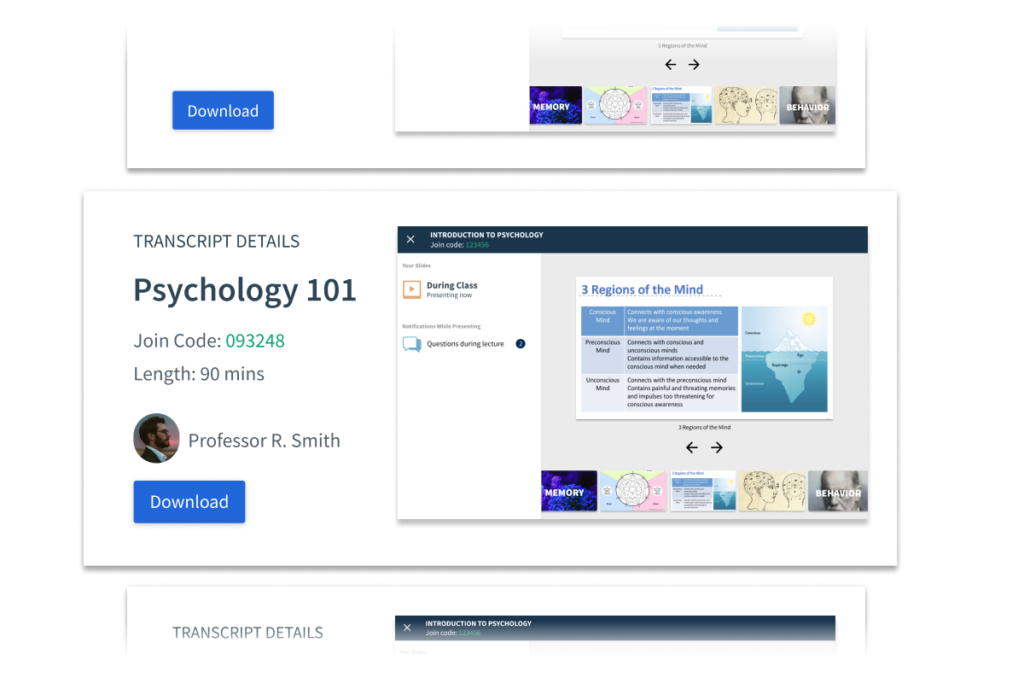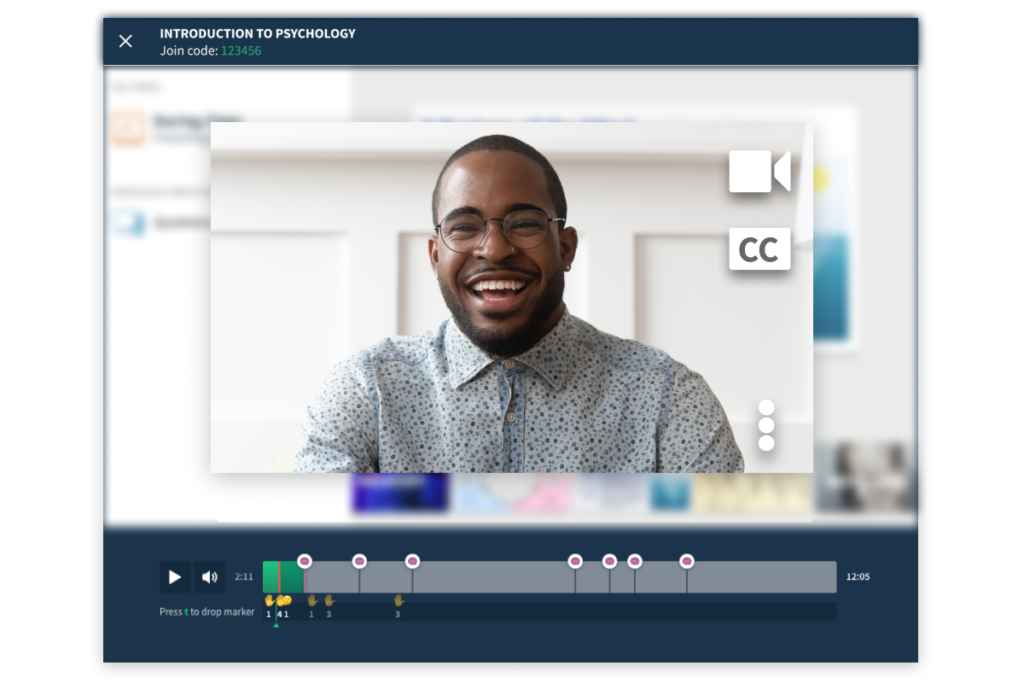 Build an online learning community
Build a space for students to connect with one another online and get support from their instructors. With chat channels you can dedicate to specific topics , students won't be stuck searching Google for homework answers. Encourage collaboration and discussion by using group chat channels for projects and study groups to enhance the learning experience. You can also provide students with a safe space to share their interests and connect with peers in the same way they do on their favorite social media sites.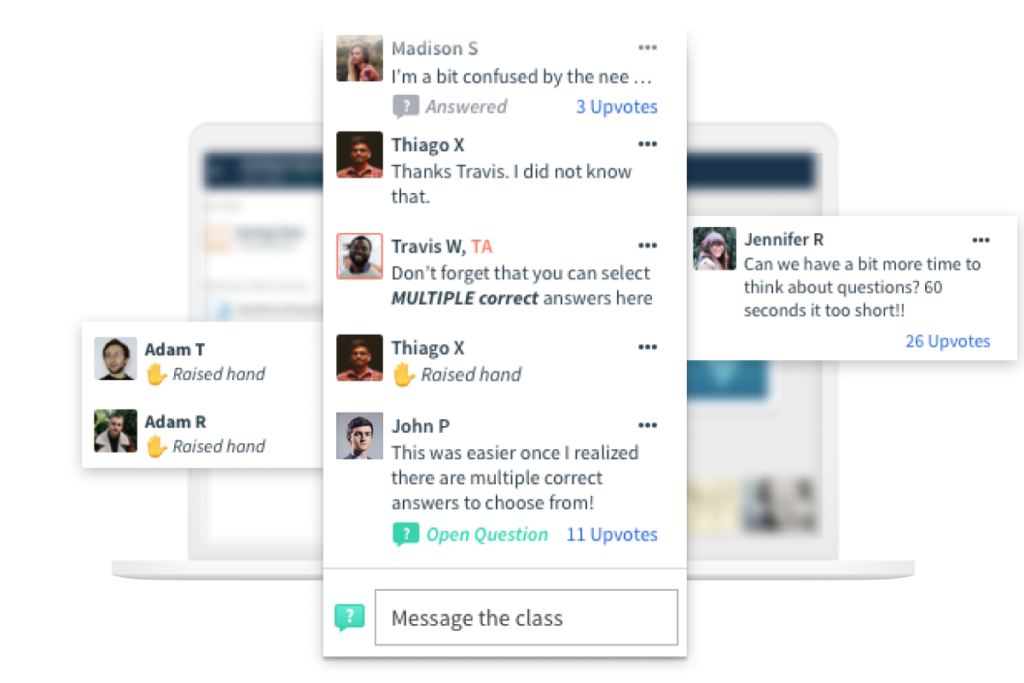 Foster a real-time connection with students
Use Top Hat's real-time video streaming to meaningfully engage students. Intersperse polling questions between slides to create one seamless, interactive lecture presentation. Our in-app chat window lets students communicate with each other, raise their hands to ask questions and engage with course material using discussion forums and their favorite emojis. Live polling also lets you check-in with your class so you can reinforce essential course concepts that prove challenging. Top Hat helps you build connections with your students and drive engagement at every step of the learning process.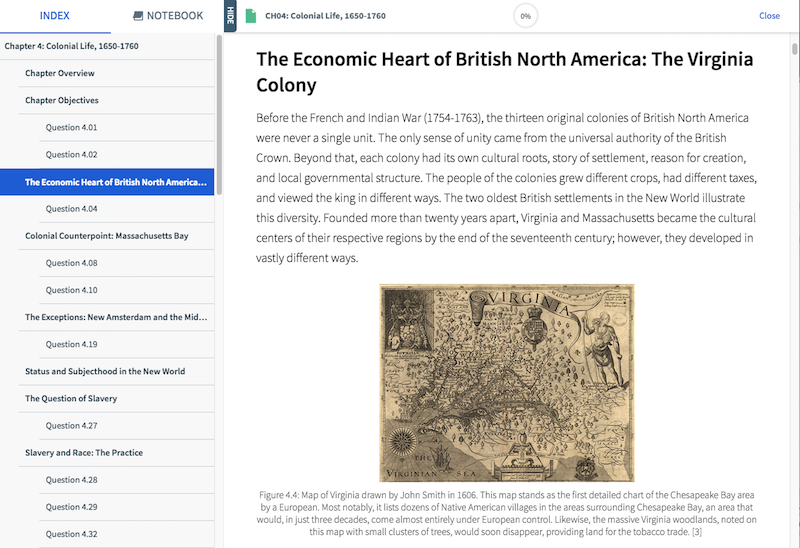 Custom interactive textbooks and courseware
Adopt or create your own interactive textbook. Make homework assignments that extend active learning outside of class meetings. Embed multimedia throughout readings to help students digest course material in new and novel ways. Track completion and comprehension with engaging homework questions that help you assess individual progression through course content. The Top Hat course marketplace offers access to thousands of digital textbooks and course packs, including titles by Top Hat authors and from partners like Bluedoor Publishing, Fountainhead Press and more. Save students money while enriching the learning experience.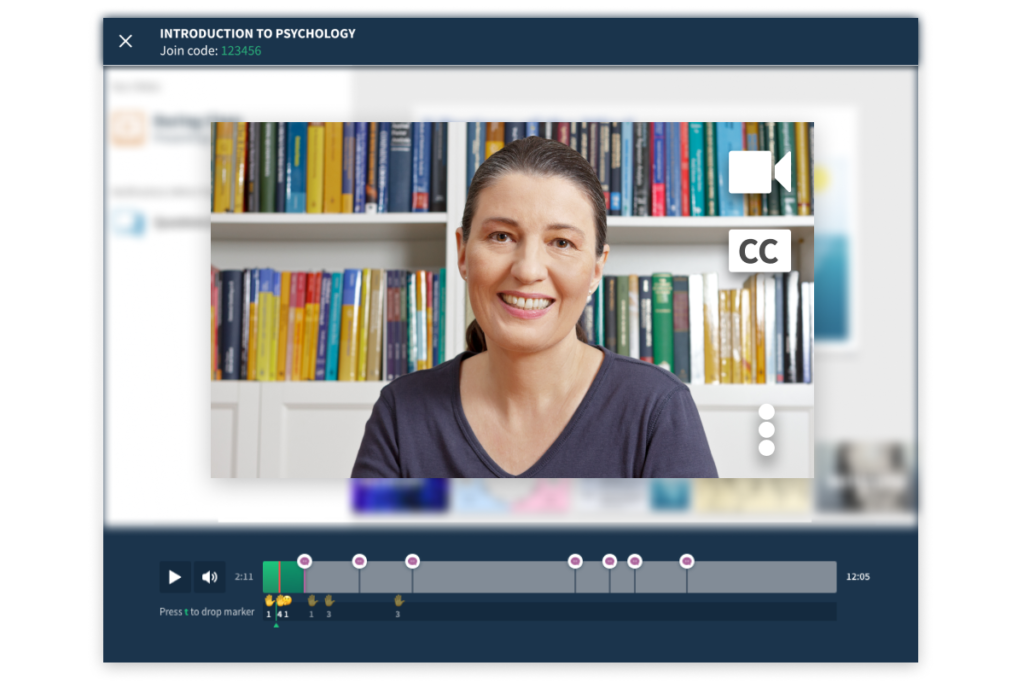 Streamline your lecture prep
Spend less time on course preparation. Top Hat makes it simple to import and edit slides with engaging content students love, including support for video, audio, GIFs and images. Use our course builder to import question packs and pre-packaged slide decks to save time. Increase participation by taking advantage of more than 14 different question types students can respond to using their own devices. Top Hat also automatically captures and records class attendance, helping reduce your administration burden.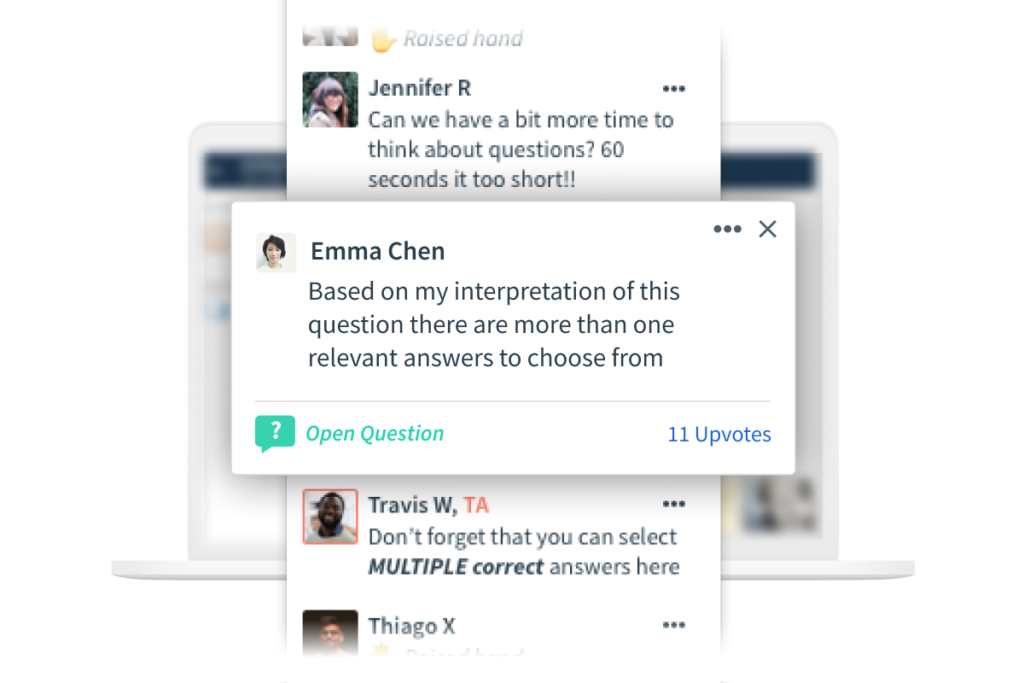 Engage your students
Our web-based learning platform is proven to increase engagement and improve the learning experience for higher education students. With industry-leading customer support and instructional design teams, Top Hat is used by over 750 of the top 1000 colleges and universities across North America. See why so many educators and administrators trust Top Hat — sign up for a personalized walk-through today.
Join a community of 750+ campuses that use Top Hat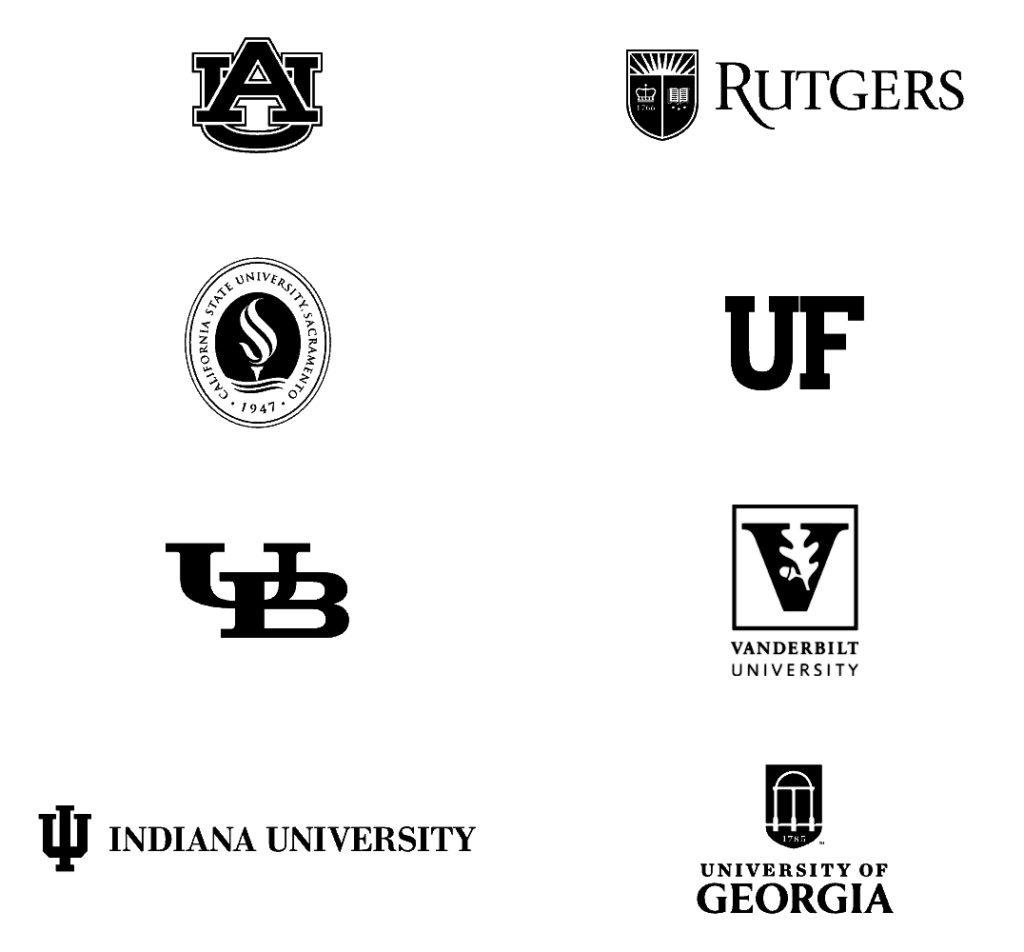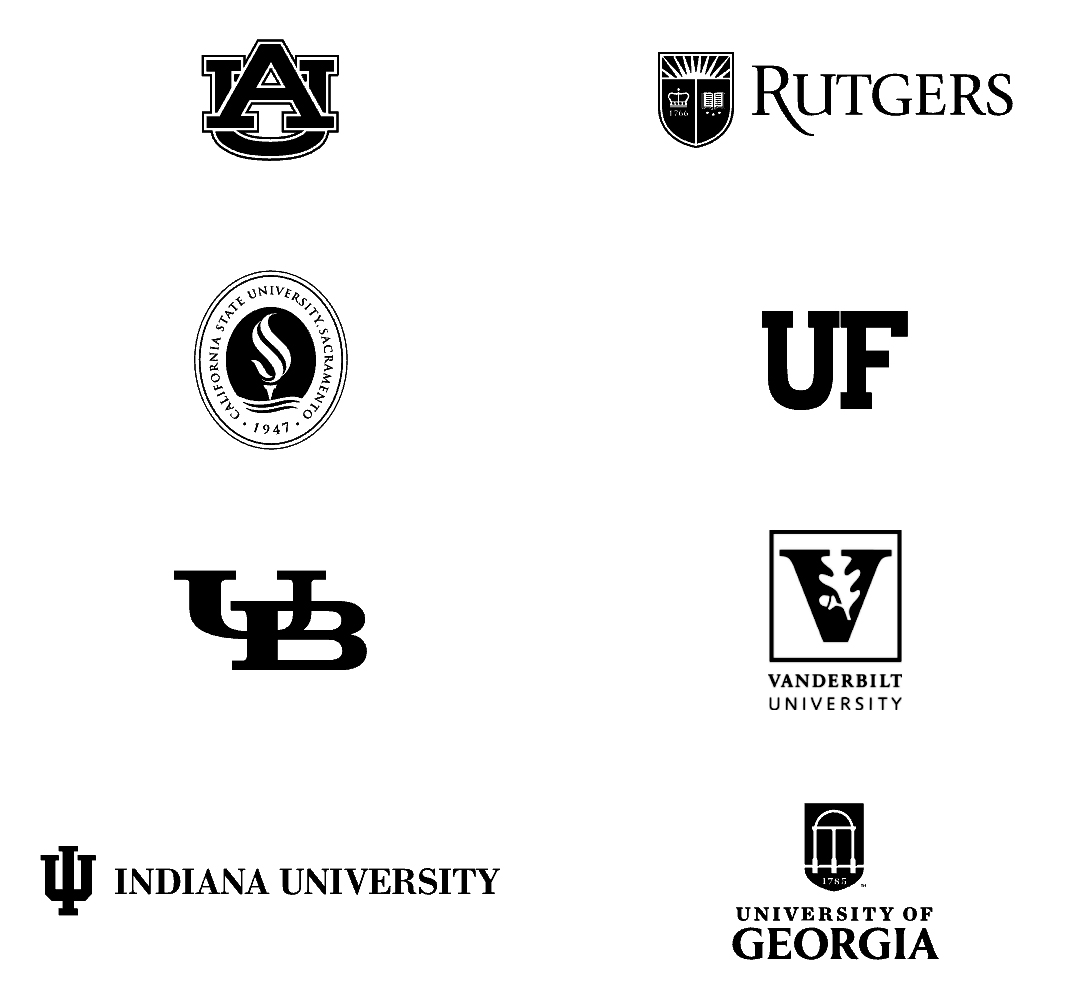 Book a personalized walkthrough today
Get in touch with one of our instructional design experts
FAQ
What is the best online course platform?
There are numerous options for online courses, such as Thinkific, Udemy, Skillshare, iSpring, WizIQ, Podia, LearnWorlds, Ruzuku, Kajabi, LearnDash and Academy of Mine. However, Top Hat is the only online active learning platform that offers both free and basic plans, with features designed to help instructors create engaging courses, wherever learning takes place. 
What equipment do you need for online teaching?
Top Hat does not require any fancy equipment for students or instructors. With built-in design tools, there is no need for WordPress, Zoom or other tools to create engaging courses. Because Top Hat is billed directly to students using our built-in billing service, you don't have to set up Paypal accounts and there are never any hidden credit card or transaction fees. Our e-learning software makes it straightforward to navigate teaching online.
Are online courses effective?
Students engaged in courses using multimedia and other interactive elements absorb up to five times more material compared to traditional face to face courses. Online courses provide the flexibility necessary to accommodate students' diverse needs. By providing course creators with greater insight into where students are succeeding and where they are struggling, content delivery can be tailored to improve learning outcomes and more fully engage students in the process of their own learning. Because online courses give students greater control and flexibility, they are able to work on their own time and pace. Research shows that with well-designed courses supported by the right technology, students generally work faster than they would otherwise and take in more information.
Popular Tags