Top Hat > Online Classroom
Online Classroom
Create a collaborative online classroom with Top Hat's online classroom software.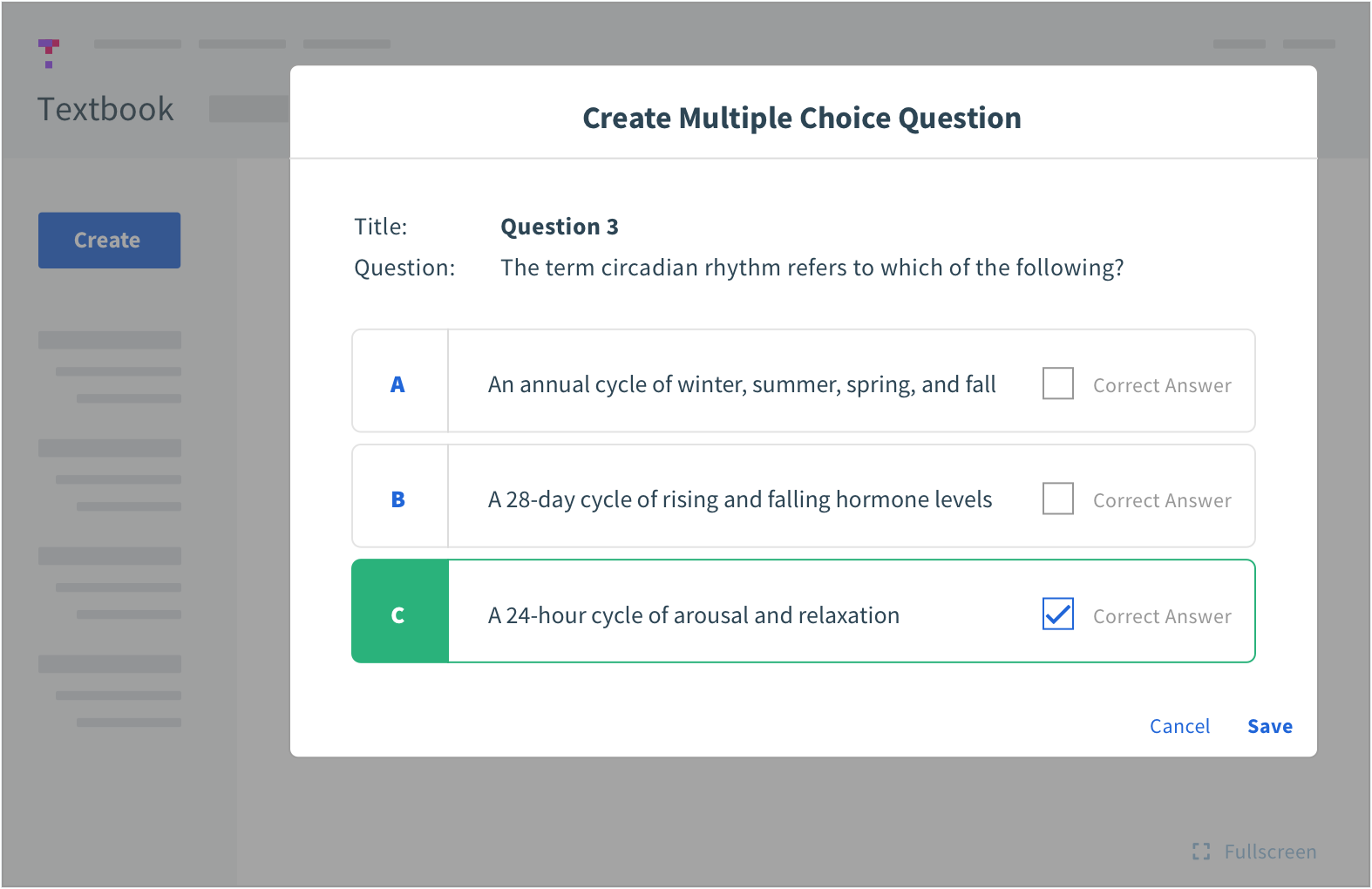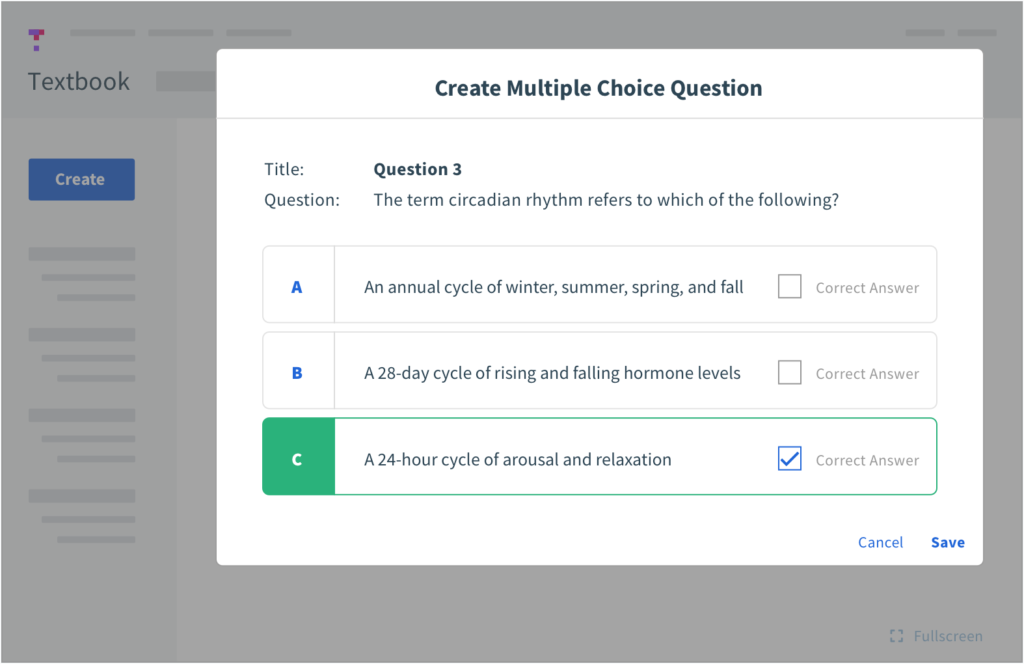 University classroom software that engages your students
In the past few years, there's been a spike in technological learning strategies in higher education. Online learning, blended learning, e-learning, MOOCs, distance learning, online courses and online teaching have become increasingly necessary over time. As instructors move towards making their classrooms more engaging, the need for a reliable technology platform becomes more important. That's where Top Hat comes in. Our online classroom software uses smartphones, laptops, and tablets to facilitate engagement, allowing any educator to effectively create a dynamic university or college classroom environment.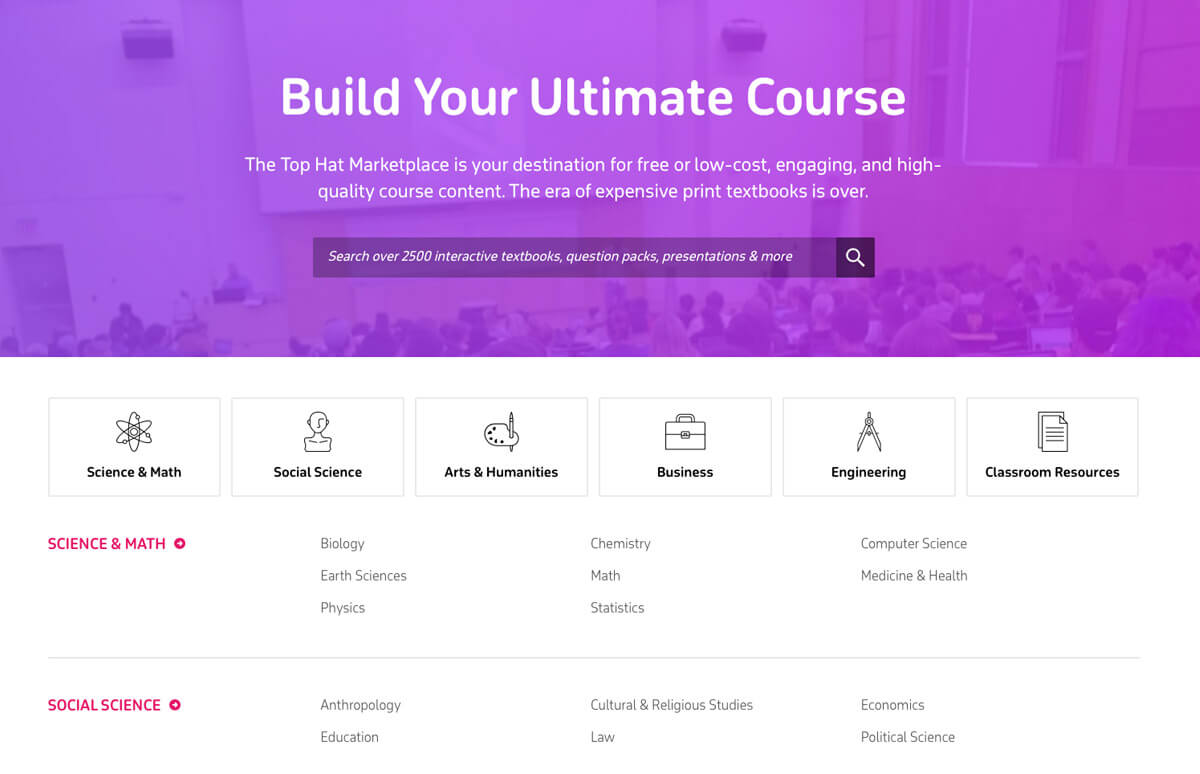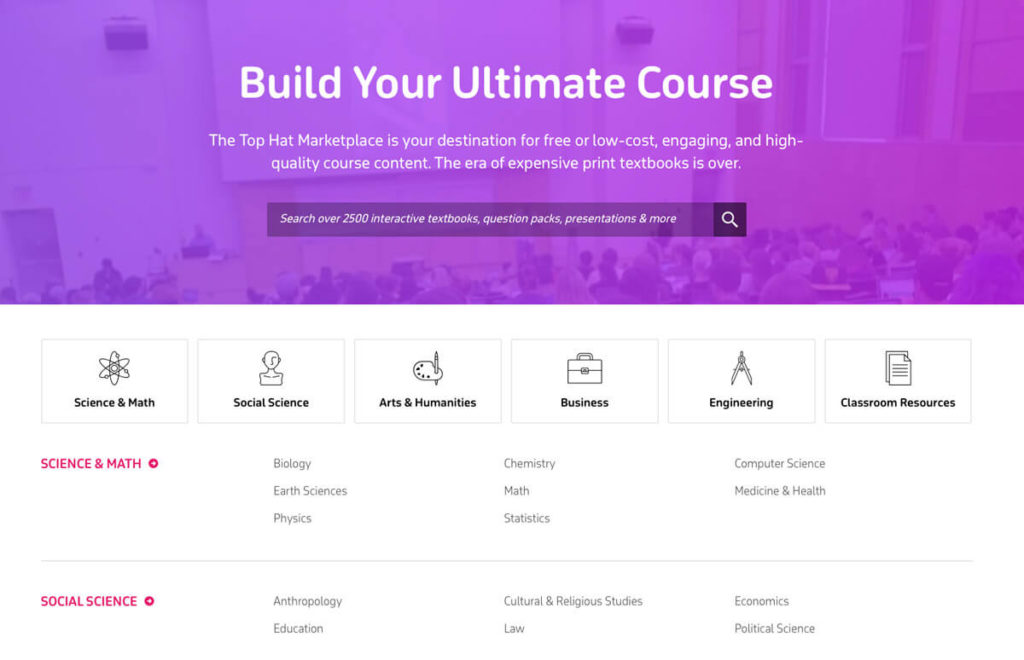 Streamline your lecture prep
One of the benefits of using our classroom tools is a more streamlined lecture prep experience. Top Hat allows you to populate your lecture slides with a range of interactive and flexible question types. We offer basic question types, including multiple choice, word answer, numeric answer, fill-in-the-blank and more. But we also have numerous advanced question types available.
There's no need to worry about switching over from a different learning management system or other digital classroom tools, either. Our staff are skilled in instructional design and will set you and your course up for success from day one.
Top Hat removes the need for extra hardware
Top Hat syncs directly with the devices college and university students already own and use on a daily basis. There's no need for them to purchase additional hardware. Simply download our app and away you go. We also offer integrations with popular learning management systems, including Moodle, Blackboard and Desire2Learn.
Track attendance easily
Top Hat allows instructors to automatically verify whether a student is physically present in class. They can easily take attendance by prompting students to sign in on their devices using a unique code, and instructors can auto-assign grades for attendance. Top Hat uses proprietary market-leading technology to verify the physical location of students, ensuring that only those students attending get counted. We also built in excused absence options for flexibility.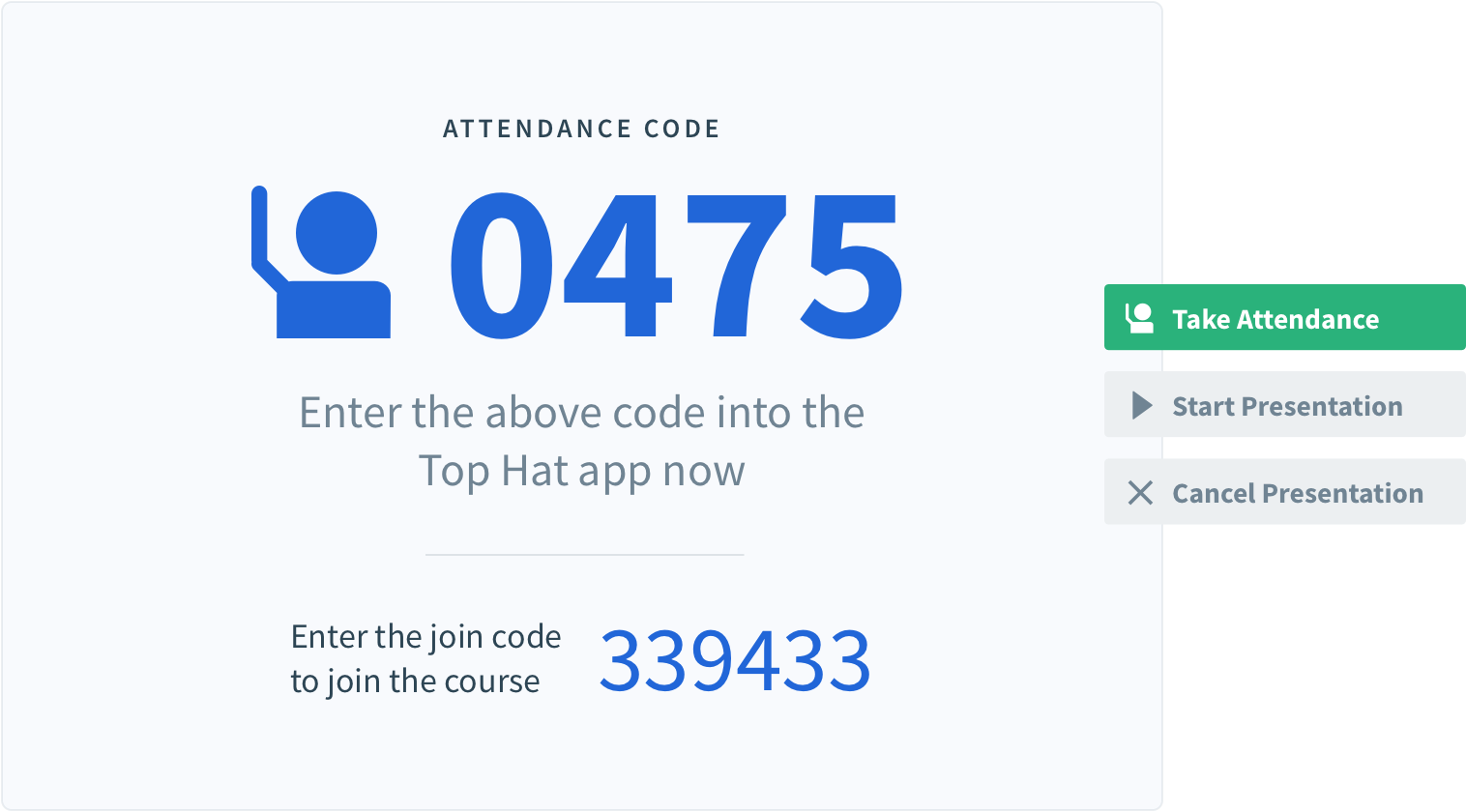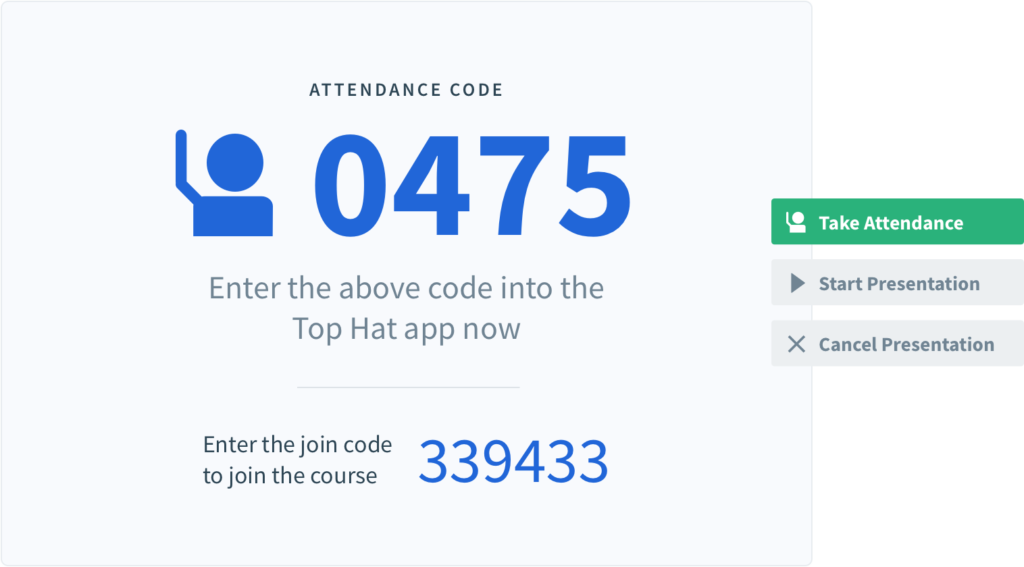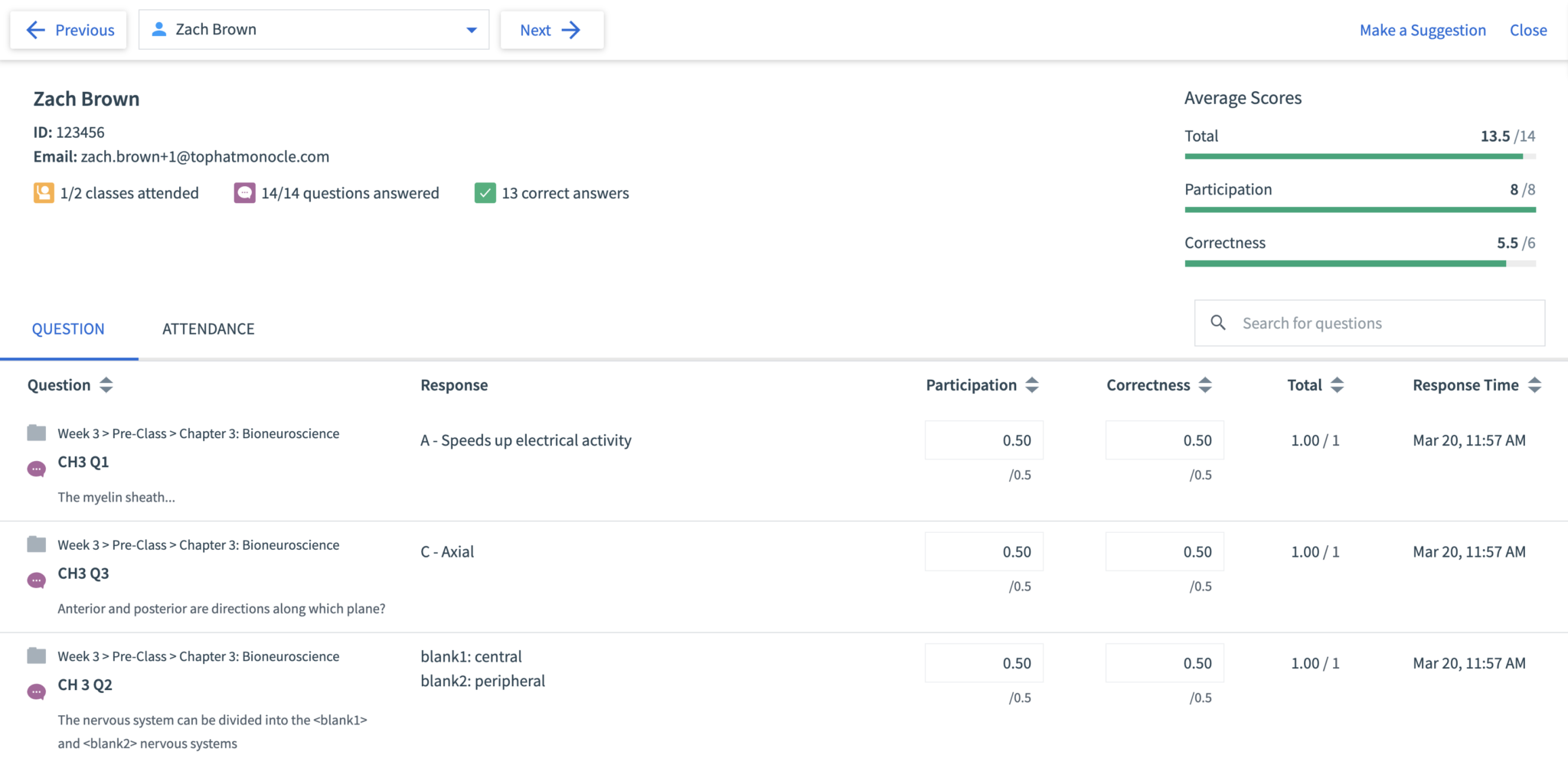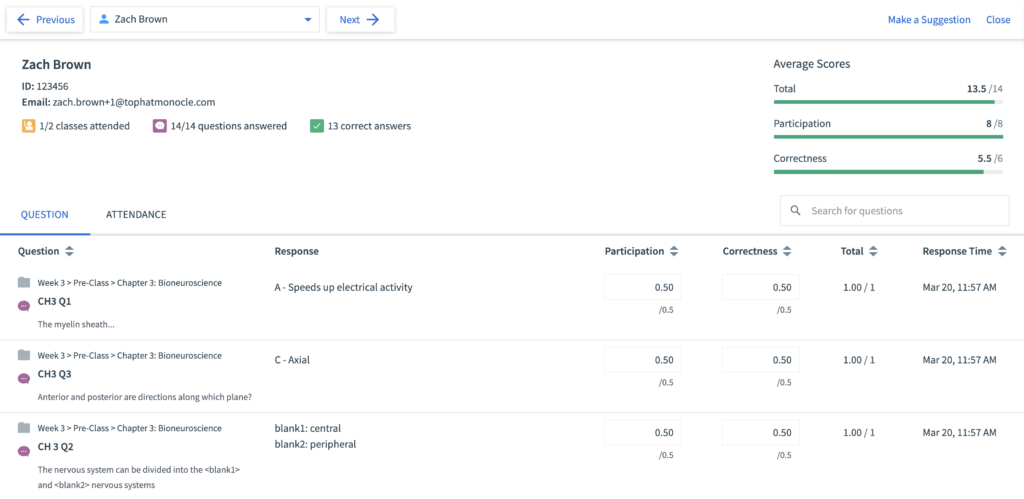 A fully synchronous flipped lecture experience
Interactive teaching and learning come together in a synchronous experience when you use Top Hat's university classroom software. Instructors can sync their lecture slides with students' devices, allowing them to follow along in real-time. Students are unable to move ahead of the instructor, so their attention remains focused on what's being presented. You can share student responses and correct answers to questions posed in class using visual graphs, word clouds and heat maps.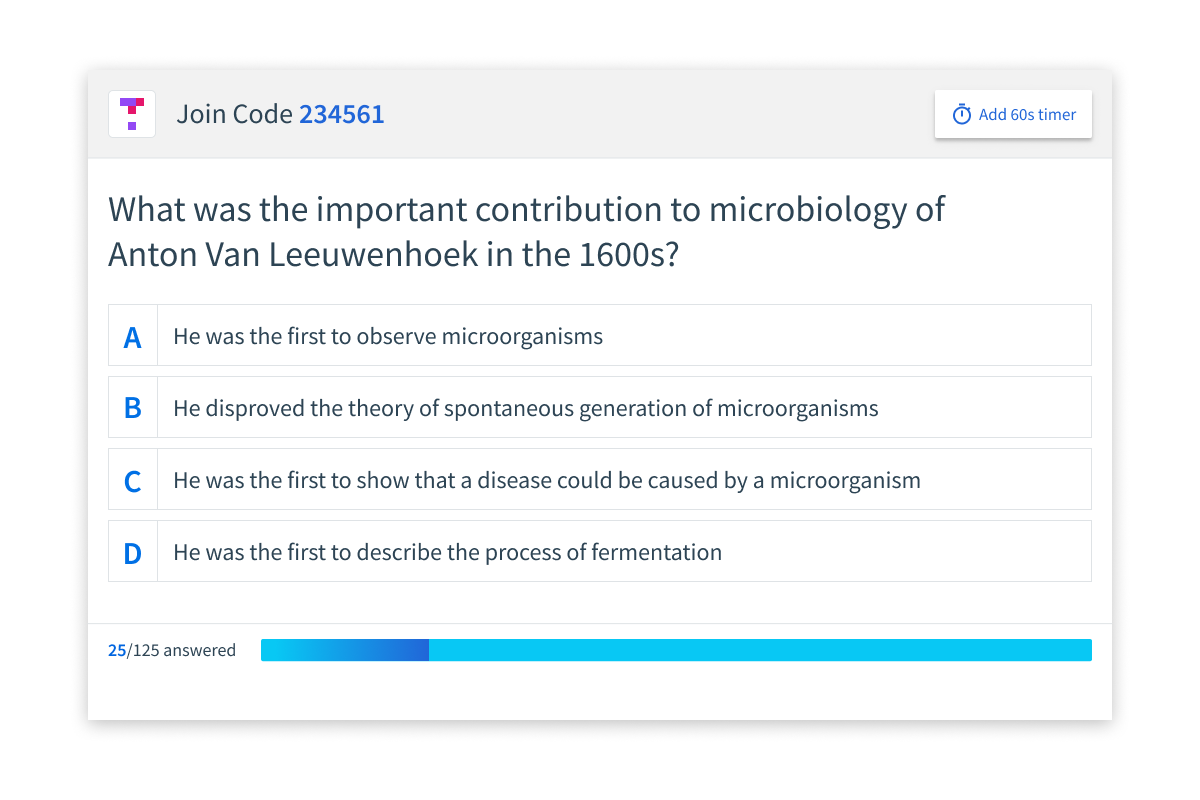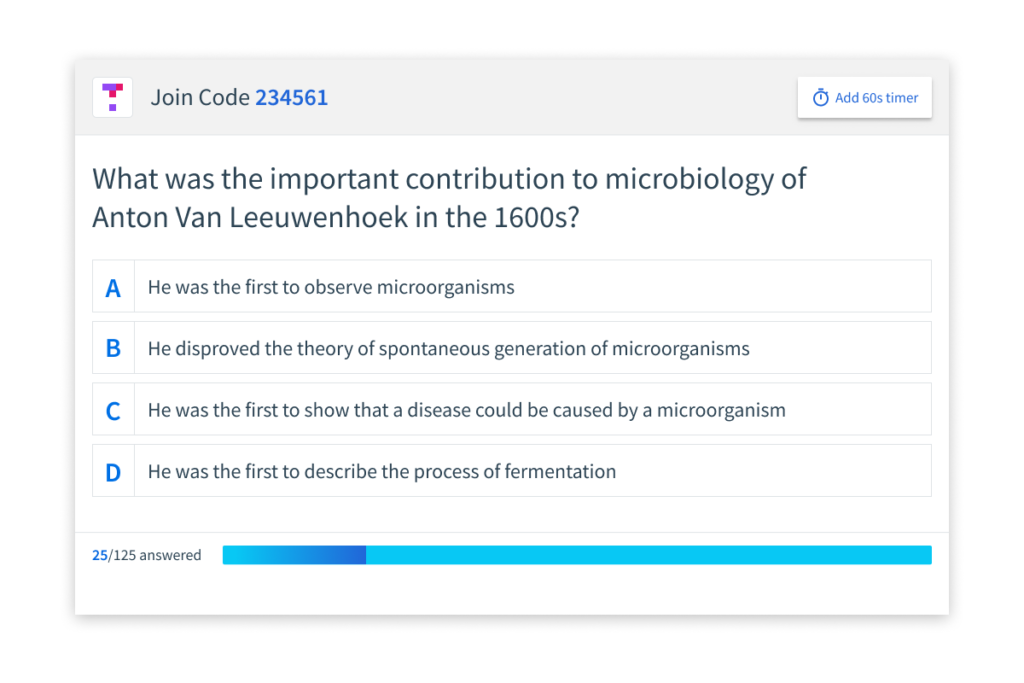 Run polls and ask students questions in class
Gauge student comprehension and understanding on the fly. With Top Hat, you can embed interactive polling questions between your slides to create one seamless presentation aligned to your lecture plan. And the interactive component encourages engagement and collaboration between classmates.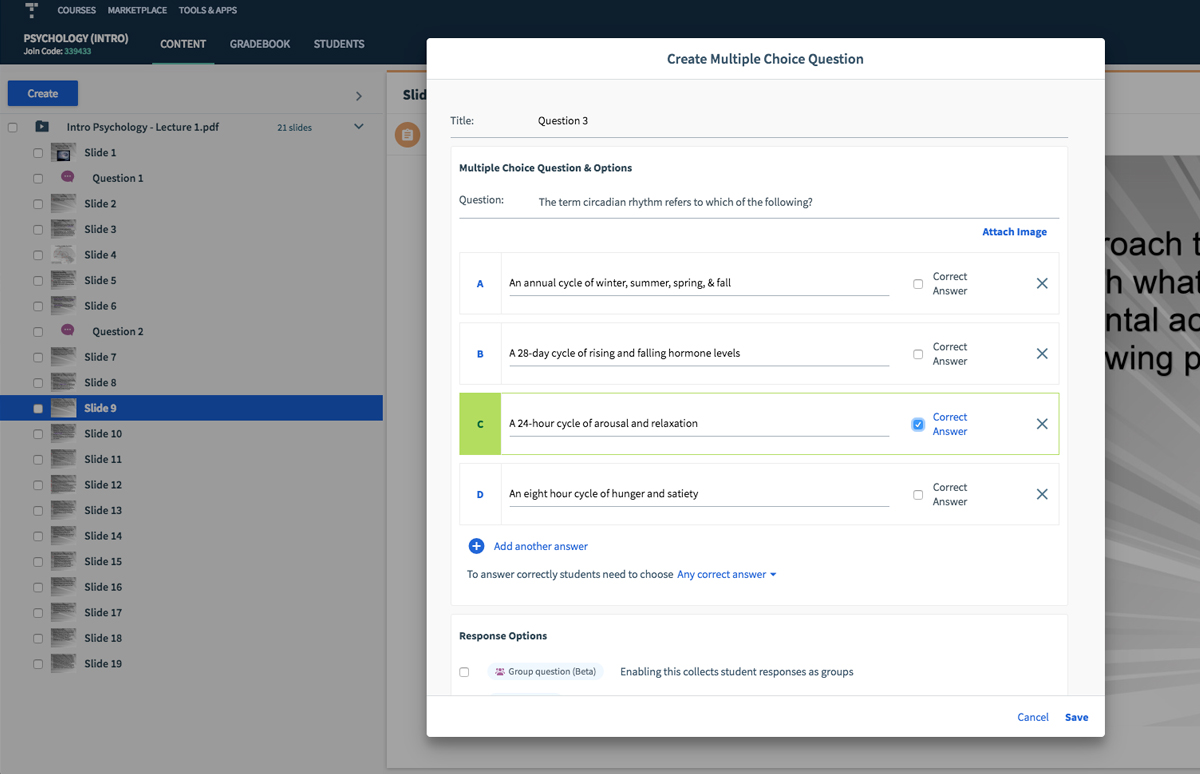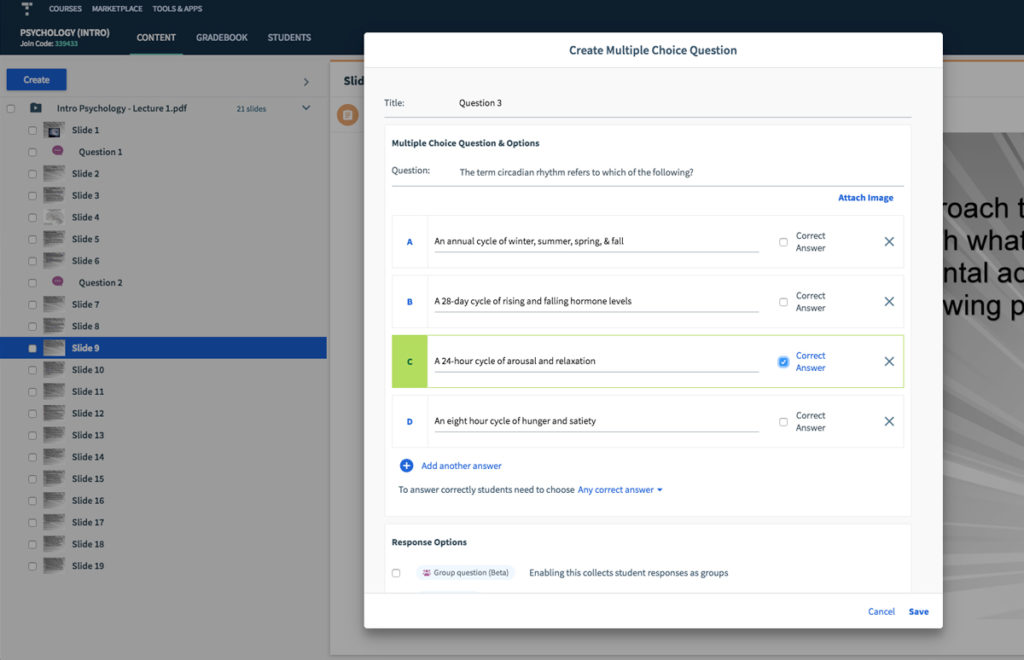 Motivate students to participate
Top Hat allows professors to run real-time discussions, embedded within the flow of a lecture. Students can choose to participate anonymously, ensuring that everyone feels comfortable sharing their thoughts, even when the subject matter is sensitive. Instructors can also use Top Hat to encourage students to collaborate and interact with each other, either one-on-one or through group work.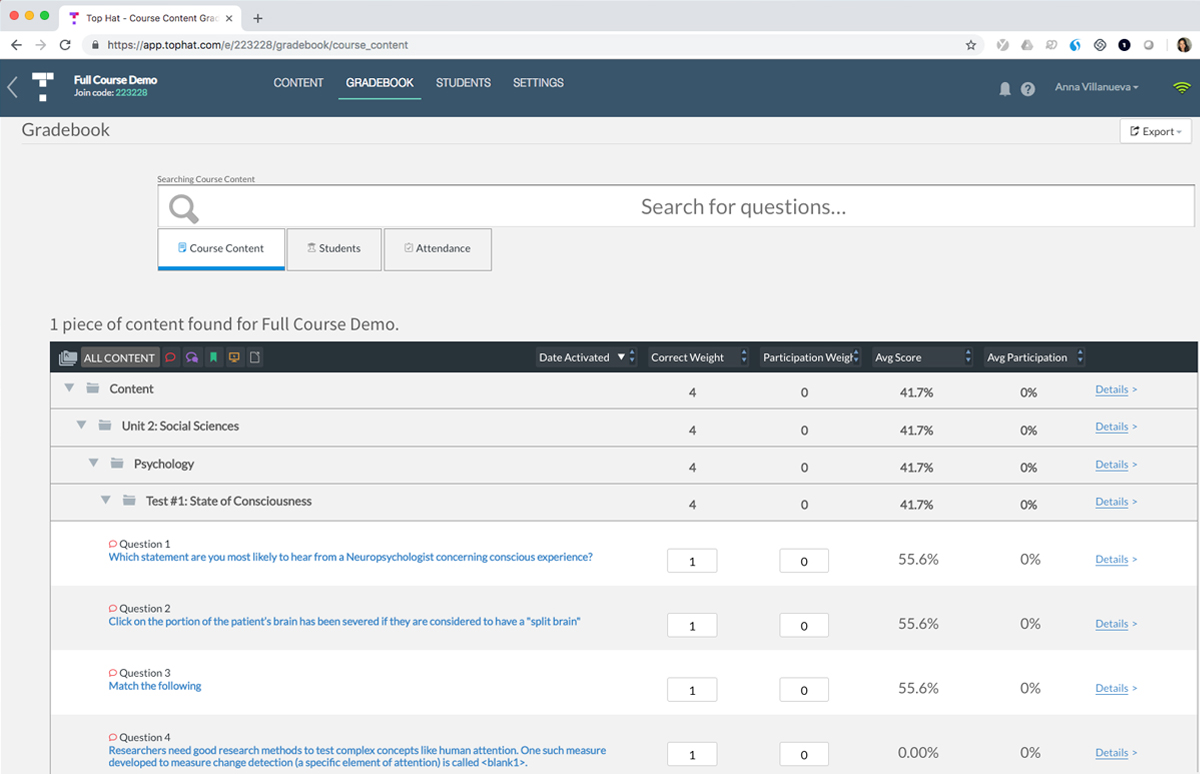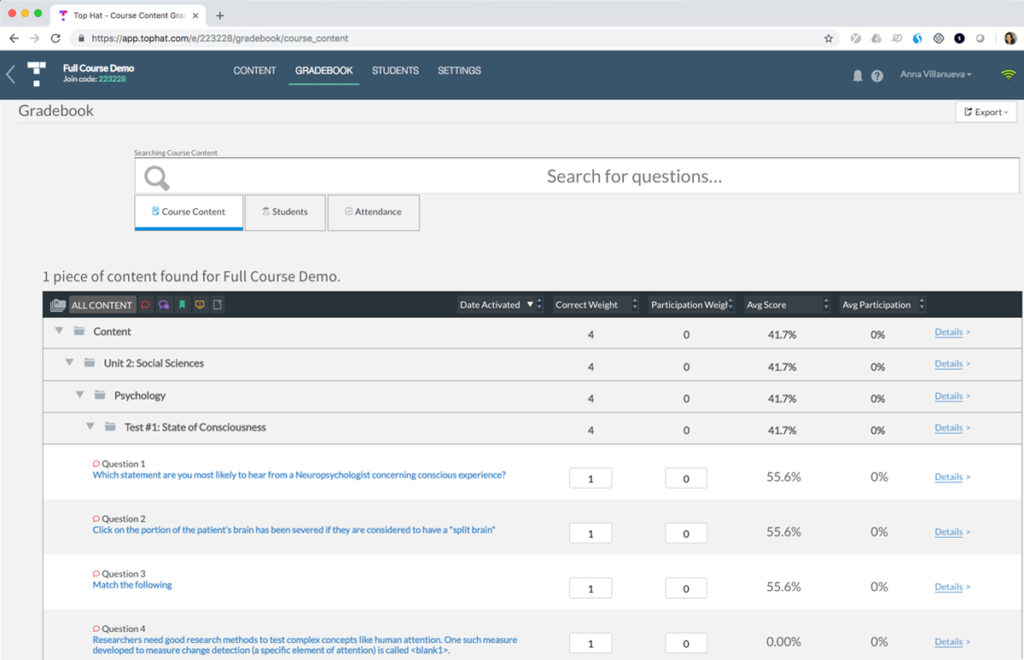 Reporting made easy with auto-grading
Top Hat's university classroom software allows you to track student performance and automatically assign grading weight to interactive questions, attendance, and participation, all uploaded directly into the Top Hat gradebook. All responses and participation grades are captured virtually in the Top Hat gradebook for students to access any time. You can export grades easily to your LMS. And you can analyze auto-graded results to gauge comprehension and identify concepts to review or reinforce in your next lecture.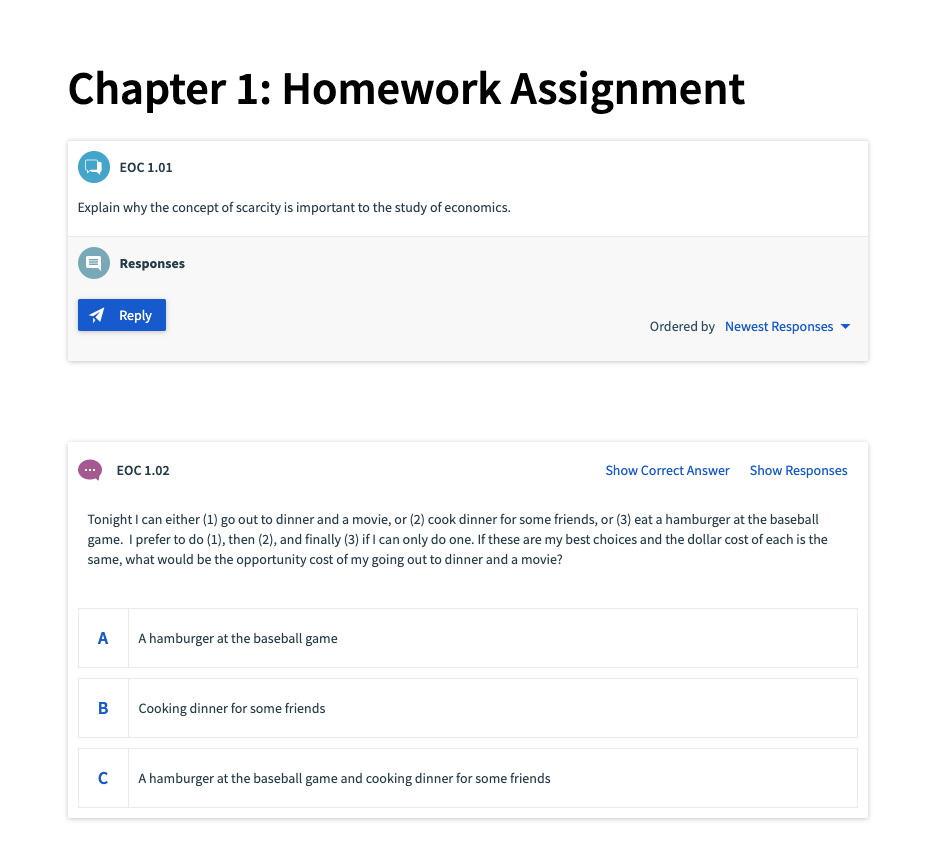 With Top Hat, students keep learning after class is finished
A truly beneficial learning environment doesn't start and end in the space of your lecture window. Once your lecture is complete, Top Hat allows you to assign slides in review mode, meaning students can then download and study at any time. Plus, you can add digital learning activities like quizzes to offline assignments and coursework to keep the learning experience alive.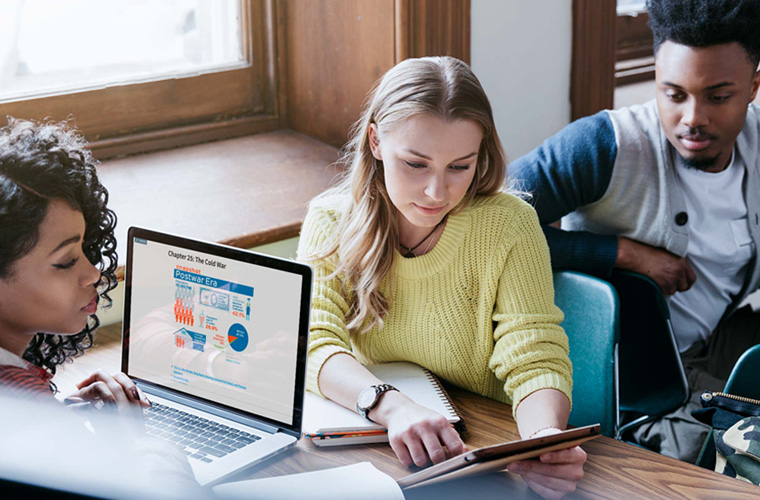 Engage your learners with Top Hat's university classroom software
Our web-based learning platform is proven to increase student engagement and improve the learning experience in classrooms . We're used by over 750 of the top 1000 colleges and universities across North America. See why educators and administrators trust us — sign up for a personalized walk-through today.
Join a community of 750+ campuses that use Top Hat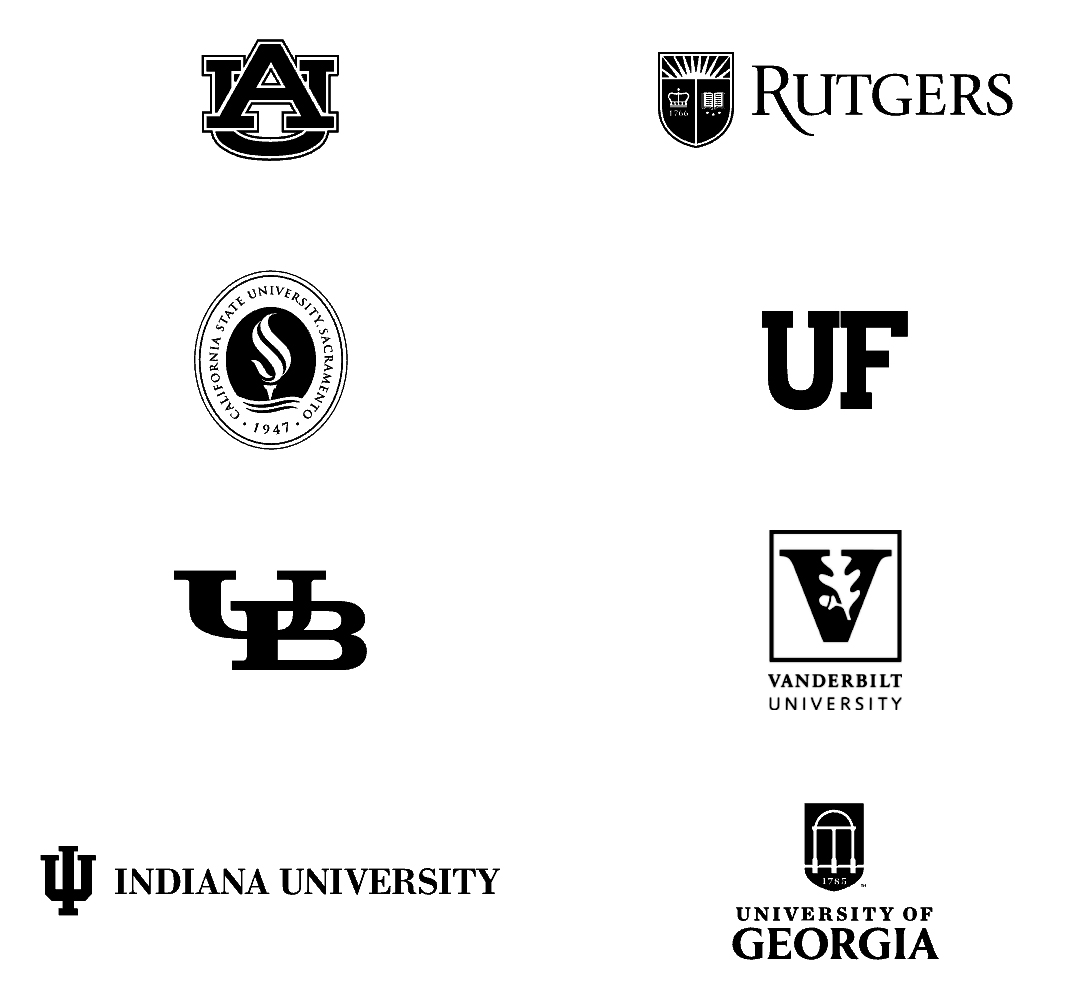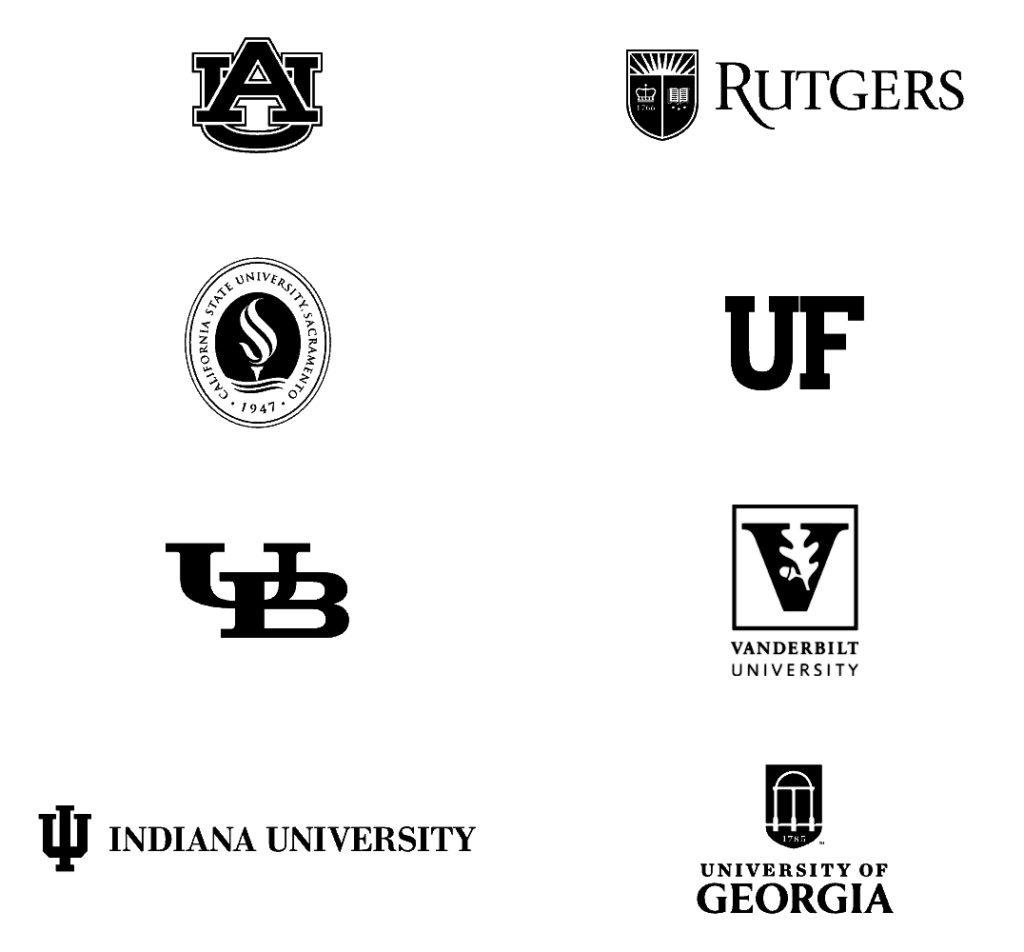 Simplify flipping your classroom today
Get started by scheduling a personalized demo
FAQ
What is an online classroom?
An online classroom, although not virtual completely is a classroom facilitated by using the Internet to relay course material. An online classroom doesn't necessarily need to be completely online, just mediated online with software tools.
How does Top Hat help in building an online classroom?
Top Hat helps with building an online classroom for your class by way of moving all course material into an online environment. Top Hat is designed for before, during and after class participation.

Popular Tags