How are new learning methods and structures being applied, and what are their effects? Here are four leaders in online learning—and how they're building the future of the classroom while increasing access and engagement.
Khan Academy

Khan Academy has been creating free online classes since founder Sal Khan started uploading tutorials to YouTube for his cousins back in 2006. That sense of personalization is one factor that has helped the non-profit—along with its sister organization, the Khan Lab School—grow to become one of the world's best known online learning portals. In a report published in early 2017 by College Board, data showed that practicing for the SATs with Khan Academy's online courses for 20 hours led to an average score gain of 115 points. Khan said: "It is heartening to see this positive association between personalized practice on Khan Academy and growth in college readiness."

The Vector Institute

The University of Toronto and Professor Geoffrey Hinton have been instrumental to the birth and development of artificial intelligence. UofT launched The Vector Institute in March 2017 with three goals: becoming a global center for AI, producing the highest number of deep learning students the world over and driving the economy. So don't expect students in this highly selective program to just sit at a desk before a lecturer; they will launch startups, work with incubators and collaborate with industry leaders as part of their studies.

The DUCKLING Project

A project from the University of Leicester in the UK—Delivering University Curricula: Knowledge, Learning and Innovation Gains (DUCKLING)—is publishing classes, tutorials, Q&As and more in podcast form, putting them at the fingertips (or earbuds) of online Masters students. Psychology professor Dr. Ray Randall explains: "What is new is the fact that we're delivering [the material] via voice… For our students who are relatively time-poor, having an intervention that helps them to work in a much more efficient way seems to be quite a key benefit for them." According to research, even though he podcasts weren't personalized they felt like they were: "Students considered that listening to a podcast resembled 'direct communication'. They felt that they received more of their tutors' time and that it was possible to 'have a conversation' with them."

MITx's MicroMasters
At MIT, a new program called MITx MicroMasters allows students to skip the requirements for certain subjects (such as supply management and economics with data science) and start working towards a Masters degree. It requires no prior degrees and no standardized testing—and could also mean no crippling debt for recent grads. Students do have to pass a set of courses via online exams, but those courses are essentially open to anyone in the world. Classes cost between $100 and $1000, and could represent a way into a prestigious institution which might have otherwise been out of reach.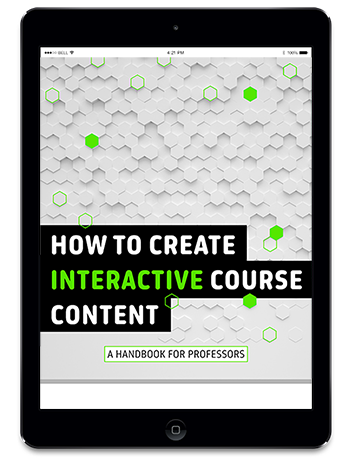 It's easier than you think to create your own interactive content—our free guide shows you how.
How to Create Interactive Course Content: A Handbook for Professors ❯ ❯ ❯