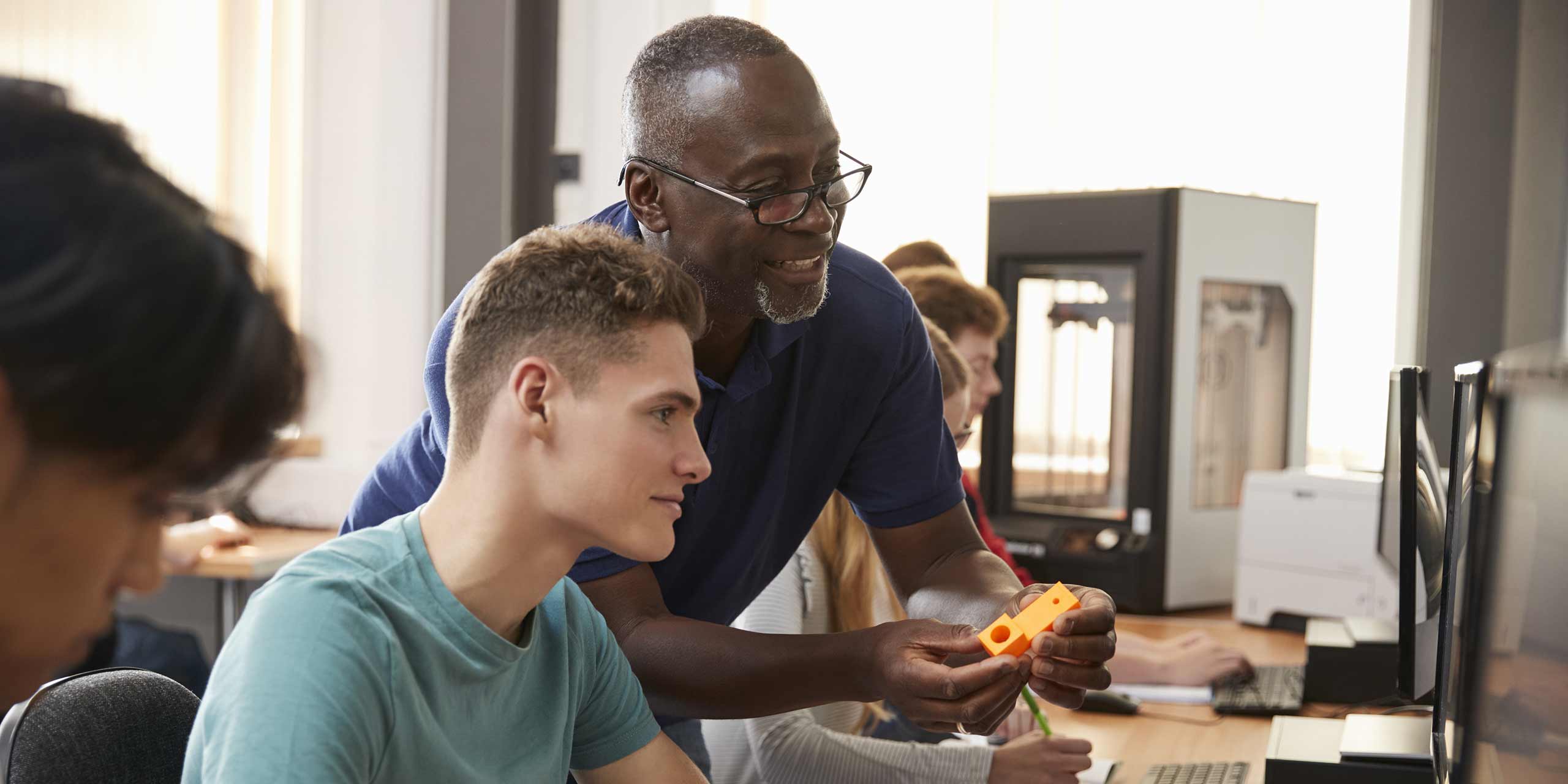 By the time you finish this guide, you will understand the definition blended learning, how it differs from online material that simply supplements classroom learning, and its benefits for all grade levels, from K–12 to higher education.
You will learn about various methods and models of blended learning, including the flipped classroom, rotation models, flex, à la carte, project-based, and enriched-virtual strategies, and how each can be used in a course to benefit both teachers and students.
The overall benefits of blended learning will be presented, but we'll also address the challenges in adopting a blended learning strategy, from its dependence on technology to the extra work and resources that are required to truly make it work effectively.
By the end, you'll realize how a blended learning strategy combines the best of both educational worlds, helping students learn in both a classroom and online setting, working on understanding concepts, then putting them to work.
Table of contents
1. What is blended learning?
2. Blended learning in higher education
2.1. Building a blended learning course for higher education
2.2. Differences between blended learning in higher ed and in K–12
3. What are some blended learning methods and models?
3.1. Flipped classroom
3.2. The rotation model
3.2.1. Station rotation
3.2.2. Lab rotation
3.2.3. Individual rotation
3.3. Flex
3.4. À la carte
3.5. Project-based
3.6. Enriched-virtual model
4. What are the benefits of blended learning?
4.1. Faster feedback for students
4.2. Flexibility
4.3. Better learning outcomes
5. The disadvantages of blended learning
5.1. Time investment
5.2. Dependence on technology
5.3. Digital divide
6. Conclusion
7. References
1. What is blended learning?
Sometimes referred to as hybrid learning, blended learning is a combination of traditional in-classroom and online learning. Individually, both have their advantages. But together, a blended learning strategy can offer a better learning experience for students.
It's important, however, to clarify that blended learning is not technology that simply supplements the classroom experience. Making in-classroom lectures available online does not constitute blended learning. Rather, blended learning requires that 30–80% of course material is delivered online, combined with some face-to-face interaction. Any formal education program where students learn partly online, and have some control over their time, place, path, and/or pace, counts as blended learning. Students complete certain parts of the course when it suits them, and can pause, go back, skip forward, and revisit material as needed. Then, some time is spent in a bricks-and-mortar setting away from home, like a classroom, lecture hall, or lab, with supervised instruction.
Blended learning is redefining the traditional education experience, and providing students with new opportunities for learning and educators new avenues and methods to teach. These new practices, and the relationships that can build because of them, can make significant contributions to learning. Students take ownership of the learning process, but educators need to shift how they organize and deliver material, and be trained to use the technology.
The key is that concepts and material in blended learning represent a connected learning path versus topics being repeated online that have already been covered in class, or vice versa.
2. Blended learning in higher education
Those born in the most recent generation, Generation Z, have been surrounded by technology all their life and are used to, and expect, relevant, engaging and interactive learning experiences. They might not be so receptive to the traditional, passive informational approach of structured lectures. Blended learning can provide deeper and more meaningful learning experiences, and actively engage students.
Blended learning can position educators for the more modern, 21st century methods of educating in our knowledge society. Both students and professors become more engaged in critical and creative reflection and conversation.
To adopt blended learning strategies, however, requires re-thinking and re-examination your ideals in higher learning, along with the technology, resources, and time to support continuous engagement throughout the learning process. It's an approach that places high value on dialogue and debate.
The convergence of the classroom and communications technology has the potential to transform higher education for the better1.
2.1. Building a blended learning course for higher education
Building a blended learning course for higher education requires setting specific learning goals, and making sure each piece of technology has a purpose within the instructional design.
You can understand enrolled students' prior knowledge, competence of technology, and how much convenience and flexibility they need before designing instruction by having them complete an online survey or pre-assessment— or have them participate in an online discussion. Many students who enrol in courses with online components do so because they need to work around family and/or work obligations, and appreciate working and studying at their own pace, where and when they want.
You can then determine the key skills and concepts students need to master by the end of a course, and use that to develop material, activities, and assessments that align with these goals, and source the right technology to help accomplish them.
Here are the further steps you need to consider when building your blended learning course:
Set clear guidelines and course expectations, including learning objectives and grading criteria.
Organize material logically into units that each cover a specific topic, with due dates, and the anticipated amount of time students should spend on each one.
Present the material in a way that students can easily digest online, with short paragraphs broken up by subheadings.
Keep audio and video content short, and note how long each file is so students can wait until they can dedicate the time before they tune in. When possible, include transcripts for reference.
At the end of each unit, provide a short review with recall or application questions so students can assess their comprehension, and go over the material again if needed.
2.2. Differences between blended learning in higher education and in K–12
While blended learning can be used in both higher education and K–12 settings, there are marked differences between how it works in each.
In K–12 classrooms, students likely have access to a computing device that's provided by the school. This might be a computer, or a tablet or some kind, in addition to Bring Your Own Device (BYOD) strategies, though the latter is most often found in higher education institutions.
Online delivery in K–12 may come in the form of homework assignments that students must complete, at least in part, with the help of their parents. But the key is that, like with higher education, they still have some control over the time, place, path, and pace. An assignment, for example, might be given at the end of one week, and must be completed some time before the end of the following week.
Chances are that in K–12 blended learning situations, there is more classroom time than with higher education courses, where students are older, and expected to operate at higher levels of independence. K–12 blended learning scenarios, then, arguably contain more face-to-face time, and less online. And studies may be conducted in labs or learning centres, either within the school or offsite.
3. What are some blended learning methods and models?
3.1. Flipped classroom
Instead of attending a lecture in class, where students can lose their focus quickly, students are given a pre-recorded lecture to watch and/or listen to on their own time as homework. These began as online videos of lectures and narrated PowerPoint presentations, but have evolved to become short and concise videos or posted to sites like YouTube or audio Podcasts. Students can listen during a commute, or even while at the gym. Make it interactive, so students can collaborate with peers and/or subject matter experts in online discussions and forums.
Once in class, the instructor can introduce learning activities related to the material presented in the online lecture. Strategies like peer learning, group work, and presentations all encourage them to actively apply concepts in class.
The flipped classroom helps free up valuable class time so educators can engage with students, and encourage them to apply the learned concepts. It can be applied effectively to virtually any subject, from liberal arts topics to STEM-based courses.
It does mean more work for the teacher, but it provides deeper insight into how well students comprehend the material, what's working, and what isn't. Analytical tools can paint an even more detailed picture, allowing educators to spend more time on a particular concept during class when needed, or pair up students who can teach each other based on their strengths.
3.2. The rotation model
One of the most common teaching models in a blended learning strategy, the rotation model involves any course or subject where students physically move from one activity to another, based on a schedule, or at the teacher's discretion.
The learning modalities might include online work, small group instruction, traditional pencil and paper assignments, and discussions or projects with the entire class. The key is that one person or instrument, like a clock, defines when it's time to rotate to the next activity or assignment, and everyone follows.
The rotation model isn't new — it has been followed for decades, particularly in elementary schools. But in today's pedagogical environment, online has become an important part of the rotational cycle.
Students rotate through a variety of "stations," both within a classroom or set of classrooms. In a flexible model driven by playlists, as adopted by Angela Jones, a teacher at Bella Romero Academy in Greeley, Colorado, students are guided through a unit for a designated period of time (e.g. one or two weeks) instead of fixed rotations.2
Part of the rotation in a blended learning strategy would include the use of software for online work on class computers. Students complete lessons, read stories, and take assessments administered by computer, working independently without worrying about how they are performing in comparison to their peers.
Then, students get direct instruction from the teacher, and participate in group-based activities like workbook pages, pencil and paper tasks, one-on-one tutoring, small group work, projects, games, flash cards, and more.
You can ask that each student masters a concept before moving on to the next.Another option is to keep things flowing by creating special projects for students who are struggling and need more time, and jumping those who have mastered a concept to the next.
It's important to pause in-between stations, allowing students to address questions and concerns.
Students still rotate through stations on a fixed schedule, but the online component takes part in a dedicated computer lab instead of the classroom.
This allows teachers to make good use of existing labs in the school, and create flexible schedules among classes. Naturally, it would require pre-planning so different classes aren't trying to use the lab at the same time, and a class schedule jives with that of the school lab, which could be closed or restricted for use during certain times or on certain days. A teacher should be present in the lab to address student questions or concerns.
Lab rotation frees up space in the classroom for other activities, once some students are moved to the lab. This can be particularly effective for large class sizes.
A teacher, or even software algorithm, sets schedules whereby students rotate through stations on an individual level. They might not hit every station, but rather only those that are part of their personal "playlist."
The idea is to allow for greater customization among students, addressing each of their individual needs, challenges, and how well each student understands the course material. Students also have the opportunity to work on different activities at different stations based on what will best meet their learning needs.
During the individual rotation process, teachers help clarify concepts, offer support, and/or expand on information that was provided through online lessons.
3.3. Flex
In a flex blended learning setup, according to the Christensen Institute, students have the latitude to move freely on more fluid schedules, tackling each learning activity, and moving on based on their needs and skill level.3
Online learning is the backbone of such a strategy, supplemented by teachers providing support and instruction as needed, while students work through the material and each activity. In one example from K–12, students at Conrad High School in Conrad, Montana were issued tokens whenever they completed an assignment, with a goal of acquiring four per week to maintain 80 percent proficiency or higher. And at Oakland Unity Middle School in Oakland, California, students meet with teachers weekly to set goals for their progress, and take formative assessments every Friday, or elect to take standard assessments at their own pace.
The benefit is that students learn independence, and have a high degree of control over their own learning experience and pace.
3.4. À la carte
In addition to filling their course schedules with face-to-face classes, students can complement them with online courses that are taught by teachers almost exclusively online. These are ideal for students who require flexible schedules due to work and/or family obligations, or students pursuing athletics, allowing them to study and participate at times when it is most convenient for them. It's also a good option for educational institutions that can't provide a particular elective course on school grounds, if there isn't enough demand, for example, to fill an entire in-person class on a full-time basis.
Courses can either be taught entirely online, or some content is provided online to supplement that supplied by an IRL teacher, and for peers from around the world to access for their own learning.
In addition to allowing students to approach their studies in a more flexible way, teachers and administrators benefit in that they can track student activity in virtual classrooms and through interaction in virtual lessons and problem-solving activities.
3.5. Project-based
There's no better way to learn how to deal with problems and issues in real life than to engage in tasks, issues, and problems in a classroom setting that simulates them.
Project-based blended learning involves providing students with real world tasks, giving them the resources they would need to complete them, and the freedom to figure it out on their own, based on applying concepts they've learned throughout the course.
When considering the Bloom's Taxonomy framework, project-based work focuses on student-centric learning, and higher order, more contextualized thinking.
To implement effective project-based methods, ask yourself why students are learning a concept or subject, not just what they are learning. Then, focus on activities that require them to apply concepts and put them to action. Work with them to identify where support is needed, whether it's for presentation skills, writing, research, or time management, and provide guidance and resources to assist them. Address questions by encouraging them to seek out answers on their own through the appropriate resources.
In class, introduce elements students can't replicate at home, like inviting a guest speaker. Limit the time dedicated to direct instruction, shifting focus instead on student support as they participate in activities that put concepts to test to aid in their professional development.
3.6. Enriched-virtual model
Still a blended learning model, the enriched-virtual model asks the student to complete more work online at home or outside of school, though there is some face-to-face learning as well to complement it.
Usually, the face-to-face in-class time only occurs a few times per week, but adds an important element of structured support, enrichment, collaboration, and a peaceful bricks-and-mortar setting in which learning can continue.
These models are ideal for students who require flexible schedules, who want to continue to play sports and have strict training schedules, or who want to graduate early. Enriched-virtual model classes can also get secondary students prepared for college or university schedules, and begin introducing them to valuable skills needed for higher education.
While most of the instruction happens online, teachers should be available for support when needed, and to provide individualized help.
4. What are the benefits of blended learning?
A 2010 analysis by the U.S Department of Education found that blended instruction combining online and face-to-face elements had a large advantage on student performance. With blended learning, tech-savvy students will appreciate the addition of the online component, as will students who require flexible schedules due to various other obligations. Students benefit from active learning in a classroom setting, and teachers can address questions and concerns and offer support instead of using up an entire class for a teacher-to-student lecture. Students have better opportunities to demonstrate how they can apply their learning.
4.1. Faster feedback for students
Students have better access to instructors, with the ability to send e-mails at any time when they have questions or concerns. When a teacher isn't available, they can also reach out to peers through discussion boards and chat rooms, and set up study groups. Additional learning aids can be offered online, including feedback tests, flash cards, and PowerPoint presentations.
Tests and quizzes can be administered online, with automatic evaluation so the students know immediately where any misunderstandings lie, or if they are performing well, instead of waiting until the next class to get their results.
This immediate feedback helps ensure a seamless flow within the learning process, so students can quickly and efficiently clarify issues, concepts, and misconceptions, or receive assurances that they are on the right track.
The online component gives students the opportunity to engage in dialogue that might otherwise be difficult in a face-to-face setting where they are competing with sometimes hundreds of others for the teacher's attention, or have to rush off to their next class.
4.2. Flexibility
The ability for students to control when and where they engage in coursework and lectures provides a lot of autonomy, and opens up classroom time for more collaboration and project-based learning.
This flexibility could be necessary for some students, allowing them to focus on online components when it suits them, working around other personal or professional obligations.
The flexibility blended learning affords also helps students self-monitor their time and pacing, teaching them valuable time management skills that will help them in the real world. Students who are struggling can spend more time on content they find most difficult, while those with a good grasp on the material can move ahead at a faster pace.
4.3. Better learning outcomes
The ability to make a large amount of content available online helps increase student engagement, and appeals to a wide selection of learners. Students can work both independently and collaboratively, with each having his voice heard, whether it's in class or through an online forum. Those who might not be as comfortable participating in class can still contribute thoughts online, with some level of anonymity.
As teachers participate in online discussions and grade and analyze course work, they can also get a better handle on how students are progressing in order to devise course and class content accordingly.
By being forthright with the skills and concepts students need to master by the end of a course, and developing course content and learning activities to help them achieve this, along with assessments that align with the goals, students will take away much more relevant and meaningful learning outcomes.
5. The disadvantages of blended learning
A blended learning model might not apply to all types of subjects and classroom settings. While it's ideal for cognitive learning, and where situations can be simulated, for example, it isn't as applicable to classes that involve psychomotor or affective learning, rich audio or video, or where voice and/or body language is important. Context can be lost online without things like facial expressions and voice inflections, leading to misunderstandings that can impact learning.
Because it's so heavily dependent on technology for a key component of the model, blended learning can limit those who don't have sufficient access to technology. Students who have broadband Internet and hardware at home will get the most out of learning technology, while those who do not will face challenges, or will require good WiFi on school premises, in areas like learning centers that they can use after class.
Some higher education students may also have difficulty adjusting to the addition of an online component, as well as managing their time effectively, and keeping themselves motivated. There can also be feelings of isolation associated with so much independent work away from the classroom setting, leading to confusion, anxiety, and frustration. While e-mail allows for immediate responses, it doesn't mean teachers will be available to respond 24/7, and instruction or clarification via e-mail could be difficult to understand for some.
5.1. Time investment
Once set up, technology can be easy to use. But it takes time to prepare, and to devise appropriate course material, in the first place.
Furthermore, feedback, while better for students, is more difficult for educators to keep up with. It can become very time-consuming, not to mention expensive, online versus through traditional scheduled pen and paper and in-class, face-to-face methods.
5.2. Dependence on technology
Technology tools need to not only be created, but also be reliable and easy to use. Thus, blending learning requires that the teacher and educational institution have access to technical resources and/or tools, including a robust network infrastructure at school, in learning labs where students without sufficient Internet access at home might complete assignments, and in teachers' homes where they may be communicating with students online.
As noted above, the dependence on technology for blended learning models could be a barrier for students who aren't as tech-literate as others. Thus, it requires that educators invest in high-quality tech support to address the needs of students who aren't as familiar with technology.
Online learning platforms can often incur service fees for educators as well, which adds to the overall expense for the financial institution.
5.3. Digital divide
In addition to barriers to technology, some students may not be as technology-literate as others, which will require time in setting up sufficient technical support. Even for students who are technology-savvy, learning online can be more time-consuming because they must manage their schedules, and stay on top of work on their own.
6. Conclusion
While blended learning is not as prevalent in higher education as it is in K–12, it has a great deal of potential to change the way students are taught. Generation Z has been steeped in technology use since kindergarten, and of course has been using the same blended learning techniques in school before entering college or university. Furthermore, the flexibility some kinds of blended learning offers is particularly appealing for students who need to work part-time, or have family or other commitments. The time required to develop and experiment to create a true blended learning environment could prove a worthy investment in an increasingly competitive higher education landscape.
7. References
1. Garrison, D. R., Vaughan, N. D. (2008) Blended Learning in Higher Education: Framework, Principles and Guidelines. San Francisco, CA: Jossey-Bass.
2. White, J. (2017, August 29) Personalizing the Station Rotation Recipe [Blog post]. Retrieved from https://www.blendedlearning.org/personalizing-the-station-rotation-recipe/
3. What is Blended Learning? [Blog post]. Retrieved from https://www.christenseninstitute.org/blended-learning/
4. Means, B., Toyama, Y., Murphy, R., Bakia, M., and Jones, K. (2010). Evaluation of Evidence-Based Practices in Online Learning: A Meta-Analysis and Review of Online Learning Studies. US Department of Education. Office of Planning, Evaluation, and Policy Development. Policy and Program Studies Service. Retrieved from https://www2.ed.gov/rschstat/eval/tech/evidence-based-practices/finalreport.pdf
Related pages
Learn how to create an online learning platform using Top Hat
Learn more about Top Hat's software for online teaching