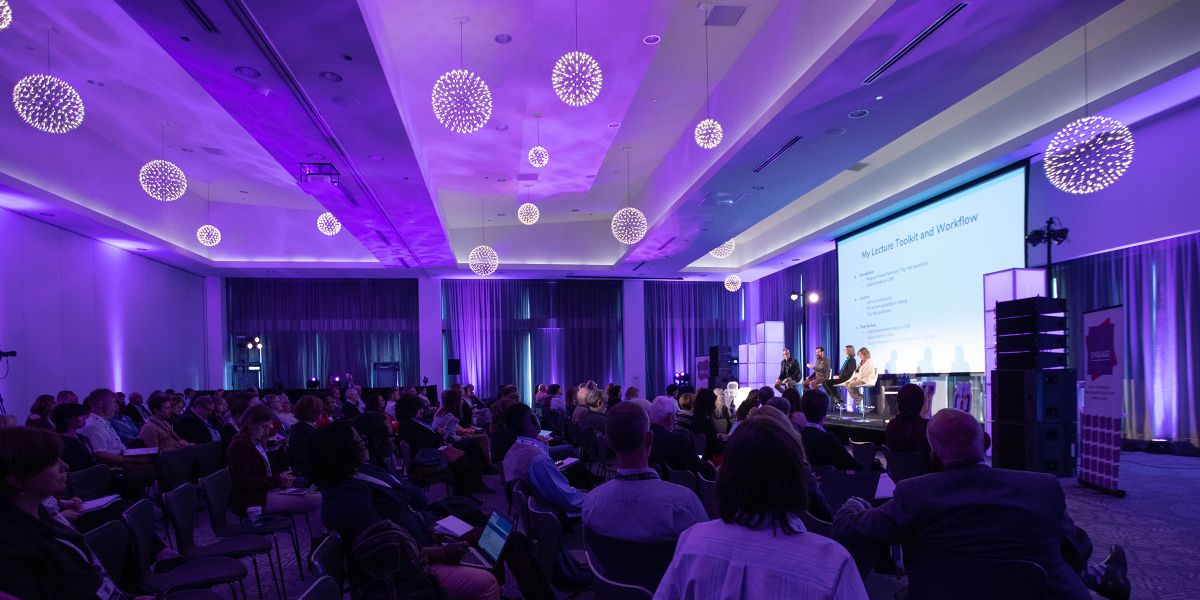 We're just over a week away from Top Hat Engage 2020 in New Orleans, Louisiana. We're excited to host you and to share an incredible lineup of speakers, discussions, interactive workshops and networking events.
To make the most of your time with us, here are some important details to help you get ready for one of the best higher education conferences of the year.
1. Build Your Schedule
Top Hat Engage 2020 has dozens of sessions, organized by three themes: Teaching with Insight, Teaching with Empathy and Teaching with Experience.
Teaching with Insight focuses on using the power of data to make everyday learning more impactful. Teaching with Empathy highlights student-centered approaches to higher education. Teaching with Experience offers pragmatic approaches and best practices from institutions and educators. These sessions will be led by experts in their field, covering a wide variety of engaging and informative topics like active learning, interactive content creation, educational technology, student engagement and more.
We're also thrilled to share that two exciting featured keynotes. Dr. Lauren Herckis will discuss her perspective on campus culture, organizational change and the way institutions engage with ideas. And Christopher Emdin, author of For White Folks Who Teach In The Hood and The Rest of Y'all Too…, joins us to share teaching strategies educators can use to creating engaging and interactive learning environments.
View the agenda here. Plus, don't forget to make time to visit our demo booth and see the Top Hat platform in action!
2. Get Ready to Celebrate
The Top Hat Educator Awards Gala reception and dinner will honor and celebrate educators who have gone the distance to improve learning experiences for students before, during and after class. These awards are a chance to hear how others are transforming the learning experience and inspiring students and peers alike.
3. Prepare to Network
At the Birds of a Feather lunch, educators will get the chance to mingle with peers and share experiences across disciplines in an unstructured setting. It's an opportunity to continue the conversation, discuss best practices and compare notes on using Top Hat to engage students before, during and after class.
4. Dress Up
The dress code for Top Hat Engage is business casual (though the awards gala will be a semi-formal affair). The weather in New Orleans is expected to hover around 70 degrees Fahrenheit, dropping a bit in the evenings with some slight rain in the early mornings. Be sure to pack accordingly.
5. Take in Everything NOLA Has to Offer
Food of New Orleans
New Orleans gastronomy is the most distinctively recognized regional cuisine in the United States. Some dishes originated locally, while others stem from the city's Creole influence, Cajun history and elements of traditional Southern cooking. Every day, thousands of the city's restaurants, coffee houses and bakeries prepare to welcome guests with the promise of flavor and authentic NOLA fare. You'll find many of these local favourites just steps from the Engage 2020 venue, as well as many New Orleans delicacies on the Engage 2020 menu.
History of New Orleans
In New Orleans, the past is the present. The city keeps its history vital and accessible as an important cornerstone of its modern identity. Entire neighborhoods, buildings, cemetery crypts, sewer covers, cobblestone streets and ancient oak trees serve as touchstones to decades past. New Orleans remains a city of rich culture, proud people and entrenched neighborhoods that have survived and thrived against all odds.
Music of New Orleans
The fascinating music history of New Orleans stems from a multicultural melting pot of unique rhythms and influences. No matter where you go in the city, you will hear melodies emanating from shops, bars, concert halls and street corners. we'll be bringing the sounds of New Orleans to the Engage conference itself. For our awards gala evening we've got a very special group of musicians who will be bringing the history and vitality of the cities music traditions right into the main ballroom.
Join us at Top Hat Engage on March 5–7 in New Orleans to discover how to make real-time instructional decisions—powered by data—to increase student engagement and successful learning outcomes. It's a chance to get inspired by your academic peers and learn how to improve your teaching experience. Follow Top Hat on Facebook, Instagram, Twitter, and Linkedin to stay updated on all things #Engage2020. See what your peers are doing and what they have to say, and share your own photos, quotes and learnings with the world (and maybe win some swag).